Customer Logins
Obtain the data you need to make the most informed decisions by accessing our extensive portfolio of information, analytics, and expertise. Sign in to the product or service center of your choice.
Customer Logins
Global defence exports expected to decline for first time ever

26 July 2017
Jane's Editorial Staff
Weakening defence export order backlog points to a contraction in the market by 2018, according to the annual Global Defence Trade Report released recently by Jane's. The report examines trends in the global defence market across 65 countries and is based upon 40,000 programs from the Jane's Markets Forecast database.
Defence trade deliverables grew substantially in 2016. Markets expanded by $4.3 billion to hit $62.5 billion, as imports rose despite global defence spending falling between 2010 and 2013. However the total export backlog – orders placed but yet to be delivered – has fallen by around five percent and is on track to decline rather than stabilize over the coming three years.
"For the first time we are forecasting a decline in our expectations for the global defence export market. This is happening for a number of reasons including falling energy prices, increasing domestic production and the world simply pausing for breath after such a long run of increases," said Ben Moores, senior analyst, Jane's by IHS Markit.
"Traditionally deliveries have slipped to the right so it could well be that the fall in the total market comes in 2018. This would be the first fall since our records began in 2009,"Moores said.
---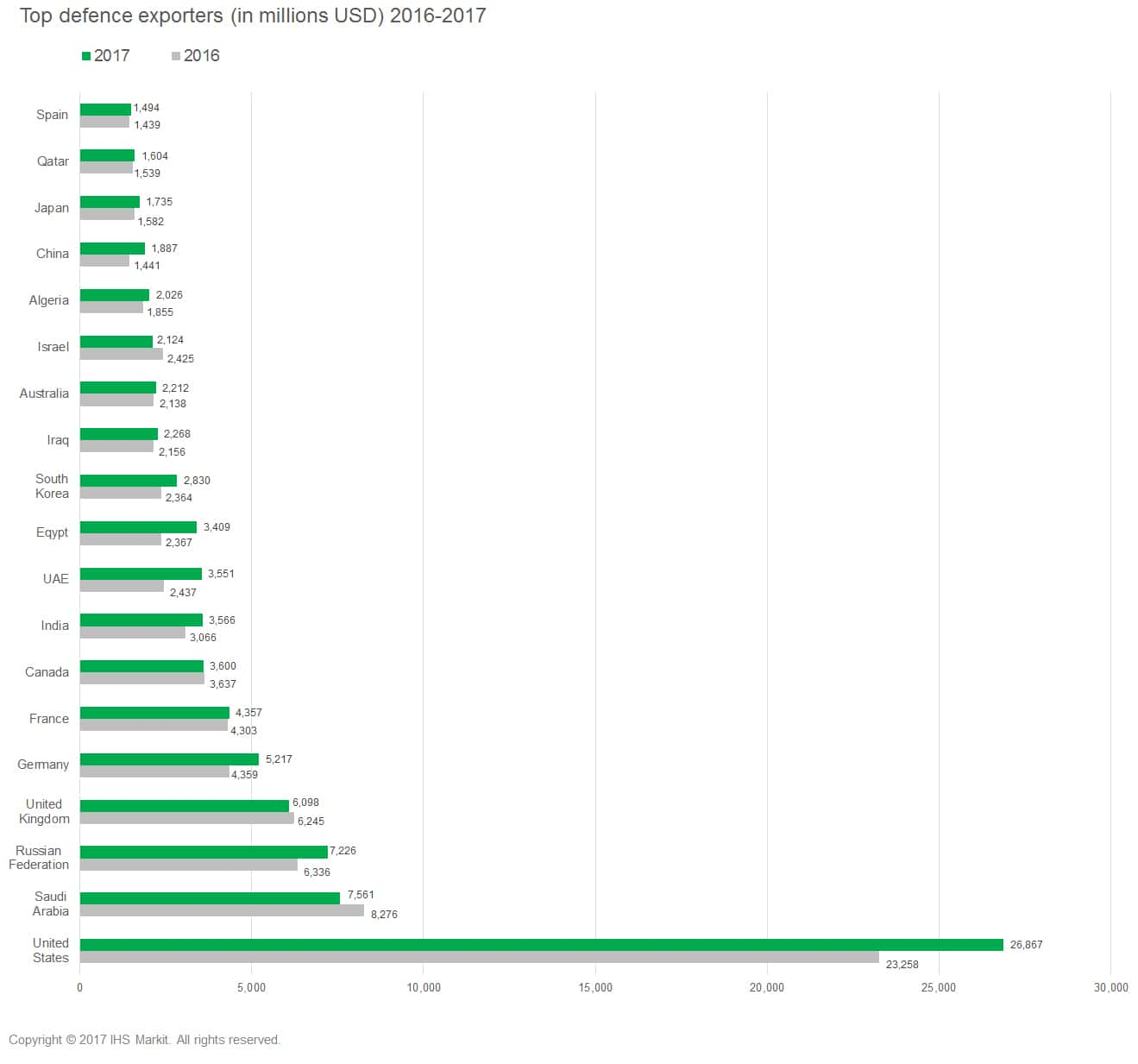 ---
Key findings from the Global Defence Trade Report:
Middle East countries imported $21 billion in defence equipment in 2016 – one third of the entire global market – and will import at least $22 billion annually for the next four years.
Saudi Arabia increased its lead as top global importer, now importing nearly three times as much as its closest rival, India. This dominance is set to continue for at least five years with further large aviation, vehicle and naval orders.
The US remained the highest exporter in 2016, supplying $23.3 billion worth of military goods.
Military imports throughout Western Europe rose from $7.9 billion in 2013 to $8.9 billion in 2016. This climb takes western European imports back to 2010 levels.
Large order backlogs in Asia, including Japan ($14 billion), South Korea ($12 billion) and Taiwan ($13 billion).
Significant rise in defence export opportunities to Vietnam, Indonesia, Taiwan, Iraq and Egypt. 
Middle East's spending spree continues
The largest Middle Eastern defence importers – Saudi Arabia, United Arab Emirates, Algeria and Iraq – remained among the top importers in the world for 2016, importing a total of $15.2 billion in defence systems. This figure is up from $9.9 billion in 2014, and represents more than all of Western Europe's imports combined.
US dominates export market
The US remained the highest exporter in 2016, increasing its relative market share at the expense of Russia to supply $23.3 billion worth of goods and equipment in 2016, compared with $21.5 billion in 2014. Its primary export strength is in its aerospace products; set to continue with strong orders in place for its F-35 program.
Western Europe falls short of 2009 outlay
Military imports throughout Western Europe rose from $7.9 billion in 2013 to $8.9 billion in 2016. This slight climb takes Western European imports back to 2010 levels but still some way off 2009's $12 billion peak.
Eastern Europe holds strong backlog
"Military imports for European states West of Russia totalled $900 million in 2016, and the delivery backlog for these states currently stands at $4.6 billion for the next five years, confirming our earlier forecasts," Moores said.
Asian imports grow despite Chinese cuts
Military equipment imports to East Asia increased from $10.4 billion in 2015 to $12.8 billion in 2016. China has been cutting import deliveries over the last six years but this has been counter balanced by South Korea, Taiwan and Japan which have all seen large increases over the same time frame.
To request a demonstration of Jane's Markets Forecast click here.
Jane's Editorial Staff
Posted 26 July 2017
RELATED INDUSTRIES & TOPICS