Customer Logins
Obtain the data you need to make the most informed decisions by accessing our extensive portfolio of information, analytics, and expertise. Sign in to the product or service center of your choice.
Customer Logins
IHS Markit Global Credit Index Insights – H1 2020 Review

Introduction
At first glance, global credit market performance in the first half of 2020 appears relatively subdued, albeit with a clear outperformance of higher rated credit. However, towards the end of the first quarter the situation looked considerably bleaker. This makes sense in the context of the largest economic contraction since the Great Depression, following the impact of the coronavirus pandemic that continues to wreak havoc across the globe.
Due to extraordinary measures taken by central banks, financial markets regained much of their lost ground and in some cases advanced into the black. Despite central bank efforts, there was still a negative seismic shift downward in issuer credit profiles, as evidenced by the wave of fallen angel debt created in the first half of the year.
The following commentary provides a brief recap of credit market performance across the US, Europe and the Asia Pacific, highlighting fallen angel debt across regions. We define fallen angels as entities that see their Markit iBoxx Rating move from IG to HY, which is based on an average of S&P, Moody's and Fitch.
North America
US credit markets bounced back in the second quarter following the tailwind of Fed bond buying through their Secondary Market Corporate Credit Facility (SMCCF) program that can provide up to $750 billion in firing power. For the first time, the Fed's purchase mandate included buying bond portfolios in the form of ETFs, marking a unique turning point in the history of index-based investing. In June, the Fed announced further support through their purchasing of individual corporate bonds as well, with purchase selections to be determined by an index they are internally calculating.
Performance Overview
The iBoxx $ Liquid Investment Grade Index returned 9.67% in Q2, (+6.12% YTD), with the iBoxx $ Liquid High Yield and Markit iBoxx USD Liquid Leveraged Loan Indices tracking each other to return 7.75% (-5.18% YTD) and 5.85% (-6.21% YTD), respectively. All credit markets began to rebound from their lows following the Fed's March 23rd announcement introducing their SMCCF program.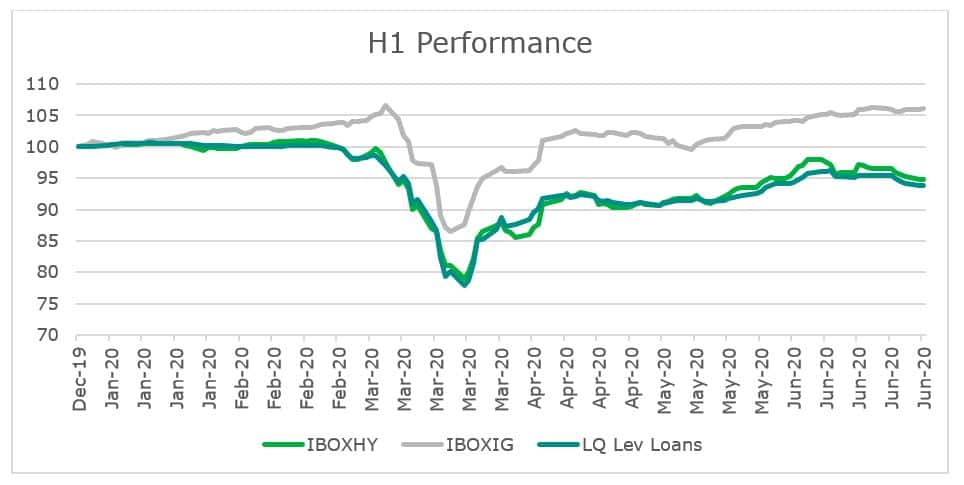 Investment Grade Review
Sector Performance
All sectors of Investment Grade are in the black YTD except for Oil & Gas, which is only down 1.46%. IG Oil & Gas issuers suffered a Q1 loss of 18.53%, though subsequently rallied 20.95% in Q2. Health Care issuers had the best H1 return (+9.38%) following Q1 and Q2 returns of 1.64% and 7.61%, respectively. Only Health Care and Tech remained in the black in Q1 as well as Q2.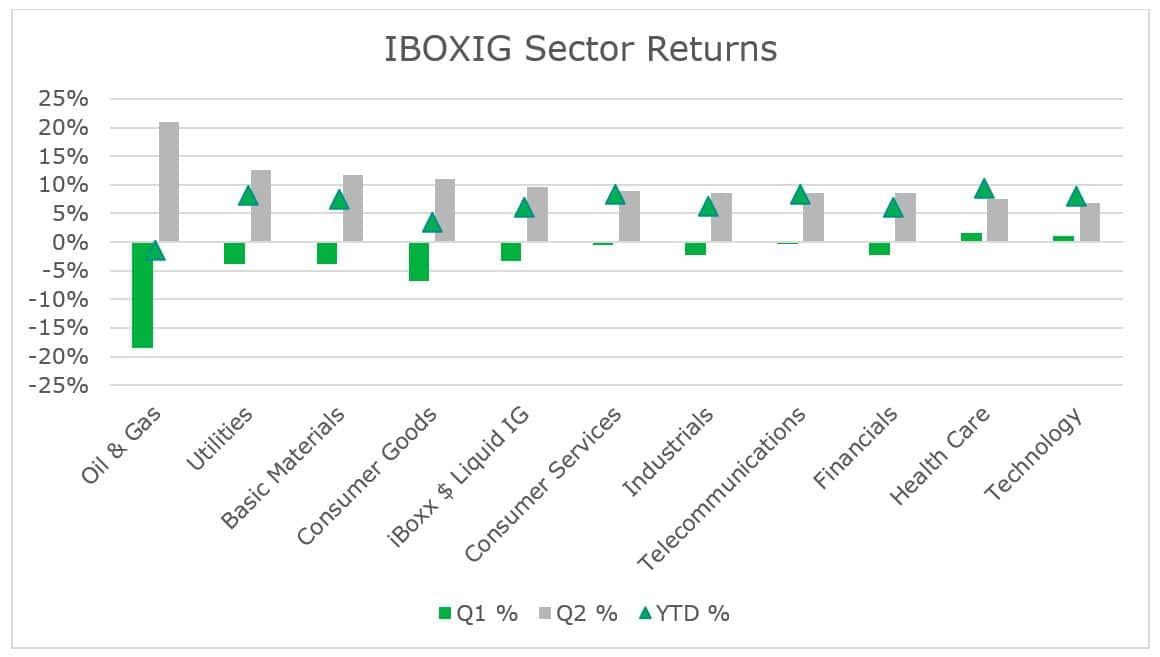 Ratings Performance
Within Investment Grade, AAA and AA bondholders were firmly in the black each quarter, returning 9.90% and 7.65% YTD, respectively. BBB-rated debt bounced back strongly returning 12.81%, after a Q1 loss of 7.12% concurrent with a wave of fallen angel debt.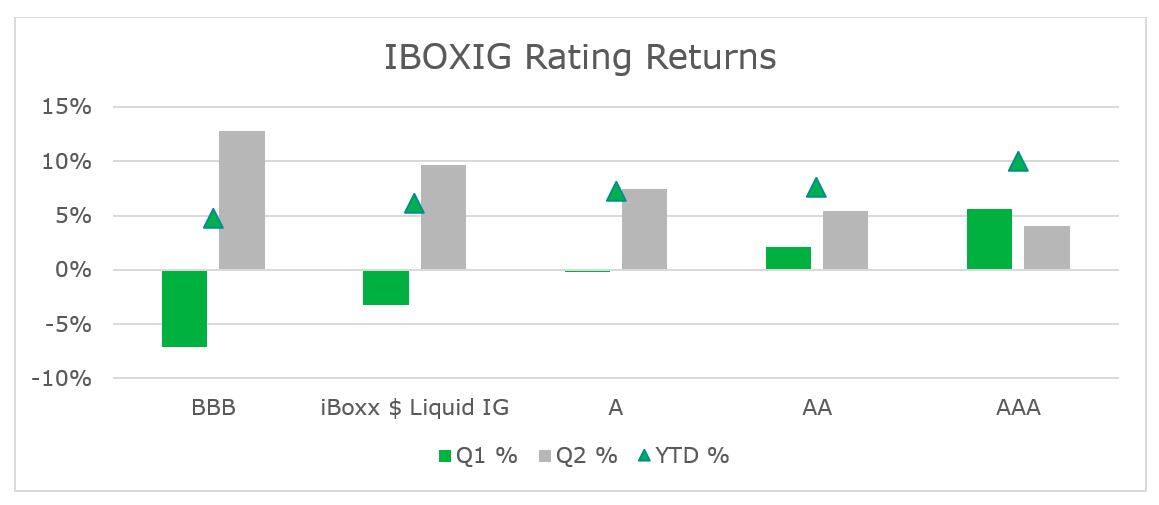 High Yield Review
Sector Performance
In High Yield, tech was the only sector to end the first half of the year in the black with a 43 basis point return, due to the sector's Q2 4.55% (versus -3.94% in Q1) return. Given the economic slowdown and glut of oil on the market and subsequent crash in prices, Oil & Gas issuers had the worst performance and are down 18.08% YTD. However, this is considerably better than the -38.50% energy issuers suffered in the first quarter as oil prices bottomed out, which set up for a 33.19% Q2 return following Fed intervention.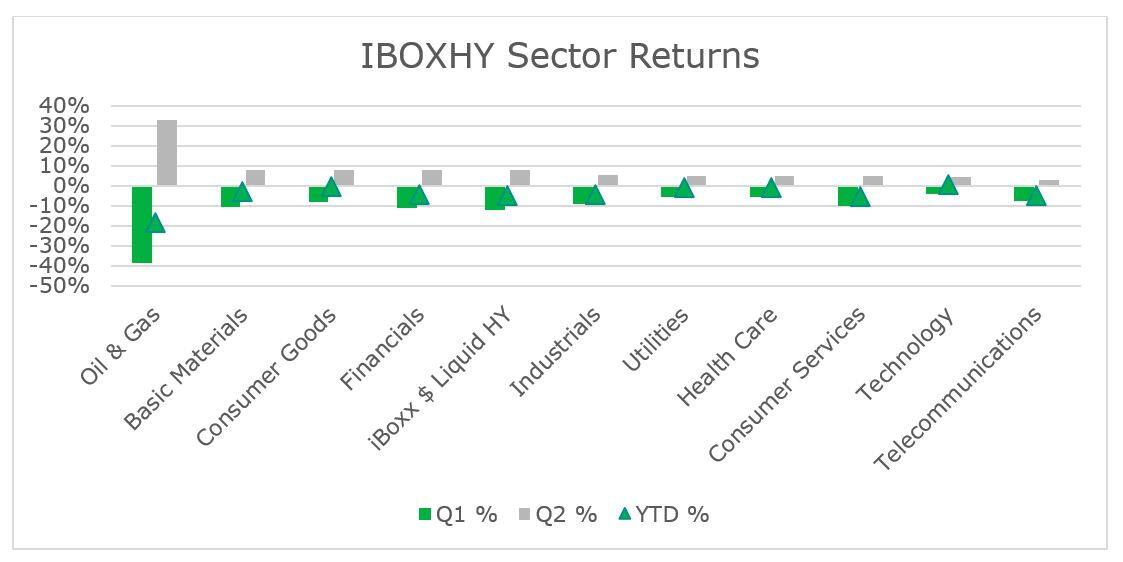 Rating Performance
Higher credit outperformed across the rating spectrum, and this was true within high yield as well. In High Yield, CC and CCC rated debt returned -24.03% and -15.57% YTD, respectively. Conversely, B and BB rated issuers returned -6.25% and -2.42%, respectively (Figure 5).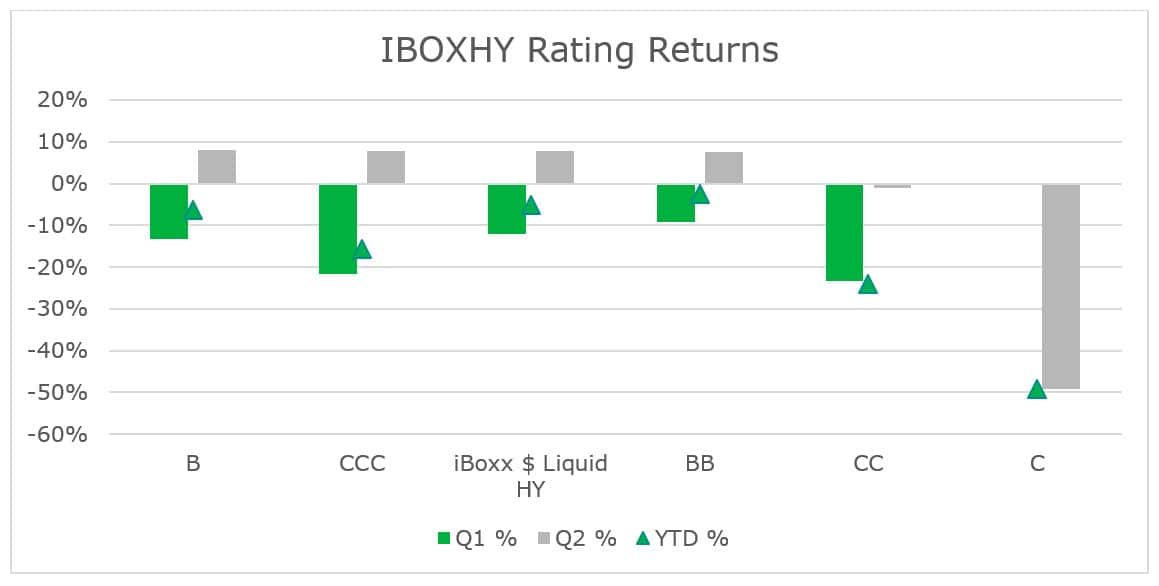 USD Fallen Angels
The iBoxx $ Corporates Index, which is a broad benchmark tracking USD investment grade bonds, has seen $156.2 billion in notional value of fallen angel debt YTD (Figure 6). 80% of the debt in the index that fell to HY occurred in Q1, with 61% in March alone. Oil & Gas accounted for the most fallen angel debt (+37.4% of total), with Consumer Goods in close second (+36.1%).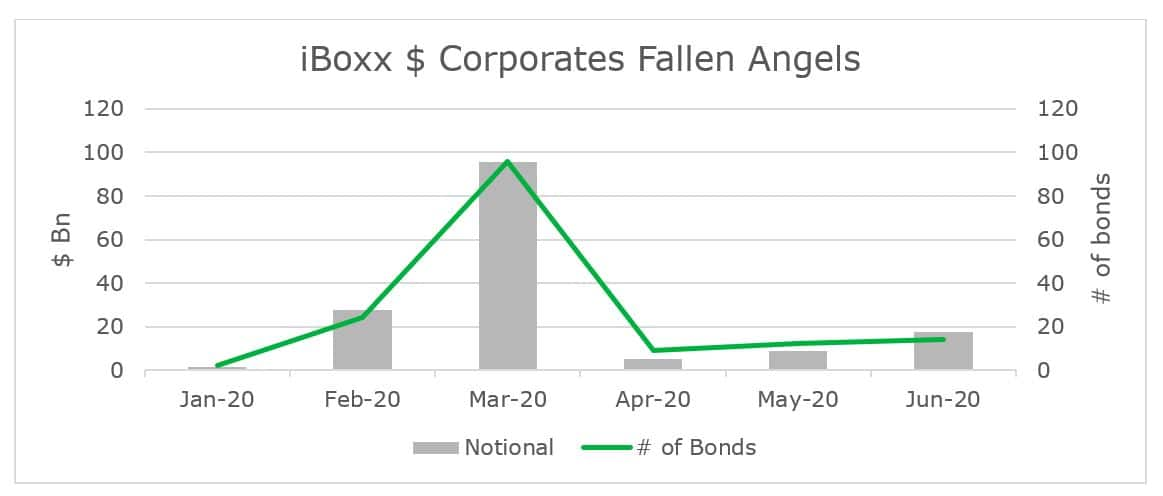 The ten largest fallen angel issuers accounted for 74.1% of fallen angel debt. The largest fallen angel was Ford Motor Co, which had $35.4bn of debt downgraded to BB in March and accounted for 22.5% of all fallen angel debt in the first half of the year. Occidental Petroleum Corp was the second largest fallen angel with $26.2bn of downgraded debt in March, accounting for 16.7% of the total (Table 1).
Kraft Heinz Foods Co. was the third largest, with $19.7bn of its debt downgraded to BB, accounting for 12.5% of all fallen angel debt.
Table1 : Ten Largest Fallen Angel Issuers YTD by Notional in iBoxx $ Corporates Index
| | | | |
| --- | --- | --- | --- |
| Issuer | Sector | $ Notional bn | # of bonds |
| Ford Motor Co | Consumer Goods | 35.4 | 31 |
| Occidental Petroleum Corp | Oil & Gas | 26.2 | 24 |
| Kraft Heinz Foods Co | Consumer Goods | 19.7 | 14 |
| Western Gas Partners LP | Oil & Gas | 6.7 | 9 |
| Apache Corp | Oil & Gas | 5.8 | 6 |
| Continental Resources Inc | Oil & Gas | 5.3 | 5 |
| Cenovus Energy Inc | Oil & Gas | 4.7 | 5 |
| EQT Corp | Oil & Gas | 4.5 | 5 |
| Delta Air Lines Inc | Consumer Services | 4.1 | 6 |
| Carnival Corp | Consumer Services | 4.0 | 1 |
Europe
Similar to the Fed's actions in the US bond markets, the ECB's Pandemic Emergency Purchase Program (PEPP) has been instrumental in the recovery of the European bond markets from an abysmal first quarter. Since the announcement of the ECB's support to pump liquidity into the corporate bond markets through its € 750 billion bond purchase program, the credit markets have since shown a consistent upward trend.
Performance overview
The iBoxx € IG index returned -1.44% in H1 (+5.3% in Q2) whereas the iBoxx € HY index returned -5.68% in H1 (+11.34% in Q2). The recovery in both IG and HY segments from the peak of the Covid-19 crisis at the end of Q1 is notable.
The CDS index counterparts, iTraxx Europe and Crossover Indices that track European IG and HY credits, respectively, showed a similar trend. While the fall and recovery were relatively flatter in iTraxx Europe compared to iBoxx € IG, the iTraxx Crossover and iBoxx € HY tracked each other more closely. The H1 returns of the iTraxx Europe and Crossover indices at the 5Y tenors were -0.54% (+1.74% in Q2) and -5.58% (+9.51% in Q2), respectively.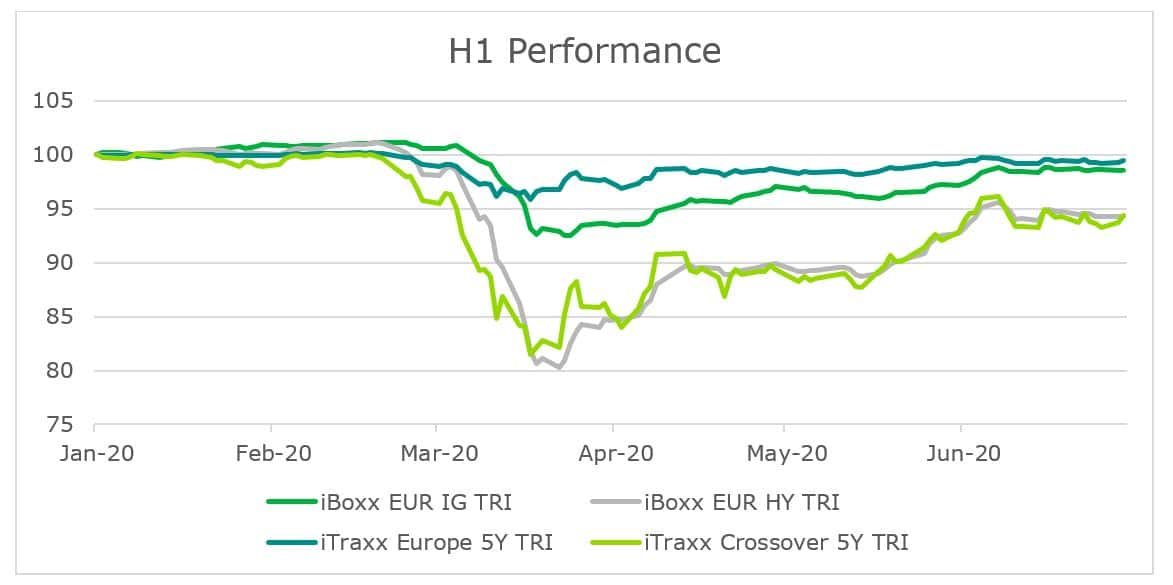 Sector performance
All sectors in the European credit markets finished in the red in H1 2020. Consumer Services has been the worst hit sector across both IG and HY segments, returning -13.72% and -3.15% respectively. On the other hand, Health Care sector has notably been the least impacted sector returning -0.66% and -0.28% in IG and HY segments, respectively.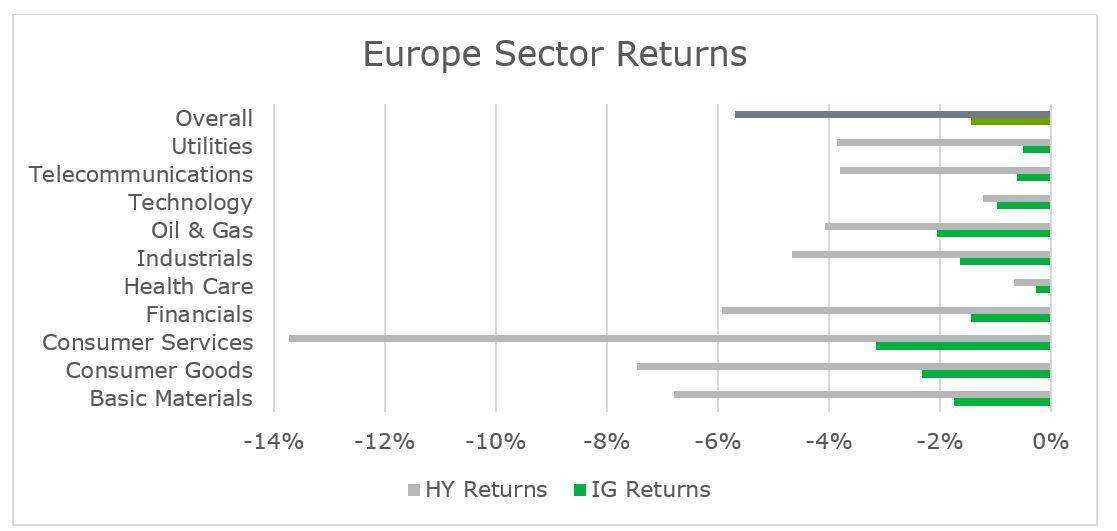 Rating performance
Splitting out the rating bands from the investment a grade and HY bond indices, the single B band has underperformed the most at -7.18%, followed by the CCC and BB bands at -5.42% and -5.36%, respectively. The AAA band is the outlier finishing with a positive return of +1.14%.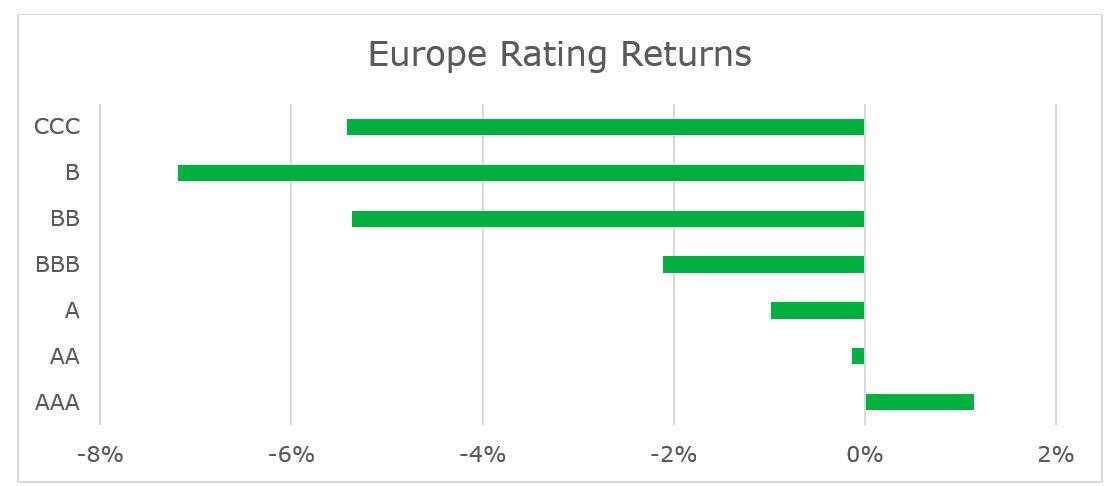 Fallen Angels
H1 2020 bond markets have stood out particularly due to the sizeable creation of fallen angels. The chart below shows the notional amount and the number of bonds that have dropped out of the iBoxx € Corporates index due to rating downgrades.
In March 2020, IHS Markit made the decision to perform limited rebalancing to the iBoxx bond indices acknowledging the lack of liquidity and increase in transaction costs in the bond markets. As a result, the bonds that were downgraded in March only dropped out of the iBoxx € Corporates index at the end of April. Notably, the €32 billion in fallen angel debt from March and April downgrades was €7 billion greater than the total of fallen angels created in all other months in H1 put together.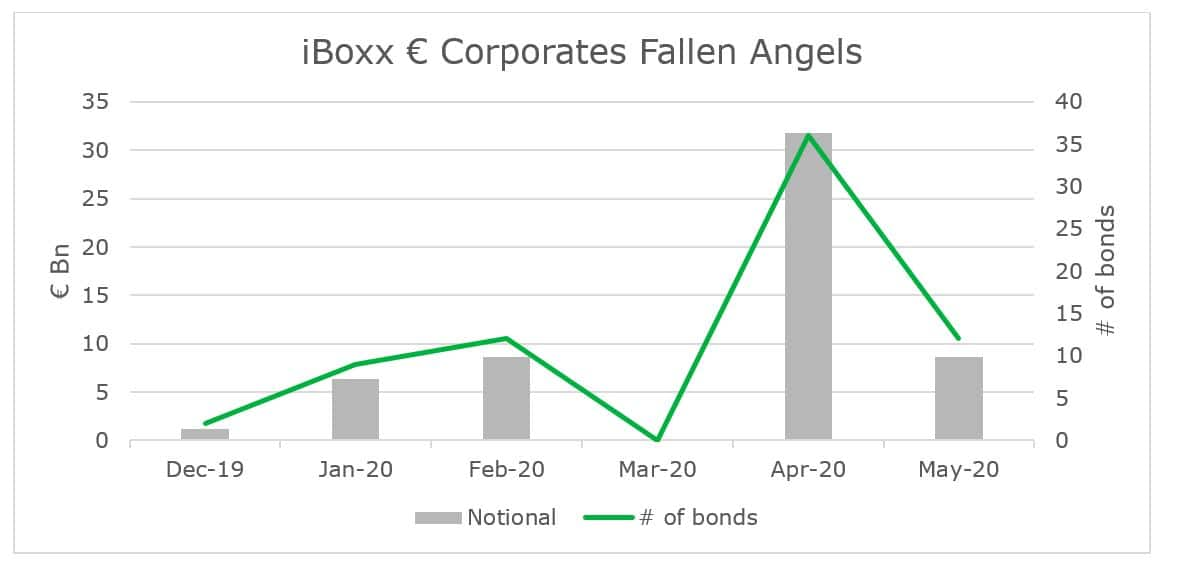 Table 2: Five Largest European Fallen Angel Issuers YTD by Notional in iBoxx € Corporates Index
| | | | |
| --- | --- | --- | --- |
| Issuer | Sector | € Notional Bn | # of Bonds |
| UniCredit SpA | Financials | 5.1 | 5 |
| Renault SA | Consumer Goods | 5.0 | 7 |
| Autostrade per l'Italia SpA | Industrials | 4.6 | 7 |
| ArcelorMittal | Basic Materials | 4.3 | 6 |
| Commerzbank AG | Financials | 2.9 | 3 |
Asia Pacific
In Asia credit, over H1 2020, a similar story unfolded, dominated by the global health and economic crisis. Q1 Asia debt market performance was beset by the worsening pandemic and Q2 captured the recovery as governments and central banks responded with strong policy actions.
In this report we focus on the Asia USD bond market as reflected by the iBoxx USD Asia Ex-Japan index. This index tracks USD denominated bonds from Asian issuers, including sovereigns, sub-sovereigns and corporates. The overall index includes both IG and HY bonds. Tracking this index over H1 we see that the HY segment was the most adversely affected during the pandemic induced market freefall and that the recovery since (largely sustained by the IG sector) has been buoyed by the relatively swift reopening of China.
Performance Overview
After making modest gains early in the year, the overall index endured a steep (-9.04%) drawdown during the most difficult weeks of March as Coronavirus shocks reverberated around the world. On 23 March, index option adjusted spreads hit their highs of 490 and 1,600 basis points for the overall and the high yield index, respectively.
Following this sharp market downturn, the outlook for Asia credit remained very much uncertain as strict containment measures (travel bans, quarantines, social distancing, closure of schools etc.) continued to be in effect across the region.
Governments meanwhile responded with fiscal and monetary policy stimulus packages of varying sorts. By April, signs emerged that a larger number of Asian economies may cautiously reopen. On the financial side these relief efforts included base rate reductions (e.g. in China, Hong Kong (tied to the US fed funds rate), India and South Korea), liquidity injections (e.g. in China, trillions of RMB have been injected via open market operations) and even some bond stabilization plans (e.g. those put forward in South Korea in late March and April). Accordingly, market sentiment turned increasingly optimistic through April and May and this was reflected in the index data.
These positive trends persisted and by 30 June, the overall index recovered to close the first half of the year with a gain of 2.23%.

Table 3: Index YTD statistics as of 30 June
| | | | |
| --- | --- | --- | --- |
| | Overall Index | IG Index | HY Index |
| YTD Return | 2.23% | 3.38% | -1.10% |
| Annualised Return* | 4.50% | 6.88% | -2.19% |
| Annualised Volatility* | 6.01% | 5.07% | 10.98% |
| Risk-Adjusted Return | 0.75 | 1.36 | -0.20 |
*Extrapolated based on less than 1 year of daily data
The investment grade segment fared considerably better than high yield with the latter registering a loss (-1.10%) over H1. The high yield index also suffered the largest drawdown over March (-16.60%). In spread terms, the overall index OAS at this time had contracted considerably from its highs, retracing its spread value 58% of the way back to its pre-pandemic lows.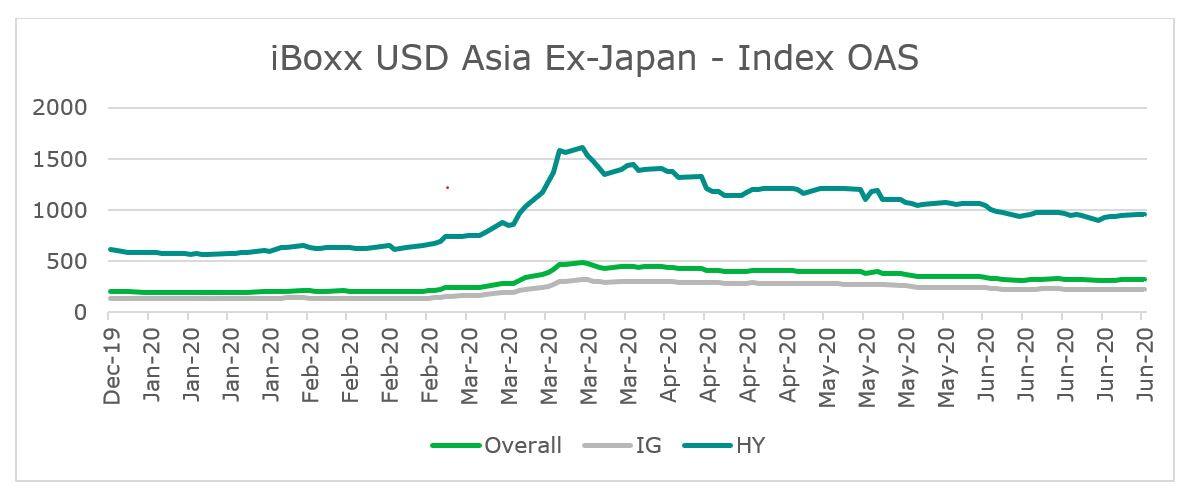 China
Much of the overall index recovery hinged on China which has a country weight of approximately 53% in the index by base market value (as of 31 May).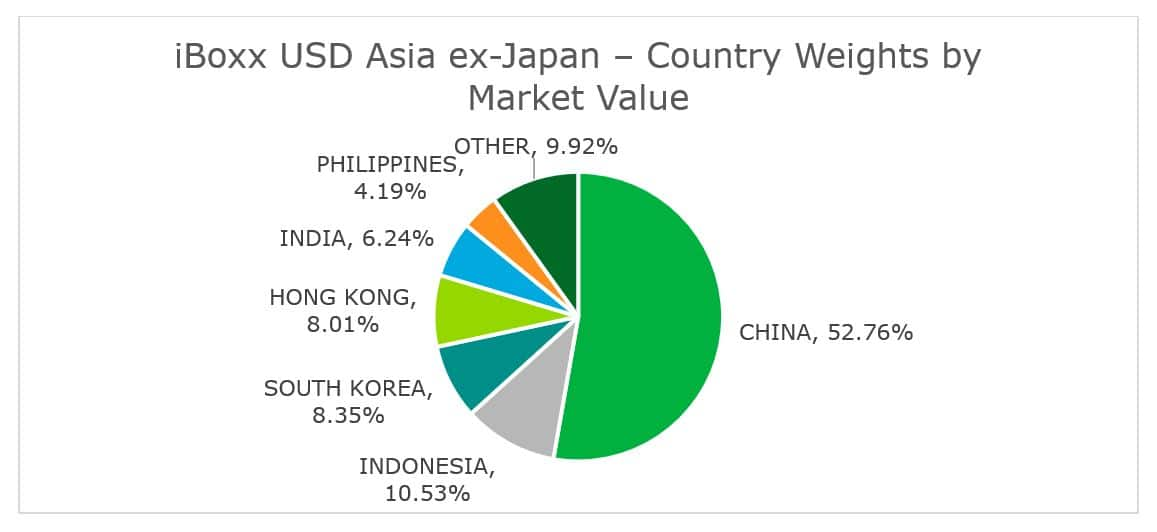 China was initially hit hard by the outbreak, but in a case of first in-first out, the Chinese economy began gradually reopening at the end of February. The early resurgence of China was evident in the IHS Markit PMI data as compared to the rest of Asia and the rest of the world.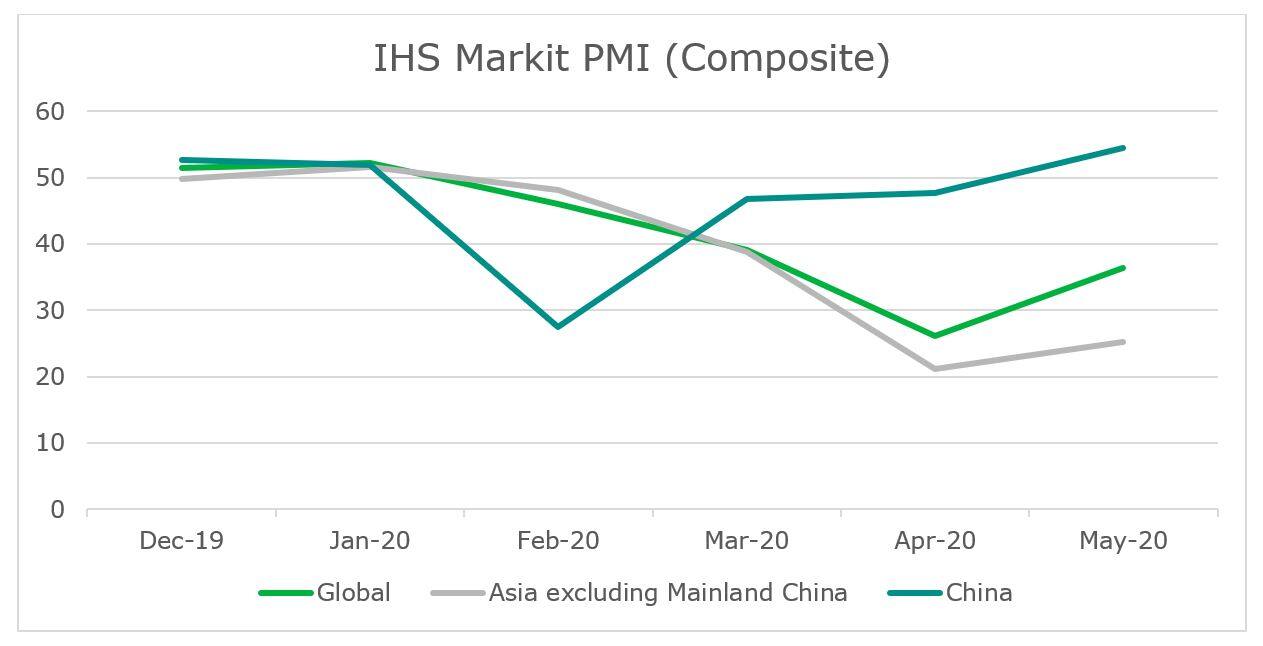 The China sub-index managed to register a return of just under 3% for H1 and again it was the IG sector that performed the best. The China real estate sector also recovered well delivering significant spread contraction post the peak of the crisis
Table 4: iBoxx USD Asia Ex-Japan, China sub-indices breakdown
| | | | | |
| --- | --- | --- | --- | --- |
| | China | China Real Estate | China IG | China HY |
| YTD Return | 2.97% | 2.36% | 3.66% | 1.57% |
| Annualized Return* | 6.04% | 4.77% | 7.45% | 3.16% |
| Annualized Volatility* | 5.44% | 10.14% | 4.63% | 9.88% |
| Risk-Adjusted Return | 1.11 | 0.47 | 1.61 | 0.32 |
Sectors
Unsurprisingly, given the shift to "Work from Home", the technology and telecommunications sectors fared well over the year so far, whereas consumer related sectors struggled.
Oil and gas USD bonds in Asia also performed well despite the prevailing headwinds in the commodities markets and the oil price crash in April.

Fallen Angels
iBoxx ratings for the following bonds in the USD Asia Ex-Japan index changed from BBB to BB during the course of the year. Accordingly, these bonds moved from the IG sub-index to the HY sub-index on the rebalancing dates given below. Note that at the end of March, IHS Markit conducted a limited index rebalance.
Table 5: iBoxx USD Asia Ex-Japan Fallen Angels YTD
| | | | | |
| --- | --- | --- | --- | --- |
| Index Rebalance Date | Issuer | Country Of Risk | Notional ($ mn) | Sector |
| 31/12/2019 | CITIC Telecom International Finance Ltd | China | 450 | Telecommunications |
| 31/12/2019 | RH International Finance Ltd | Hong Kong | 350 | Utilities |
| 29/2/2020 | Nan Fung Treasury II Ltd | Hong Kong | 500 | Financials |
| 29/2/2020 | Zunyi Road and Bridge Construction Group Limited | China | 418 | Industrials |
| 30/4/2020 | Far East Horizon Ltd | China | 600 | Financials |
| 30/4/2020 | Adani Abbot Point Terminal Pty Ltd | India | 500 | Industrials |
| 30/4/2020 | Bangkok Bank PCL/Hong Kong | Thailand | 1,200 | Financials |
| 30/4/2020 | Kasikornbank PCL/Hong Kong | Thailand | 800 | Financials |
The total year-to-date notional of fallen angels sums to just over $4.8 billion. In the final chart for this section, the basket spread (dollar duration weighted OAS) of these bonds is tracked YTD (meaning pre and post their downgrades) and compared versus the spreads of the iBoxx USD Asia Ex-Japan BB and BBB sub-indices.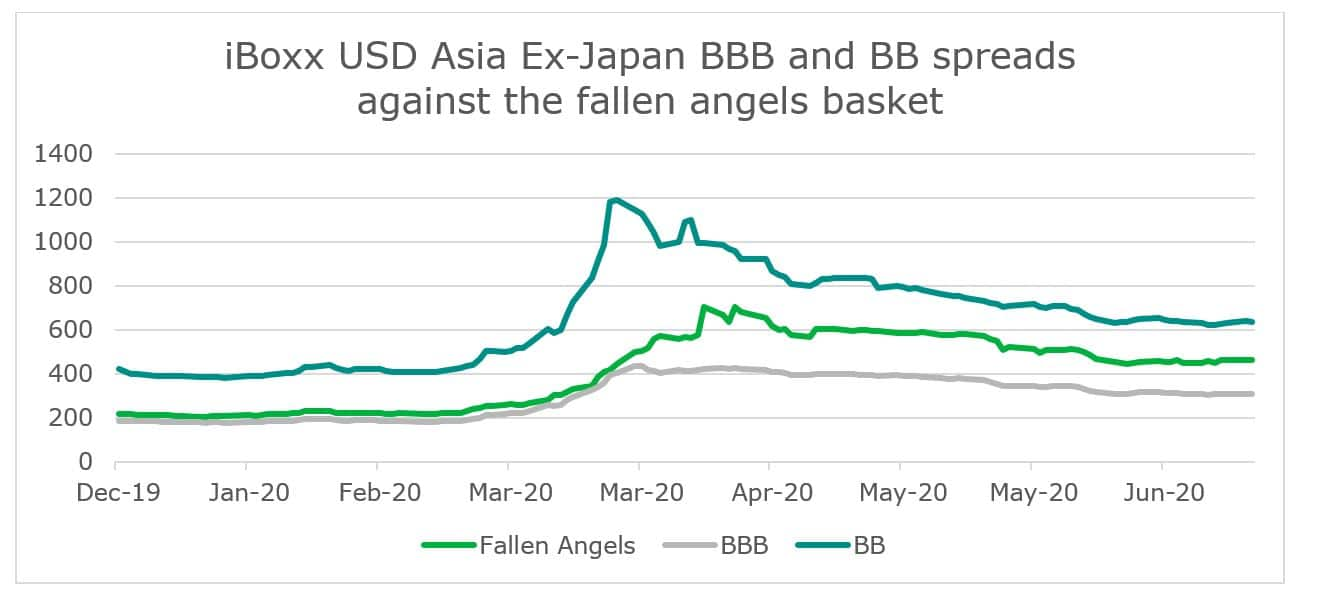 Conclusion
The coronavirus pandemic roiled markets in the first quarter, prompting world governments to take aggressive action in the second. The virus shows no signs of abating, which creates ongoing uncertainty for the economy and investors. However, support from the world's central banks is not abating either. These factors set the stage for the latter half of the year.
IHS Markit provides industry-leading data, software and technology platforms and managed services to tackle some of the most difficult challenges in financial markets. We help our customers better understand complicated markets, reduce risk, operate more efficiently and comply with financial regulation.
---
Follow Financial Services
RELATED INDUSTRIES & TOPICS