Customer Logins
Obtain the data you need to make the most informed decisions by accessing our extensive portfolio of information, analytics, and expertise. Sign in to the product or service center of your choice.
Customer Logins
Global Benzene Markets: Current margin recovery is sustainable or short lived?

Current Scenario:
The benzene market was strong in the first quarter of 2018, with the benzene to naphtha spread exceeding $300 per mt. Thereafter through the year, benzene production was high from paraxylene integrated reformer/TA plants and naphtha cracker operations. Paraxylene margins improved substantially from August 2018 to April this year until the start-up of Hengli's large paraxylene plant. Ethylene margins were robust for a long time since 2015 to mid-2018. On the other hand, in 2018, there were major styrene, phenol and caprolactam turnarounds and benzene demand was lower than expected. As a result, the benzene market collapsed in April 2018. With the paraxylene and olefin margins remaining relatively healthy, the lower benzene prices did not affect economics significantly. However, in 2019, paraxylene margins have sharply corrected downwards and olefin margins have also dropped. Low benzene margins, therefore, became an issue.
In 2019, despite the reduced margins, both paraxylene and naphtha cracker operations remain high. Although some paraxylene producers reduced STDP and TA base paraxylene production rates slightly, it has not helped in reducing overall benzene supply as new paraxylene capacity has been added during the same period. Naphtha cracker operating rates also remain high. However, LPG prices have been low relative to naphtha since May this year and LPG charge to crackers has increased to 10-15%, resulting in some reduction in pygas based benzene production.
In 2019, the Asian benzene market deteriorated substantially once Hengli started up their mega chemical-refinery integrated paraxylene plant in March, earlier and smoother than expected. This resulted in 80-90 kt per month of benzene supply into the Chinese market. From last November to February this year, the benzene net back price to China was higher than the net back price to the United States (US). Asian benzene players focused on exporting to China rather than to the US. More than 300 kt per month of benzene was imported into China from last November to March this year. Benzene inventory increased from 140 kt at the beginning of last November to 251 kt at the beginning of March this year. The benzene to naphtha spread (margins) reduced from $225 per mt in August 2018 to $51 per mt in March 2019 caused by the increase in benzene imports to China which resulted in an increase in China's benzene inventory.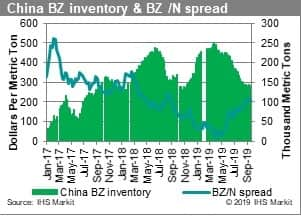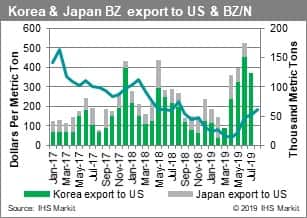 The start-up of Hengli's new capacity, at a time when the inventory of benzene in China was already running high, further dented the already weak market, which was further compounded by the severe loss in demand due to turnarounds of major styrene plants.
As a result, Asian benzene players switched focus to the US import market from March due to a higher net back compared to China. Export volumes to the US from South Korea and Japan increased from 29 kt in March to 175 kt in June. On the other hand, benzene import volumes to China reduced substantially to 65 kt in June and July respectively.
The need for higher benzene exports to the US
In March this year, the US toluene price surged with the start of gasoline season. As a result, STDP margins and paraxylene prices deteriorated due to low paraxylene prices in Asia. As a result, STDP operating rates in the US declined and in turn gave an opportunity to increased benzene imports from Asia.
As a result, the Chinese and Asian benzene market stabilized and the Chinese price recovered from RMB4,455 per mt (parity of $548 per mt CFR), which was $86 per mt lower than FOB South Korea at the end of May to RMB5,894 per mt (import parity of $711 per mt CFR) in the third week of September, which was $14 per mt lower than FOB South Korea. Although the Chinese benzene price remained lower than FOB South Korea, the price spread was substantially reduced. Chinese benzene players have kept the China price lower than the FOB South Korea benzene price in order to protect their market share against import cargoes especially after the start of Hengli's plant.
Currently, the Asian benzene market has been supported by two major styrene producers. FCFC in Taiwan, which has been operating three styrene plants in spite of the No.2 aromatics plant undertaking a turnaround starting from the beginning of September for 45 days and the outage of the No.3 aromatics plant since April due to an explosion at the reformer. In Southeast Asia, Chandra Asri continues to operate two styrene plants after starting a turnaround of their naphtha cracker from the beginning of August for 60 days.
In the meantime, Europe benzene prices jumped at the beginning of August and as a result some benzene was shipped from Asia to Europe. Consequently, the Asian benzene balance has improved, resulting in Asian prices closing the gap on US and Europe prices to the September monthly average of $701 per mt FOB South Korea. The benzene to naphtha spread increased to $210 per mt, its highest since August 2018 and recovering from a low of $41 per mt in April. The low naphtha price relative to crude contributed to improved benzene margins. In September, the naphtha to Brent price spread remained low at $24 per mt whereas the 2018 annual average was $74 per mt.
Higher benzene demand from Europe, the United States and Asia have resulted in Asian benzene market recovery
September was the best month this year for the global benzene market in terms of prices. The international market had no large surplus and was relatively balanced. As the European benzene price rocketed, the US and Asian benzene prices followed suit. US STDP operating rates have also been reduced and the US now has more room for benzene imports from Asia and this is an opportunity for Asian producers looking to diversify their market after China added big benzene capacities this year. Higher netback prices to the United States have also been supporting Asian benzene players. In the meantime, the robust Asian styrene market continues to support the Asian market as well.
New start-ups will impact the benzene scenario once again
European benzene supply is expected to increase after the completion of scheduled turnarounds and outages. In addition, European benzene derivative demand has been sluggish. Europe's forward benzene market is in extremely steep backwardation with October trading $80-100 per mt lower than September. However, STDP operators in US have been cautious in increasing their operating rates. Although toluene prices look to correct after the gasoline season, it is still uncertain if paraxylene exports from the US are needed. If not, high STDP operations would not be required and the US might continue to import Asian benzene. In Asia, FCFC plans to restart its No. 3 aromatics plant in the fourth quarter, which has been shut since April after the explosion. In addition, the No. 2 aromatics plants will restart in mid-October after the completion of a scheduled turnaround. This would mean that FCFC's benzene supply will recover substantially. In Indonesia, Chandra Asri will complete their naphtha cracker turnaround in mid-September. Its pygas tolling business with Siam Cement will resume and its benzene supply reinstated. The relatively tighter Asian benzene market will begin to ease. However, Shell will continue to operate a large PO/SM plant during their naphtha cracker turnaround starting from the beginning of October for 60 days. It will be purchasing 20 kt per month of benzene during the naphtha cracker turnaround and will maintain the Southeast Asia market supply-demand balance after Chandra Asri starts up. However, large new paraxylene and benzene plants are on the brink of starting up their operations in Asia. Zhejiang PC plans to start reformer operations from October and Hengyi in Brunei has started to charge crude oil in September with reformer and TA operations expected to start soon. Although relatively smaller, Pengerang Refining and Petrochemical (RAPID) Malaysia will also start naphtha cracker operations soon and has already started its refinery operations. In total, more than 2 million mt of new benzene capacity will be added and benzene margins are expected to be squeezed. In addition, new large-scale styrene and phenol plants will start together with the naphtha cracker integrated to the Chemical refineries of Zhejiang PC in Zhoushan. The margins of styrene and phenol are also expected to decline and add pressure on benzene margins. A new wave of benzene supply together with its derivatives capacity is expected to come on-stream in the coming months. The mega-complexes will take time to stabilize operations and the changes in downstream margins will have an impact on upstream benzene margins and operations. The combined effect is going to be complicated and one could expect to see significant volatility in benzene margins until all new capacities stabilize.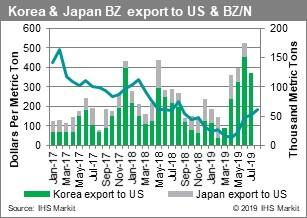 Improve your strategic vision for 2020 and beyond with IHS Markit Benzene World Analysis.
RELATED INDUSTRIES & TOPICS
{"items" : [ {"name":"share","enabled":true,"desc":"<strong>Share</strong>","mobdesc":"Share","options":[ {"name":"facebook","url":"https://www.facebook.com/sharer.php?u=http%3a%2f%2fihsmarkit.com%2fresearch-analysis%2fglobal-benzene-markets-current-margin-recovery.html","enabled":true},{"name":"twitter","url":"https://twitter.com/intent/tweet?url=http%3a%2f%2fihsmarkit.com%2fresearch-analysis%2fglobal-benzene-markets-current-margin-recovery.html&text=Global+Benzene+Markets%3a+Current+margin+recovery+is+sustainable+or+short+lived%3f+%7c+IHS+Markit","enabled":true},{"name":"linkedin","url":"https://www.linkedin.com/sharing/share-offsite/?url=http%3a%2f%2fihsmarkit.com%2fresearch-analysis%2fglobal-benzene-markets-current-margin-recovery.html","enabled":true},{"name":"email","url":"?subject=Global Benzene Markets: Current margin recovery is sustainable or short lived? | IHS Markit&body=http%3a%2f%2fihsmarkit.com%2fresearch-analysis%2fglobal-benzene-markets-current-margin-recovery.html","enabled":true},{"name":"whatsapp","url":"https://api.whatsapp.com/send?text=Global+Benzene+Markets%3a+Current+margin+recovery+is+sustainable+or+short+lived%3f+%7c+IHS+Markit http%3a%2f%2fihsmarkit.com%2fresearch-analysis%2fglobal-benzene-markets-current-margin-recovery.html","enabled":true}]}, {"name":"rtt","enabled":true,"mobdesc":"Top"} ]}