Customer Logins
Obtain the data you need to make the most informed decisions by accessing our extensive portfolio of information, analytics, and expertise. Sign in to the product or service center of your choice.
Customer Logins
Geely agrees to take 49.9% stake in Proton, 51% in Lotus

Geely Holding has agreed to take stakes in Proton and Lotus, adding more brands to its automotive line-up, which already includes Swedish brand Volvo, the London Taxi Company, Geely, and the new Lynk & Co, as it aims for access to the ASEAN market and acquisition of a high-end brand.
IHS Markit Perspective:
Significance: Geely group aims to gain a foothold in the ASEAN market, which will give its mainstay Geely brand solid sales growth prospects. The company's chairman has long had a dream to acquire Lotus Cars, and has now made this a reality, subject to regulatory approval.
Implications: Proton has been witnessing declining sales and profits in recent years and in 2016 accepted a soft loan from the Malaysian government on the premise that it would accept a strategic partner.
Outlook: The gain of major stakes in both Proton and Lotus are of strategic value to Geely Holding, a privately held Chinese company that has already managed to acquire and gain sales growth for Swedish brand Volvo, and it aims to use that experience to turn around Proton.
Chinese automaker Zhejiang Geely Holding Group has announced it has reached a "definitive agreement" with DRB-HICOM Bhd of Malaysia to take a 49.9% stake in Proton Holdings Bhd, as well as a 51% stake in Lotus Advance Technologies Sdn Bhd. In a statement sent directly to IHS Markit, the Chinese automaker states that the definitive agreement will be signed by the two parties by mid-July, subject to regulatory approval.
Daniel Donghui Li, executive vice-president and chief financial officer of Geely Holding Group, said, "With Proton and Lotus joining the Geely Group portfolio of brands, we strengthen our global footprint and develop a beachhead in Southeast Asia. Geely Holding is full of confidence for the future of Proton. We will fully respect the brand's history and culture to restore Proton to its former glory with the support of Geely's innovative technology and management resources. Reflecting our experience accumulated through Volvo Car's revitalization, we also aim to unleash the full potential of Lotus Cars and bring it into a new phase of development by expanding and accelerating the rolling out of new products and technologies."
DRB-HICOM Group managing director Dato' Sri Syed Faisal Albar said, "Our intention was always to ensure the revitalisation of the Proton nameplate. It was Malaysia's first national car brand and has more than 30 years of history. This deal will be the catalyst to elevate a brand that Malaysians resonate with."
Outlook and implications
Finally, Geely has announced its real plans for gaining a foothold in the Association of Southeast Asian Nations (ASEAN) market with Proton, as well as achieving the long-term dream of owner Li Shufu of acquiring the Lotus brand, which is also now set to become a reality, subject to the mandatory regulatory approvals, which are expected to be gained imminently.
In a company statement issued today (24 May), Geely Holding highlights the use of synergies between its brands, specifically Volvo's integration into the company and its "revitalisation". Geely aims to fully use the synergies between its brands to elevate the market presence and resurrect the brands of both Proton and Lotus.
"This agreement lays the foundation for a wider framework for both Geely Holding and Proton and Lotus to explore joint synergies in areas such as research and development, manufacturing and market presence. Geely Holding is committed to supporting the transformation of Proton and Lotus with the expertise and resources within the wider Geely Group. Both parties aim to build Proton into the most competitive brand in Malaysia and a leading brand in Southeast Asia," the automaker says in the statement.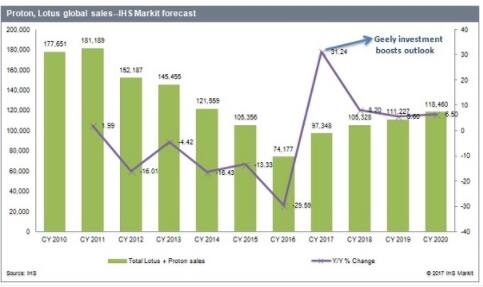 The group no doubt plans to push the Geely brand in the ASEAN market, and a platform and base in Malaysia will facilitate this development.
Geely Holding Group has built a strong record in global acquisitions; the group acquired Volvo Cars from Ford Motor Company in 2010 and acquired the London Taxi Company in 2013. Both Volvo Cars and London Taxi Company have benefited from joining the Geely Holding portfolio of brands due to strong internal synergies, robust and globally focused management, and access to innovative technologies.
However, questions remaining are why Proton chose to sell to Geely and what does Proton need?
DRB had shortlisted three automakers for the bidding process, with Groupe PSA reportedly submitting a bid for a 51% stake in Proton. That bid has now obviously not been successful. Instead, DRB has agreed to sell a 49.9% stake in Proton and a further 51% stake in Lotus to Geely. Proton needs investment. The automaker has already been given a 'soft loan' of MYR1.5 billion (USD342.23 million) from the Malaysian government in 2016. However, the terms of the loan were that Proton had to secure a foreign partner to enhance its R&D capabilities. In 2015, the two brands had combined sales globally of around 105,356 units, which dropped 29.59% year on year (y/y) in 2016 to 74,177 units. With a change at the helm of the organisations, the two brands Proton and Lotus are expected to witness growth, IHS Markit forecasts show.
Geely has long had a desire to acquire the Lotus brand and the automaker has been in and out of the news regarding this for a while. Meanwhile, Lotus has started a Lotus Exclusive service to create bespoke models for customers. This type of high exclusivity could fare well in China with the upper echelons of the consumer segment. The acquisition will give Geely one more brand in its line-up and will allow it to access the higher end of the market, targeting luxury consumers above its Volvo brand. The Proton brand will likely fit in as a mainstream brand alongside its existing Geely brand, but likely targeting clients on a lower budget than the new Lynk & Co brand is.
Strategically, however, to gain access to the ASEAN market, a base in Malaysia is a strong move by Geely, which also this year has launched the Lynk & Co brand aimed at a higher price point than its Geely brand. Local conditions include free-trade agreements between ASEAN nations, thereby allowing models produced in Malaysia to be sold across the ASEAN market without import tariffs.
In terms of production, therefore, Geely Holding is likely to use bases in Malaysia for the assembly of Geely models, while also strengthening investment to push the Proton brand to gain a greater market share in its domestic market, where it has seen sales decline in recent times. Meanwhile, IHS Markit has contacted the Chinese automaker to ascertain whether the company's new plant in Coventry, United Kingdom, could in the future produce for other group brands. Lotus cars are currently made at the Hethel plant in the UK, but in 2015 a deal was announced between Lotus's owners and the Fujian provincial authorities in the city of Quanzhou for the assembly of Lotus cars in China. IHS Markit has contacted Geely Holding and awaits further information. Most recently, Lotus has been considering launching a sport utility vehicle. The SUV segment continues to be a fast growth segment in China and specifically in the premium segment.
DRB-HICOM has reported declining revenue from its Proton business. DRB-HICOM's automotive division continued to a post pre-tax losses during the third quarter of fiscal year (FY) 2016/17.
About this Article
The above article is from AutoIntelligence Daily by IHS Markit. AutoIntelligence Daily provides same-day analysis of automotive news, events and trends. Get a free trial.
RELATED INDUSTRIES & TOPICS