Customer Logins
Obtain the data you need to make the most informed decisions by accessing our extensive portfolio of information, analytics, and expertise. Sign in to the product or service center of your choice.
Customer Logins
Even with gasoline demand on the upswing, US retail sector facing several months of low earnings
In early-March, with the COVID-19 pandemic looming, Russia and Saudi Arabia launched a pricing war. This caused the price of crude to collapse, which reverberated down the value chain and dramatically widened retail fuel margins. Two weeks later, government lockdown measures and voluntary social distancing would combine to cut US gasoline demand in half. However, given the scope of the margin increase, the average service station's regular gasoline earnings were actually higher in late March than before the crisis began.

Figure 1: US gasoline sales and retail margin

The Russia-Saudi oil conflict has since been resolved (or at least a cease fire has been called) and fuel sales appear to be on the rebound, but they remain far below average. Specifically, IHS Markit estimates that sales during the first week of May were still down more than 40% year on year. Going forward, US gasoline demand is forecast to remain substantially (20+%) below average through June and at least 10% below average through August. This is bad news for retailers because per gallon gasoline margins have already come back down to earth.

After topping out at around 87 cents per gallon during the final week of March, the US regular gasoline retail margin has declined steadily, averaging 36 cents per gallon last week. This is still slightly above the Jan-Feb average (26 cents per gallon) but when combined with the low throughput, implied gross regular gasoline earnings during the first week of May were down 12% from the weekly average during the first two months of the year. Earnings were also down dramatically from late March, when margins were sky high and demand had only just started to decline.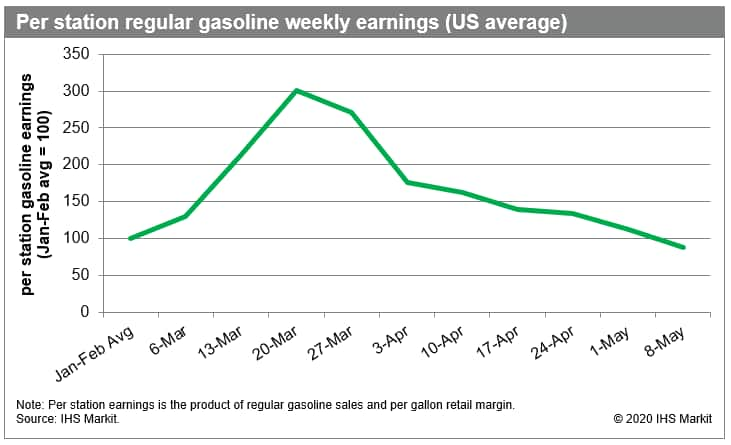 Figure 2: Per station regular gasoline weekly earnings (US average)
Of course, fuel is not the only source of income for a service station. In fact, most stations earn as much, if not more, from their non-fuel (i.e. convenience store) sales as they do from gasoline or diesel sales. This explains why the past two months have not exactly been "good for business" despite the extremely high gasoline earnings. Non-fuel sales, whose margin does not fluctuate, have also declined dramatically. And while there is immense variability in terms of each station's non-fuel offering, all undoubtedly rely on that contribution to stay in the black.
Looking forward, the non-fuel sector will be an important lifeline to US service stations as they seek to survive the prolonged dip in fuel sales. After all, fuel sales and non-fuel sales are interrelated, but they do not move in lockstep; there is room to increase the latter even if the former continues to lag. Convenience store sales have also proven highly resilient during times of economic hardship. In fact, US non-fuel sales actually increased during the post-recession years (2009 and 2010), shrugging off falling fuel demand, a weak economy, and the broader super-cycle of declining brick-and-mortar retail commerce. The root cause of current crisis is certainly unique, but there is every reason to expect the non-fuel sector to resume its growth trajectory next year.
IHS Markit has an industry-leading retail fuel consultancy. For more information or to discuss a project, please contact us.
IHS Markit experts are available for consultation on the industries and subjects they specialize in. Meetings are virtual and can be tailored to focus on your areas of inquiry. Book in a consultation with Rob Smith.
Rob Smith is a Director of the Global Fuel Retail at IHS Markit.
Posted 13 May 2020
---
Follow IHS Markit Energy
RELATED INDUSTRIES & TOPICS