Customer Logins
Obtain the data you need to make the most informed decisions by accessing our extensive portfolio of information, analytics, and expertise. Sign in to the product or service center of your choice.
Customer Logins
Game of 'Drones': the uses of UAVs by militant groups in Iraq and Syria

05 March 2017
Jane's Editorial Staff
Above: a still image from a video released by the Taliban on 22 October 2016 showing UAV footage of a suicide vehicle-borne improvised explosive device attack (SVBIED), illustrating the use of UAVs for both surveillance and propaganda.
Chris Hawkins and Otso Iho explore the use and exploitation of UAVs by militant groups in Iraq and Syria.
Typical uses and employment of UAVs by militant groups:
Reconnaissance
Propaganda
Conducting attacks on adversaries
Harakat Ahrar al-Sham al-Islamiyya: illustrated its use of reconnaissance UAVs in its video "Winds of Rage" released on 16 September 2016, and groups such as Hizbullah and Hamas have made use of UAVs against Israel.
Jund al-Aqsa: released a video on 2 September 2016 purportedly showing a UAV dropping small unguided explosive devices targeting military positions in Syria's Hama governorate.
Islamic State: the most notable and predominant militant group making use of UAVs in both propaganda and tactical military contexts. According to documents published by the Combating Terrorism Center (CTC) on 31 January, the Islamic State had planned the weaponisation of UAVs since 2015 and stated that its UAV programme had become "institutionalised".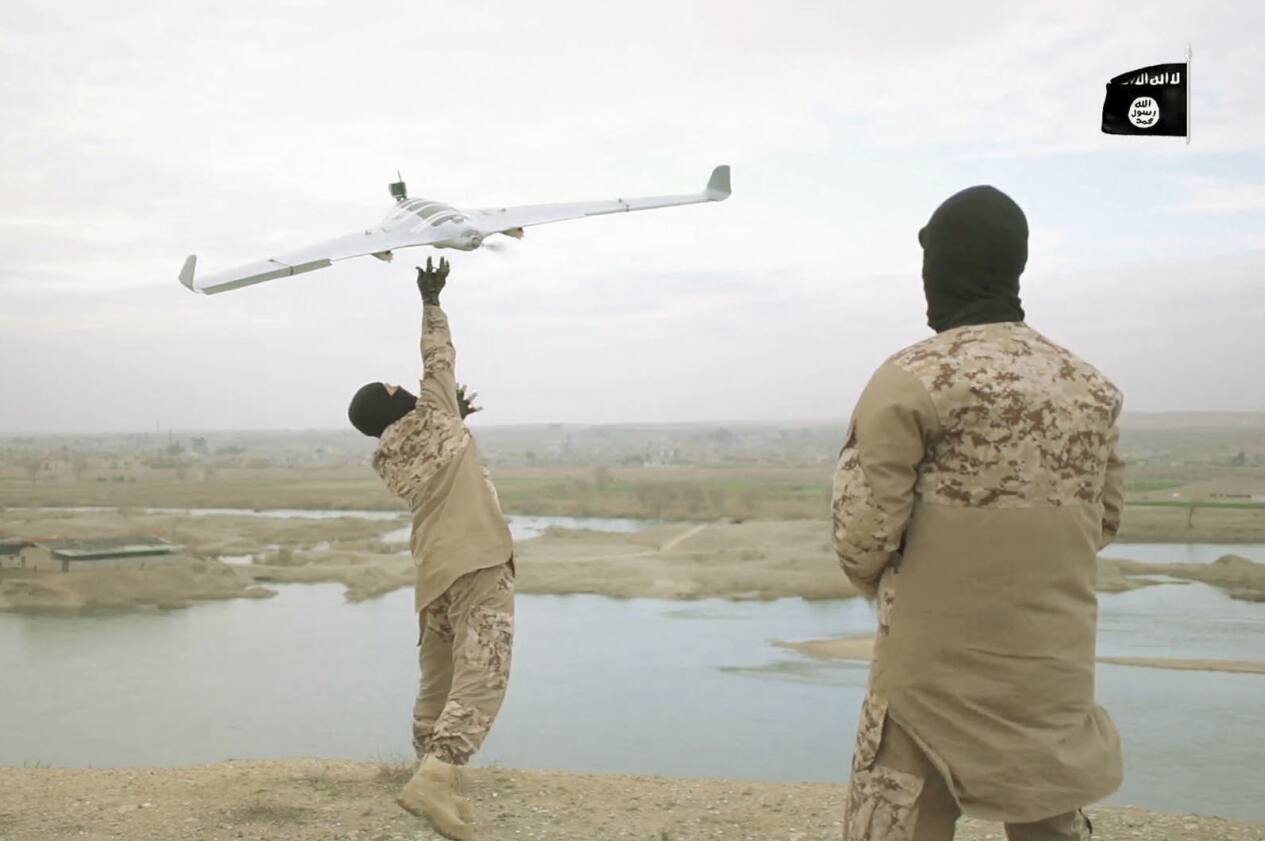 Above: a still from a video showing two Islamic State militants launching a Skywalker X7/8 UAV carrying two IEDs over the Tigris river.
Battlefield limitations
Although the use of UAVs in an attack context - both in dropping munitions and in booby-traps - has garnered significant media attention through the novelty attached to it, its use as an effective military weapon in a battlefield context is limited more to symbolic and propaganda use. The commercially available and improvised UAVs used by the Islamic State - including fixed-wing Skywalker X7s or similar, and quadcopter-type UAVs - offer relatively small payloads, typically approximately 1-2 kg. Although 1-2 kg of explosives could cause significant damage, this payload also has to include cameras and other navigational systems, meaning at least half of the payload could be used for explosives.
Although the Islamic State has frequently used UAVs in its propaganda releases, at the time of writing they have not been widely promoted by the group as a potential weapon to be used by its followers in the same way as knives, vehicles, and IEDs. For example, such mentions have been absent from its English-language magazines Rumiyah and Dabiq.
Counter-measures
Governments and militaries have developed a range of counter-measures to deal with the threat posed by UAVs. The vast majority of such solutions employ electronic means - typically jamming - to disable the vehicle or take control of it, if possible.
Outlook
The emergence of more advanced and cheaper UAVs and their increasing deployment by nonstate armed groups in conflict zones has made it imperative for security forces to prepare for the risk posed by these technologies. Although no such attack has been conducted in the West to date, the availability, cost, relative ease of use, and wide range of operational applications make UAVs an attractive new tool for militants. The force multiplier and value-add from a militant group's perspective is enhanced by the propaganda value afforded by a UAV-facilitated attack, as well as the footage that can be recorded of such attacks and exploited for propaganda and recruitment purposes.
Jane's editorial staff
Posted 6 March 2017
RELATED INDUSTRIES & TOPICS