Customer Logins
Obtain the data you need to make the most informed decisions by accessing our extensive portfolio of information, analytics, and expertise. Sign in to the product or service center of your choice.
Customer Logins
Further US operations to weaken Syrian government would extend life of Islamic State's caliphate

Above- A USF-16 takes off from Incirlik airbase in Turkey on 12 August 2015 to attack Islamic State targets. (US Air Force)
Analysis by IHS Markit's Conflict Monitor service shows that in the 12-month period between 1 April 2016 and 31 March 2017, 43% of Islamic State fighting in Syria was directed against President Bashar al-Assad's forces. The United States-backed Syrian Democratic Forces (SDF) accounted for 17% of recorded fighting involving the Islamic State. The remaining 40% involved rival Sunni opposition groups, particularly those which formed part of the Turkey-backed Euphrates Shield coalition. While US-backed forces surround the northern city of Raqqa, the Islamic State is engaged in intense fighting with the Syrian government around the city of Palmyra, central Syria, and in other parts of Homs and Deir al-Zour provinces. IHS Markit assesses that broader US military intervention aimed at toppling the Assad government is unlikely, given the unacceptably high risk of escalation with Russian forces, which are heavily embedded with the Syrian Army (see Syria: 7 April 2017:Missile strikes on Syrian airbase re-establish US credibility, but raise interstate war risks as result of miscalculation). However, further use of chemical weapons by both the government and opposition groups is likely and would probably trigger further US airstrikes against the Syrian Air Force.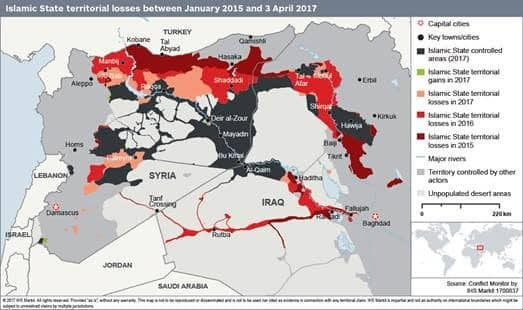 Above image - Islamic State's caliphate shrinks by 20% in first three months of 2017 to 48,500 km2.
Significance: Any further US action taken to weaken the Syrian government will inadvertently benefit the Islamic State and other jihadist groups. Syrian government forces are severely overstretched and a further reduction in their capability, particularly of the air force, would most likely enable the Islamic State and other jihadist groups fighting with the Hay'a Tahrir al-Sham coalition to push into the more heavily populated western Syria, threatening cities such as Hama, Homs, and Damascus, the capital. If the Islamic State succeeds in capturing the Syrian government's isolated and heavily contested garrison in Deir al-Zour, the group would have a new major population centre from which to run the "caliphate". The capture of Deir al-Zour, the largest city in eastern Syria, could be a life-line for the group's governance project beyond the loss of Mosul and Raqqa.
Columb Strack, Senior Analyst, Economics & Country Risk
Posted 19 April 2017
RELATED INDUSTRIES & TOPICS