Customer Logins
Obtain the data you need to make the most informed decisions by accessing our extensive portfolio of information, analytics, and expertise. Sign in to the product or service center of your choice.
Customer Logins
Focus on two new Power & Energy reports: solid growth projected

13 February 2019
IHS Markit Technology Expert
Two new IHS Markit reports on power and energy show vibrant prospects for both the wireless power/charging and the power supplies market, each spurred by high-growth applications or sectors. Both reports are from Dinesh Kithany, IHS Markit senior principal analyst for wireless power and power supplies.


Wireless Power/Charging report: Mobile phones rule
In the Q3-2018 edition of the Wireless Power Market Tracker, analyst Dinesh Kithany projects explosive growth for the wireless power market, with global shipments of wireless power receivers (Rx) and transmitters (Tx) forecast to hit 2.2 billion units by 2023, up by nearly a factor of five from 450 million units in 2017, as shown by the figure below.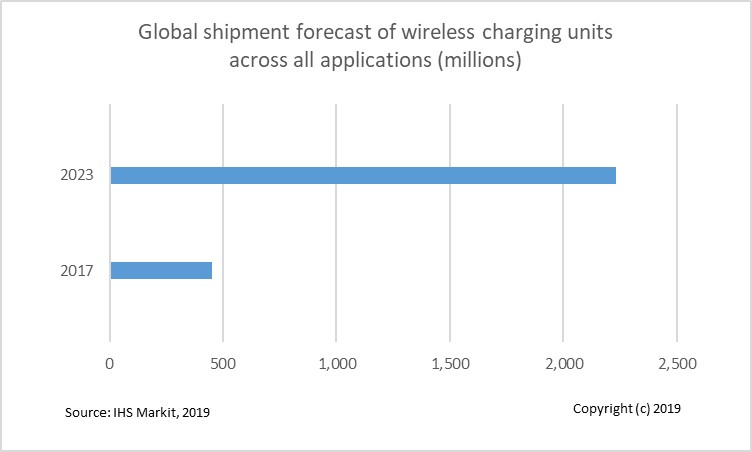 While mobile phones account for the bulk of shipments, Apple's failure to launch its much-anticipated AirPower universal multi-device wireless charger has possibly ended up dampening consumer and industry excitement while also slowing the adoption of wireless charging overall. To tap into further opportunities, the wireless power industry has shifted focus from smartphones toward consumer, industrial, and other applications—even in electric vehicles (EVs) that can be charged wirelessly.

Among wireless power technologies, low-frequency magnetic inductive solutions continue to hold the largest share in both Rx and Tx shipments through 2018. In the years to come, however, magnetic resonance and uncoupled solutions are projected to gain significant market share as wireless charging technology becomes popular across a broader market spectrum.

Issued on a quarterly basis as market trackers, the wireless power reports cover a wide range of applications, sectors, and product segments. These include automotive, for both EV and in-cabin use; mobile devices, such as tablets and laptops/notebooks; PC peripherals; wearables, like smartwatches; medical devices, such as hearing aids; smart home devices; home appliances; power tools; service robots and drones; and public places, including infrastructure and the hospitality market.

The report also supplies historical information as well as 5- and 10-year forecast data, alongside a deep-dive analysis of market drivers and barriers, existing technology solutions, and both current and forthcoming trends.


AC-DC and DC-DC Merchant Power Supply Market report: LED lighting propels growth in market revenue
In the AC-DC & DC-DC Merchant Market & External Power Adapters Report - 2018, Kithany projects global revenue for merchant power supplies market to reach $27.6 billion by 2022, up from $20.9 billion in 2017. Much of the expected increase in revenue will occur thanks to LED lighting applications, without which revenue growth would have been marginal at best. Other strong application markets are medical, military and aerospace, consumer, and industrial.

Of the nearly $28 billion in total market revenue for power supplies by 2022, the AC-DC segment covering both the commodity and non-commodity space will account for $25.7 billion, or 93%; the remaining 7%, or nearly $1.9 billion, will come from the DC-DC converters segment. The top 10 power supply vendors together accounted for approximately 41% of global merchant power supply revenue in 2017, of which Delta Electronics was the largest, with an estimated market share of 15%.

Also included in this comprehensive power supplies market report, published annually, is an overview of the competitive landscape, along with key growth opportunities by product type, package type, power ratings, application, region, and country.

The new 2018 edition marks the 13th year of coverage by IHS Markit of the AC-DC and DC-DC merchant power supply market. It also includes a dedicated section on all external AC-DC power adapters and chargers used to power or charge end-equipment.

The largest segment in the external power adapter market in 2017 belonged to mobile phones, which commanded 45% of industry revenue. Other important applications included set-top boxes, media tablets, and consumer premises equipment.


More information available
For more information on wireless charging and power supplies, visit our website. IHS Markit subscribers also have access to our overall Power & Energy Technology research service.

Dinesh Kithany is IHS Markit senior principal analyst for wireless power and power supplies
Posted 13 February 2019
RELATED INDUSTRIES & TOPICS