Customer Logins
Obtain the data you need to make the most informed decisions by accessing our extensive portfolio of information, analytics, and expertise. Sign in to the product or service center of your choice.
Customer Logins
Floating offshore wind ramps up with concrete steps in UK

The long gestation of the global floating offshore wind sector took two steps forward in recent days, with announcements by authorities in the UK advancing potential facilities in English, Scottish, and Welsh waters.
There are no commercial floating offshore wind projects up and running as yet, and the UK announcements bring that one step closer.
Observers say a key factor in the development of the offshore floating wind sector globally will be dedicated leasing, auctions, and regulatory frameworks for the technology, particularly in areas where it is difficult to locate fixed-bottom turbines en masse such as Japan and the US West Coast.
So, on 24 March, the UK Crown Estate (UKCE), which oversees government lands in England, Wales and Northern Ireland, announced it was starting to design a leasing opportunity for early commercial-scale floating wind projects in the Celtic Sea.
The Celtic Sea extends from the far southwestern reaches of Wales and England until it meets the Atlantic Ocean, running as far north as the southern Irish coastline and as far south as parts of Brittany in northwestern France.
The leasing process will focus on projects of about 300 MW in scale, as much as three times larger than any rights previously awarded to floating offshore wind in the UK, according to the UKCE. The process is a "new frontier" for the sector and an "important step" toward the British government's plans to deliver 1 GW of floating wind by 2030, UKCE added.
In December, UKCE sought advice on how best to accelerate the development of floating wind in the UK. UKCE received input from more than 30 stakeholders, it said, indicating strong interest in new floating wind rights and an appetite to develop projects of 300 MW in size. UKCE said it would provide further details on the leasing design "in the coming months."
Unlocking full potential
These won't be the first Celtic Sea floating wind projects. In 2020, UKCE awarded rights to Blue Gem Wind to develop the proposed 96-MW Erebus demonstration project in Welsh Celtic Sea waters.
UKCE is also exploring how best to support pre-commercial, smaller projects that it said "will continue to be an important part of developing new technologies for a range of seabed conditions and locations." Details of those efforts will be released alongside more on the leasing process in the coming months, it added.
"Floating offshore wind is the next frontier of the UK's clean energy ambitions, offering an exciting opportunity to deliver more green energy, in new areas offshore," said Huub den Rooijen, director of UKCE's energy, minerals and infrastructure portfolio.
The floating wind push has ministerial support in both London and Cardiff. "Floating offshore projects are going to be vital in ensuring we unlock the full potential of natural resources in the windiest parts around our coastline and ensure the UK remains a world-leader in offshore wind," UK Energy Minister Anne-Marie Trevelyan said.
The devolved Welsh government sang from the same hymn sheet. "We are committed to building a green and prosperous Wales for our future generations," said Welsh Government Minister for Environment, Energy and Rural Affairs Lesley Griffiths. "We welcome [UKCE's] intent to open the Celtic Sea for early-commercial scale floating wind development."
ScotWind advances too
Support for the UK floating offshore wind sector was also forthcoming in Edinburgh this week, as the devolved Scottish government answered impassioned entreaties of renewable energy advocates a week earlier. The Scottish electricity industry is dominated by renewable energy, with 97.4% of consumption met from green sources in 2020, according to Scottish Renewables.
Crown Estate Scotland (CES) on 24 March announced the outcome of a review of the option structure for ScotWind Leasing, the leasing round for seabed rights in Scottish waters. The review, which began in February, came in response to "revised market dynamics," CES said, specifically a pricey fixed-bottom offshore wind auction for sites in English and Welsh waters.
"This rapid review was undertaken to reflect the recent changes we have seen in the UK offshore wind market so that we could arrive at a pricing structure which properly reflects those changes," Amanda Bryan, chair of Crown Estate Scotland, said.
The revised option structure will see the same basic pricing structure for option agreements, but the maximum fee was raised to £100,000/square km ($138,000) of seabed from £10,000/square km and the threshold for local supply chain commitments that applicants must meet to request a lease increased to 25% from 10%.
Additional technical information will be published by the end of April to allow registered applicants to move in ScotWind Leasing forward, SEC said, with the closing date for applications 16 July. A total of 8,600 square km of Scottish seabed is potentially available for development.
Scottish Renewables was pleased with the rapid pace and outcome of the review. "Industry always understood the reasons for this delay and we are pleased [CES] has delivered these changes within a matter of weeks, keeping the process on track for the majority of Scottish Renewables members who have already spent thousands of hours and millions of pounds getting ready to bid for the seabed leases they need to build their projects," said CEO Claire Mack.
"It is now for those individual developers to decide if the new price of these leases reflects their assessment of the value of the contracts which they will need to secure from the UK government," added Mack.
In addition, RenewableUK Head of Policy and Regulation Rebecca Williams said: "ScotWind ... offers multi-billion-pound investment opportunities which can revitalize coastal communities in Scotland and expand the offshore wind supply chain throughout the UK, supporting thousands of jobs."
The timing of the ScotWind announcement was not a complete surprise, but it was welcome, according to Maf Smith, vice-chair of the Global Wind Energy Council's Floating Offshore Wind Taskforce, who told IHS Markit it was business that needed to be dealt with in advance of the quiet period -- when no such activity is permitted -- ahead of May's Scottish parliamentary elections.
ScotWind could support as much as 1 GW of floating offshore wind generation by 2030, said Smith, adding that choosing 300 MW as a starting point or "pathfinder" was a good place to land. Now developers have clarity and a timeline, he said.
And the expectations are that the ramp up will be rapid, even while the UK remains, for now, top of the table for installed offshore wind capacity. Research published 25 March by the UK's Offshore Wind Industry Council (OWIC) shows the number of people working in direct and indirect jobs in the country's offshore wind sector is set to rise from 26,000 currently to more than 69,800 by 2026.
Most of the jobs will being created in parts of the country which urgently need those jobs, the OWIC said, including the northeast of England, Yorkshire and The Humber, East Anglia, and Scotland.
The private sector will invest £60.8 billion across the UK over the next five years in developing, constructing, and operating offshore wind projects as the industry expands rapidly to help the government to achieve its net-zero emissions goal, according to OWIC estimates. The average annual investment will be £10.1 billion between 2021 and 2026, and investment in 2026 will total £10.6 billion, it said.
Floating offshore wind is at an interesting juncture in the UK, said GWEC's Smith, where the technology is available and what is needed is a scaling up. Such a step forward would also help in terms of developing supply chains and in growing expertise, he added.
The UK will not be alone in ramping up its floating offshore wind sector, observers say, especially with the advantages it offers.
The key advantages for floating offshore wind, according to a 15 March paper by London-based law firm Ashurst, generally fall into one of the following broad categories:
the ability to locate wind farms in previously inaccessible, high wind-speed locations
time and cost savings due to no need to construct foundations
the installation of the turbines is done in or close to the port, which is much easier, more cost effective and reduces the impact of adverse weather
reduced environmental impacts
floating projects are better suited to turbulent weather conditions than fixed-base projects.
One of floating offshore wind's disadvantages though, according to Ashurst, is that it requires dynamic cabling, exposing the line to greater loads than a fixed-bottom facility. That exposure includes to wave loads, impact loads from drifting objects, and additional fatigue due to substructure motion, the law firm said, increasing the cable failure risks compared with fixed-bottom offshore wind generation.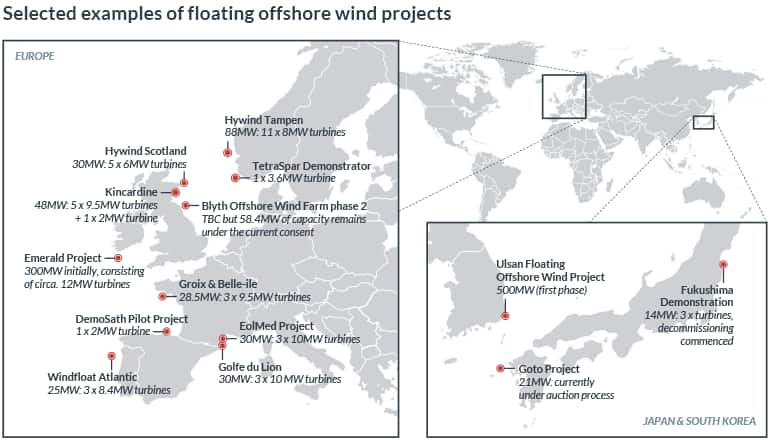 Source: Ashurst
The ambitions are much bigger though than those shown on the map above though, including on the US West Coast, where waters are too deep for fixed-bottom projects.
The biggest project yet announced is EnBW and Trident Winds' 1 GW Castle Wind project off the coast of California, according to Smith. That said, South Korea has two 800-MW projects in the works — the Firefly project proposed by Equinor and GIG/Total's south Jeolla project.
Some 6.1 GW of offshore wind capacity was installed in 2020, which was 175 MW less than in the record-setting year of 2019, according GWEC data published 24 March. China was responsible for half that figure, it said, adding that this growth dropped Germany to third in the global rankings.
Spanish company Iberdrola is one of the industry leaders driving such numbers. It wants to have a 4 GW offshore wind fleet up and running by 2025. Included in those ambitions are floating offshore wind plans in its home waters. The company wants to build its first commercial scale floating offshore wind farm in domestic waters, developing a 300-MW project at an expected cost of €1 billion ($1.2 billion). Design and engineering studies could begin later this year, with commissioning targeted in 2026, it said. Iberdrola aims to spearhead the development of up to 2 GW of floating wind projects off the coasts of Galicia, Andalusia, and the Canary Islands, it added.
However, a deadline for zoning proposals was postponed until September 2021 by the Spanish government, according to the Spanish Wind Energy Association, which believes the decision will push Spain further behind not just the UK and other European offshore wind leaders, but relative newcomers such as Greece, too.
The planets align for floating wind when there is a strong political desire to build renewable generation and achieve net zero within a reasonable amount of time, an appropriate regulatory framework, and centers of consumption that are not too far from the generation facilities, said Bruno Geschier, chief sales and marketing officer, BW Ideol.
BW Offshore spent €60 million ($72 million) on a roughly 50% stake in France's Ideol in February, completing the deal 15 March. Ideol has two full-scale demonstration wind turbines in France and Japan based on its patented floater design and is building up a pipeline of projects as co-developer in Japan, Europe, and the US, including the 30-MW EOIMed project, the first floating wind farm in French waters. Oslo-listed BW Offshore historically provided offshore services to oil and gas operations.
The French government plans to hold three tenders for floating wind capacity in 2021 and 2022, each with 250 MW of capacity. The first will be in the Bretagne Sud area, while the other two in 2022 are planned for areas in the Mediterranean. This is part of wider French ambitions.
Back in the UK, on 18 November, Ideol signed a letter of intent with the Scottish port of Cromarty Firth to use its land and berthing sites and develop a serial manufacturing yard for its concrete hulls. Ideol has formed a consortium with Belgium's Elico and Germany's BayWa r.e. to bid into the ScotWind tender.
The technology is suitable for lots of countries, Marcus Thor, CEO of turbine developer Hexicon, said during a World Offshore Wind Forum webinar on 18 March.
"The bottom line is the market for floating [wind] is much vaster than we think, and when we see stats and maps that indicate that floating wind has tremendous potential, and could represent 60% to 80% of the possibilities across the globe, well, there you have it. And that's why the future for floating is bright, especially when we start to also see left and right that the low-hanging fruit of fixed-bottom has been picked, and it is time to go deeper offshore," Geschier said during the webinar.
Half the world's floating wind fleet is likely to be in Asia eventually, added Thor.
Japanese needs, ambitions
Japan and South Korea are prime candidates for floating wind, Marco Wiedijk, vice president of business development, Principle Power Windfloat, told the webinar, as a result of their deep coastal waters and large offtake opportunities. Principle Power has offices in Portugal, France, the UK, and Japan.
Japan wants to source 22-24% of its energy needs from renewable generation by 2030. The Japan Wind Power Association proposed a target of 10 GW of new offshore wind by 2030. A number of fixed-bottom offshore wind projects have been announced in recent weeks, including by JERA and Iberdrola.
Japan has the world's sixth-largest sea space, according to law firm Hogan Lovells. Japan's offshore wind potential is as much as 600 GW, the law firm said, citing the JWPA.
Such is the enthusiasm and need for offshore wind in Japan that plans are underway for mass buildout of undersea cabling. Japan's Ministry of Economy, Trade and Industry (METI) is considering whether to lay subsea power cables connecting load centers with offshore wind projects as part of a push to expand the country's renewable generation fleet, according to local media.
Such efforts may cost as much as 1 trillion yen ($9.16 billion), but would be cheaper than running onshore transmission lines, which requires pricey and extended negotiations in land-scarce Japan, Nikkei reported 13 March.
China -- which installed 52 GW of onshore and offshore wind capacity in 2020 -- is not expected to rival its near neighbors such as Japan, South Korea, or even Taiwan, in the initial couple of phases of the commercial-scale floating wind buildout, said Andrei Utkin, senior associate, global clean energy technology, IHS Markit/ China still has so much space to expand into for its fixed-bottom offshore operations, he explained.
Across the Taiwan Strait, Taiwan is attracting a great deal of interest from international players who have had success there in the fixed-bottom sector. The reason Orsted is so active in Taiwan is that it makes financial sense, said Utkin, because it doesn't have to compete with the bulging wallets wielded by oil and natural gas behemoths such as Total and BP.
The oil companies dominated the UK's most recent leasing auction, precipitating the Scottish review. The prices for the power produced in Taiwan offer better returns too, Utkin said, citing prices of $100/MWh in Taiwan versus £40/MWh ($55/MWh) in the UK.
Such slim margins in Europe illustrate why government support is so welcome for the nascent floating sector, given the current differences in the cost of developing a floating offshore wind project and a fixed-bottom alternative.
Current estimates putting the price of putting floating wind capacity in the water at twice that of fixed-bottom generation were a "reasonable assumption," said GWEC's Smith, although the cost is expected to fall in the coming years. It isn't a competition between the fixed-bottom and floating options, added IHS Markit's Utkin.
Scaling up
A roadmap is necessary, Geschier said during the 18 March webinar, adding that policymakers need to lay out an appropriate regulatory environment that can encourage volume and visibility. This is especially important for the newer players in the space, he said.
The sector requires clarity and predictability from regulators in order to plan accordingly, noted Wiedijk, adding that subsidies and dedicated floating wind auctions would be especially beneficial.
The whole of the sector has a duty to keep educating lawmakers and policymakers on cost reduction, hammering home how such support for fixed-bottom wind paid off in that respect, Geschier said, adding that the advantages over nuclear - which was also seeking government support in many countries - need to be highlighted. Floating wind projects are unlikely to need as much support or backing for anywhere near the same amount of time as their fixed-bottom brethren, he said.
Scaling up floating wind operations will be the next phase of cost reduction, Smith said, and that is without innovation increasing the pace of the decrease. In a sector that has yet to settle on one or more standard design formats, innovation "might drive a different way of doing things," he said.
Once the first commercial projects are underway, costs will decrease "massively," added Utkin.
RELATED INDUSTRIES & TOPICS