Customer Logins
Obtain the data you need to make the most informed decisions by accessing our extensive portfolio of information, analytics, and expertise. Sign in to the product or service center of your choice.
Customer Logins
Flight trackers monitor Russian activity in Venezuela

05 March 2019
Jane's Editorial Staff
Jane's OSINT snapshots provide a brief analysis of recent national security-related news using lesser-visited online sources. Tim Ripley, writing for Jane's, examines open-source flight tracking data for evidence of Russian support to the government of Venezuelan President Nicolás Maduro.
This OSINT Snapshot appeared in Jane's Intelligence Review and is available as part of Jane's Military and Security Assessments Intelligence Centre.
Venezuela's political crisis has prompted increasing interest in the role of outside actors in the country. During January and February 2019, Jane's collated data from social media channels that monitor open-source flight tracking platforms and air traffic control radio frequencies to examine the movements of Russian civilian and military aircraft to and from Venezuela.
The rival contenders for political power in Caracas have sought to mobilise international support for their respective causes. National Assembly President Juan Guaidó was recognised as the legitimate head of state by the US and countries in Europe and Latin America after taking the president's oath of office on 23 January 2019. His rival, incumbent President Nicolás Maduro, has appealed for support from Venezuela's traditional backers in China, Cuba, and Russia.
On 10 December 2018, two Russian Aerospace Forces Tupolev Tu-160 'Blackjack' supersonic heavy bombers arrived in Venezuela for a four-day visit that was likely a show of support for Maduro by Russian President Vladimir Putin. Russian military transport aircraft, including one Antonov An-124 Ruslan 'Condor' transport aircraft, provided logistic support for that mission. The transport aircraft were tracked in open sources moving back and forth across the Atlantic.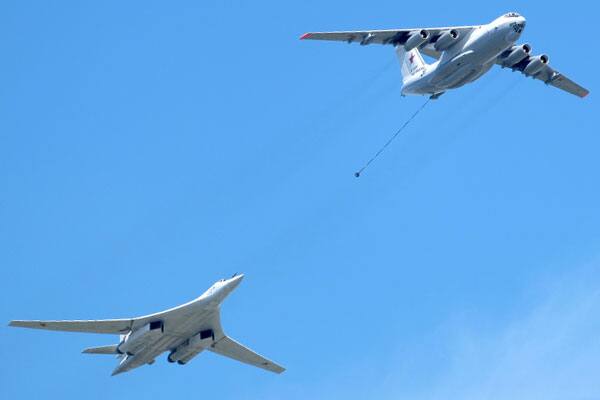 Venezuela allowed local and international media to film the arrival and departure of the Tu-160 bombers, providing video imagery of the flights. The aircraft were also visible in imagery of Simón Bolívar International Airport outside Caracas captured by satellite imagery provider DigitalGlobe on 10 December.
There have been no overt shows of military support for the Venezuelan government by Moscow in 2019. The only Russian military aircraft that was tracked in open sources in the western hemisphere was a Russian Aerospace Force Ilyushin Il-96-300 airliner, which was observed flying from Paraguay to Havana in Cuba on 23 January, before it flew back to Russia two days later. The plane was not tracked landing in Venezuela but based on its course it is likely to have done so.
The US military has not publicised any other Russian military aircraft movements to Venezuela, which it likely would have done, if any occurred. However, there have been multiple flights by Russian civilian aircraft.
A Boeing 777 airliner owned by Moscow-based Nordwind Airlines with the designation VP-BJG flew from Moscow to Simón Bolívar International Airport on 29 January. From Venezuela, it was tracked flying to Vnukovo International Airport outside Moscow on 30/31 January and then was observed on automatic dependent surveillance - broadcast (ADS-B) websites over the mid-Atlantic on 1 February, again heading south towards Venezuela.
There has been media speculation that Russia has aided Maduro's bid to stay in power by using commercial flights such as VP-BLG to move Moscow-backed private security operatives into the country and to facilitate the sale of Venezuela's gold reserves. VP-BJG's unusual flight path on the outbound leg - via Dubai - added to suggestions that it was involved in gold sales. The Russian government has denied these claims, which Jane's cannot independently confirm or deny.
On 30 January, a Boeing 757 belonging to Russian carrier Erofei/E-Cargo was tracked landing and taking off from Caracas. It reached Caracas via Dubai, Casablanca, and Cape Verde and then returned to Vnukovo, via Casablanca. On 23 January, an unidentified Gulfstream G550 was tracked flying from Russia to Venezuela.
Moscow gave strong rhetorical and diplomatic support to the Maduro government after the crisis emerged on 23 January. However, the almost 10,000-km distance between Moscow and Caracas would pose a challenge for an overt Russian military intervention in Venezuela. Any intervention force would be vulnerable to US counter-action that could isolate the Russian force in Venezuela from resupply by air or sea. Putin does not appear ready to commit the weight and prestige of the Russian military to the Maduro government.
This gives credibility to claims of covert intervention via private sector organisations that, if the situation deteriorated, could be disowned at lower reputational cost to Moscow. The data available in open sources do not contradict the assertion that Russia may have deployed private security personnel to Venezuela using these flights; however, nor do they provide any confirmation of the presence of such personnel.
Jane's delivers verified and validated unclassified, open source information and intelligence enabling us to offer you the highest levels of assurance. When you use Jane's to support your research or declassify your secret sources, you can confidently share intelligence safe in the knowledge it has been subject to a strict and rigorous methodology.
This OSINT Snapshot appeared in Jane's Intelligence Review and is available as part of Jane's Military and Security Assessments Intelligence Centre.
RELATED INDUSTRIES & TOPICS