Customer Logins
Obtain the data you need to make the most informed decisions by accessing our extensive portfolio of information, analytics, and expertise. Sign in to the product or service center of your choice.
Customer Logins
Five forces reshaping the global defence industry

Current assumptions about the global aerospace and defence industry, its trajectory, competitive landscape, winning business models, and customer requirements have a short shelf-life of relevance and utility. Powerful, persistent, and resilient disruptive forces will progressively and fundamentally alter the dimensions of the industry over the next 20 years.
Five forces particularly impactful in reshaping the global defence industry:
New actors: Defence and security companies face increasingly competitive environments filled with new actors from emerging markets and adjacent industries applying disruptive business models. The entry of a variety of emerging market companies that maintain the flexibility to offer 'good enough' solutions, technology transfer and favourable financing terms has been a feature of export markets for several years.
New technologies: Investment in and development, proliferation and clever use of a range of emerging technologies have the potential to rapidly transform end-user capability requirements and shatter assumptions about the types of models that will enable success for corporate activities.
New frameworks: The intersection of industry drivers with changing global economic and geopolitical frameworks and broad 'megatrends' related to demography, communication, population movement, new sovereignty models, data consumption, banking and commerce and transportation will have far-reaching implications for global defence and security.
New rules: Managing supply chains and business resilience amid increasing regulations focused on counterfeiting, cyber-security, corruption, climate change and conflict materials will bring new risks and constraints on partner identification and even on the markets to which companies can sell.
New budget and funding realities: The current environment of constrained procurement budgets will be matched by enduring spending crunches in research, development, testing and evaluation budgets across several regions later in this decade.

Source: Jane's Defence Budgets
Key themes:
Innovation will occur more frequently through risk-burdened company-funded innovation initiatives that may never be selected for contracts.
Defence and security companies are likely to seek means of sharing risk through public private partnerships, cooperation with competitors, acquisition of niche providers of sought after technologies, or even partnership with other non-defence and security industries focused on different applications.
Intersecting forces will drive industry and market dynamics along previously unexplored trajectories, generating new competitions that do not conform to existing assumptions about the future of the industry.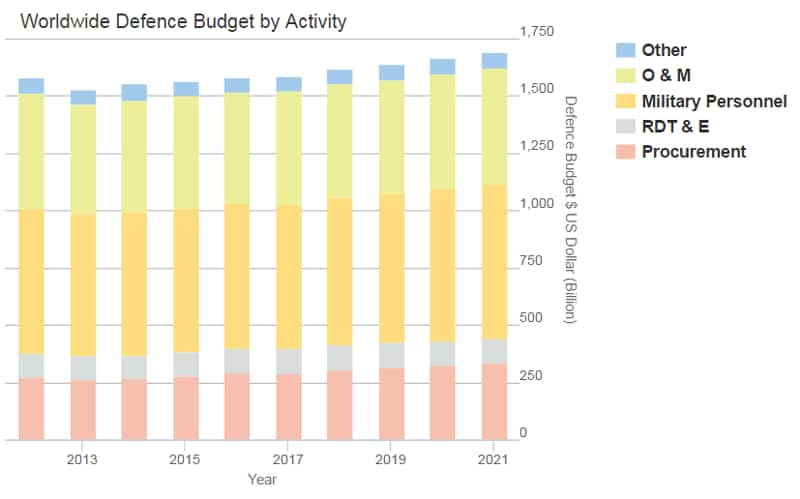 Source: Jane's Defence Budgets
Even the industry's largest and best positioned companies could be outmanoeuvred or forced out of the market by new, nimble, niche competitors or voluntarily choose market exit in an increasingly risk-burdened environment. Uncertainty, complexity and vulnerability to disruption will be prominent and persistent.
Tate Nurkin is Managing Director, Consulting and Thought Leadership, IHS Aerospace, Defense and Security
RELATED INDUSTRIES & TOPICS