Customer Logins
Obtain the data you need to make the most informed decisions by accessing our extensive portfolio of information, analytics, and expertise. Sign in to the product or service center of your choice.
Customer Logins
Federal Reserve's Beige Book: Upper Midwest and Plains see stagnant consumer spending and hiring as COVID-19 cases rise

Regional picture
Most parts of the country saw "slight to modest" growth in economic activity from late August to September according to the US Federal Reserve's latest Beige Book report, containing anecdotal information from regional business contacts. Consumer spending and employment gains in the upper Midwest and Plains states lost some momentum as a resurgence of COVID-19 cases and hospitalizations led to continued low tourism levels in major metros and falling restaurant spending in the Plains. Employment gains remained on a slow, steady path in much of the country while leisure and hospitality workforce growth in the West and Great Lakes regions remained sluggish. Manufacturers began to see stronger gains in production and new orders as demand picks back up, especially because of a surge in homebuilding and renovation in the South and West. The boom in residential construction encompassed much of the Mountain West and South, but limited construction labor availability and increasing materials costs meant supply of homes could not meet demand.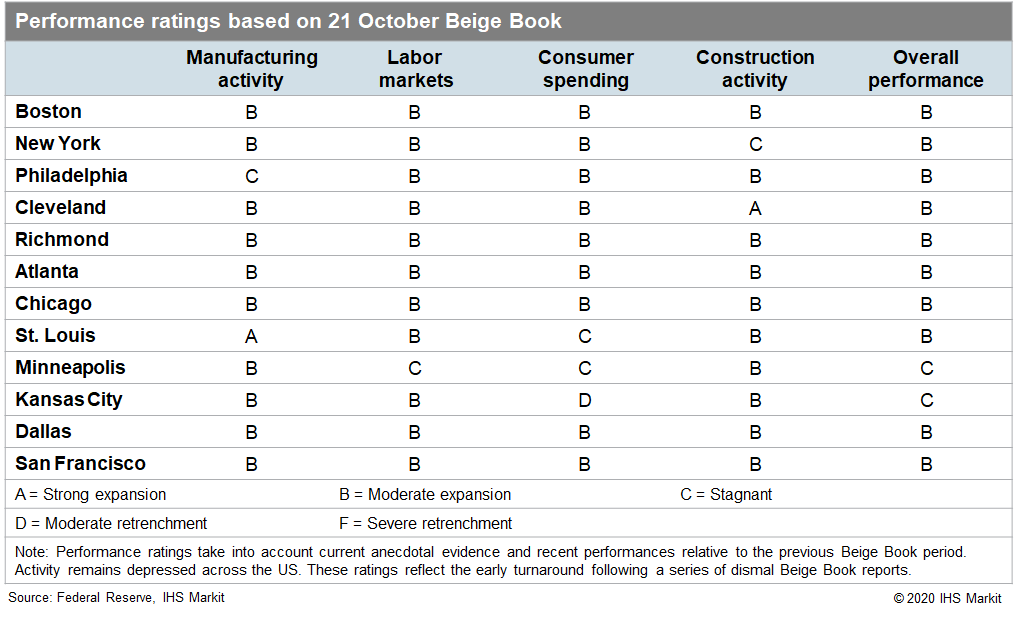 Consumer spending growth was stagnant in the upper Midwest and dipped slightly in the Plains states as COVID-19 caseloads and hospitalizations began to rise again. Strong summer gains in auto sales and restaurant spending in these states failed to continue into September. Low hotel occupancy in major metros of the Midwest and no growth in air traffic have stalled the region's recovery of consumer spending. In the Northeast, travel and tourism continue to slowly pick back up, but the region's restaurants are expecting sales declines as winter weather makes outdoor dining unappealing and indoor dining capacity remains limited. Some restaurants in Missouri and Illinois plan to temporarily close if cold weather makes outdoor dining unprofitable. Areas with strong home construction growth, including the Mountain West, South, and Midwest, saw surges in demand for appliances and furniture, but back-to-school clothing sales were generally weak. While the recovery in tourism activity in the South makes limited headway, Texas airlines note that business travel stays "nearly nonexistent" and most convention and conference business has been postponed until the second quarter of 2021.
Labor markets continued their slow expansion across much of the country, but hiring was minimal in the upper Midwest. Firms in Minnesota, Wisconsin, and surrounding areas, especially those in the hospitality industry, began downsizing their workforces in response to sluggish consumer demand. Employment gains were stronger in Illinois and around the Great Lakes, but labor-force availability constraints limited growth. While businesses in the Great Lakes region noted that generous unemployment benefits were making hiring workers difficult, health concerns and difficulty juggling dependent care were cited more frequently in all regions. Transportation firms and airlines in Texas and the South began laying off workers as travel remains depressed. Businesses in the Northeast continue to rehire leisure and hospitality workers as COVID-19 restrictions are lifted, but employment in entertainment and tourism firms in the West is treading water at low levels.
Manufacturing activity made strong gains in the Midwest and South, especially among metals producers in Missouri, appliance and furniture manufacturers in the Carolinas and the South, and food processors throughout the country. Manufacturers in the Northeast also noted a pickup in activity. Firms in the region with heavy exposure to military and government business indicate that their "COVID slowdown was more or less over" as of September. Pandemic-related supply-chain disruptions are still present in many manufacturing sectors in most regions and are constraining growth. Producers of heavy machinery intended for infrastructure projects in the Great Lakes region sense uncertainty in their business growth as state and local governments face sharp budget cuts in the near term. Meanwhile, building materials businesses in the West and South have seen a skyrocketing surge in demand as home construction booms.
Construction activity was solid in Texas, the South, and around the Great Lakes as homebuilders struggled to keep up with demand for single-family homes. In Texas, shortages of construction labor and very high lumber prices resulted in many project delays despite sky-high buyer interest. Record-low home inventories in many regions are expected to be a limit to real estate activity for a while. Pennsylvania homebuilders and brokers note that many buyers are acting out of a "pandemic-driven desire for more space," while those in the Carolinas and South find many homebuyers are looking for more land and more bedrooms to be used for offices and homeschooling areas. Strong home construction around the Great Lakes is expected to be stronger than usual this fall as low mortgage interest rates encourage more buyers to complete purchases.
Outlook
This month's Beige Book indicated a strengthening recovery among manufacturers in the Midwest and South and strong homebuilding activity in the Mountain West, Great Lakes, and South. Employment gains and consumer spending growth continue to be influenced by the course of the COVID-19 pandemic and consumers' reactions to rising or falling prevalence of the virus in their community. While retail stores, restaurants, and attractions are generally open for business, subject to local capacity constraints and social distancing guidelines, sharp rises in hospitalizations in the Midwest and South during the winter months will limit consumer spending and hiring, especially in leisure and hospitality services. Winter weather also threatens the recovery of the restaurant industry in the Midwest and Northeast if consumers do not see outdoor dining as an appealing option. Homebuilders will continue to confront labor-market and supply-chain disruptions as demand for single-family homes stays elevated in the South, Great Lakes, and Mountain West regions.
RELATED INDUSTRIES & TOPICS