Customer Logins
Obtain the data you need to make the most informed decisions by accessing our extensive portfolio of information, analytics, and expertise. Sign in to the product or service center of your choice.
Customer Logins
Federal Reserve's Beige Book: Activity slows in November as COVID-19 cases surge in Midwest and Great Lakes

Regional picture
While the recovery continued in many parts of the country from October to early November, areas of Pennsylvania and a large swath of the Midwest saw growth begin to erode according to the US Federal Reserve's latest Beige Book report, containing anecdotal information from regional business contacts. Rising COVID-19 cases and hospitalizations in the Upper Midwest south to Missouri and Arkansas dented the rebound in consumer spending and restrained employment gains among hospitality and services businesses. The restaurant industry in the Great Lakes region and the Northeast is bracing for reduced business as capacity restrictions are reimposed and cold weather makes outdoor dining less attractive. Job growth surged in some sectors such as warehousing, manufacturing, and construction in the West and South, but leisure and hospitality hiring remained very sluggish as the travel recession persists. Manufacturing activity in the Midwest rose at a moderate pace as producers of furniture, textiles, and food race to meet high demand, but firms in sectors most negatively affected by the pandemic, including energy and aerospace, deal with low levels of activity. Home construction remains a bright spot in the West, Midwest, and South as low mortgage interest rates and surging demand for single-family homes has created large backlogs for homebuilders.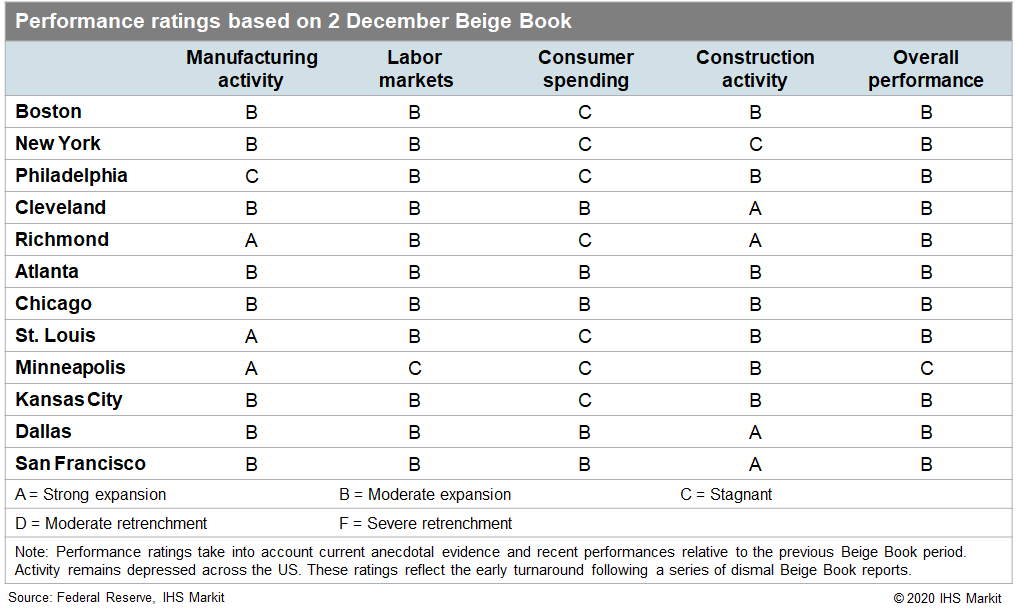 Consumer spending was "mostly flat" in the Northeast as retail and restaurant sales saw slower growth in the face of rising COVID-19 caseloads and falling temperatures. As more localities in the region reimposed "safer-at-home" orders, consumers scaled back some spending. Hotels and tourism businesses remain locked into weak activity with any pickup in growth not to be seen until 2021. Travel and tourism declined modestly in the South with business travel in Texas described as "nearly nonexistent" and many firms not anticipating a full recovery until 2023. A similar surge in cases around the Great Lakes and Midwest pushed dine-in restaurant sales back down after modest growth over the summer. Restaurants and event venues in the region note a rise in cancellations of weddings and holiday events as COVID-19 hospitalizations push higher. While leisure destinations within driving distance of major metros in the West saw strong activity in the fall, the beginnings of new business shutdowns and restrictions in California and more areas of the West posed a large concern for hotel and attraction operators in the region.
Labor markets expanded modestly in much of the country, but only slight growth was felt in the Northeast and areas of the Plains states. As COVID-19 cases began to surge again and many local and state governments reinstituted restrictions on business activity and large gatherings of people, hiring in leisure and hospitality, transportation, and tourism sectors weakened. The arrival of cold weather is expected to cause headaches for restaurant owners in the Northeast and Great Lakes region as outdoor dining becomes less attractive. Businesses in most of the country note that rising cases, virtual schooling, and difficulty accessing childcare have limited labor force growth, especially among minorities and women. While there was strong job growth in distribution, construction, and manufacturing sectors in the West and South, hiring remains a challenge for entry-level "in-person" jobs such as food services as virus fears and labor force constraints persist.
Manufacturing activity continued to make strides in the Southeast and in a large area from the Upper Midwest south to Missouri. New orders and production levels increased at a robust pace in these regions as manufacturers continued to bounce back from the depressed demand and activity from the early stages of the COVID-19 pandemic. While production in the South was restrained somewhat by labor supply concerns and numerous supply chain disruptions, producers of home furnishings, textiles, food, and shipping materials saw robust demand for their products. Activity in the Northeast softened a bit in November and some firms noted a relationship between surging COVID-19 cases and lower levels of demand. Following the early pandemic shutdowns, auto manufacturers around the Great Lakes approached their pre-pandemic production levels. The Texas energy sector sat below normal levels with weak demand at many petroleum refiners.
Construction activity made strong gains in the West, Midwest, and parts of the South. Low mortgage interest rates and the continuing trend towards remote work have pushed home demand along the West Coast higher and home inventories lower. Similar dynamics occurred in Texas and the Southeast where some builders are raising prices not only to cover rising materials costs but also to slow down sales in some areas. High construction supply costs have also affected developers around the Great Lakes and Upper Midwest where some builders note a "relentless" demand for single-family homes. In the Northeast, construction of new homes remains sluggish while home demand remains very high. "Severe" inventory shortages in Massachusetts and fast sales in Pennsylvania and New York contributed to rising home prices.
Outlook
This month's Beige Book pointed to a softening of the recovery in the Midwest and parts of the Northeast as the COVID-19 pandemic surges on. Employment gains and consumer spending growth, especially in the heavily impacted leisure and hospitality industry, remain contingent on the rising or falling prevalence of the virus in local communities. The reinstitution of business capacity restraints and surging hospitalizations in the Midwest and the potential for overwhelmed hospitals in other parts of the country will limit consumer spending and hiring in the near term. Homebuilders and manufacturers in the South, Midwest, and West will continue to face labor market and supply chain disruptions as demand for homes and durable goods remains elevated. Depressed leisure and business travel, along with winter weather's effect on outdoor dining, will be the prime concern for the leisure and hospitality sector across the country.
RELATED INDUSTRIES & TOPICS