Customer Logins
Obtain the data you need to make the most informed decisions by accessing our extensive portfolio of information, analytics, and expertise. Sign in to the product or service center of your choice.
Customer Logins
Federal Reserve's Beige Book: Economic activity remains well below pre-pandemic levels

Regional picture
Economic activity continued to increase in much of the country in July and August according to the US Federal Reserve's latest Beige Book report, containing anecdotal information from regional business contacts, but increasing COVID-19 outbreaks and heightened uncertainty around the course of the pandemic put the brakes on the recovery in Texas and resulted in stagnation in the Northeast. Hiring lost momentum over the summer as COVID-19 cases rose in the South and concerns around infection risk, childcare, and the coming school year limited employment growth in many regions. Retail sales dipped sharply in Texas as the pandemic ballooned while the ongoing travel recession limited consumer spending gains in tourism-heavy metros in California, the Northeast, and the South. The continued restart of automotive manufacturing plants boosted steel production in the Midwest, but weak activity in the Northeast and declining new orders elsewhere point to a slower end of the year. Homebuilding activity was modest outside the Northeast and was brisk in the West, but strong homebuyer demand overwhelmed the market in the South as low mortgage interest rates coaxed buyers into the market.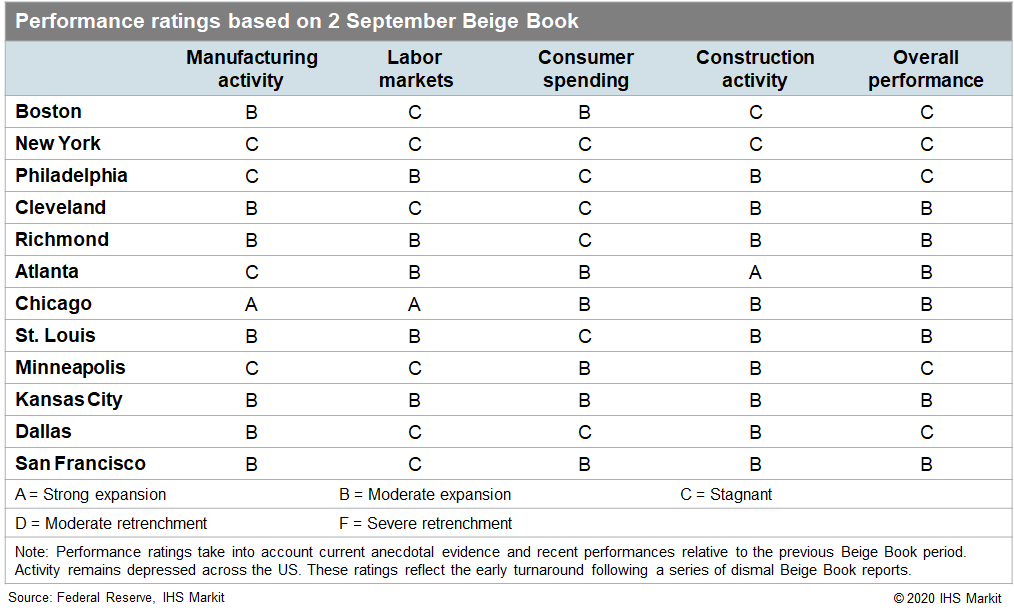 Consumer spending rose in many parts of the country as auto sales remained strong, but retail sales and spending from tourism and travel was mixed. Tight inventories of new cars following the spring manufacturing shutdowns restrained sales in Texas, areas around the Great Lakes, and in New York, but used-car sales boosted dealership activity. Retail sales in Texas plummeted as COVID-19 cases rose sharply, but both have since leveled off. "Virtually nonexistent" business travel and convention activity weighed on leisure and hospitality sectors in Texas, the Northeast, and the major metros of the Midwest. Restaurants in Pennsylvania sustained themselves on outdoor dining and takeout but grew wary of the arrival of cold weather. Air travel remained stagnant and had negative impacts on California and Texas tourism hubs, with many airports seeing few if any international visitors. Hotels, museums, and tourist attractions in the South struggled to boost business while contending with social distancing capacity restrictions and weak demand.
Labor markets expanded slightly but the pace of hiring ticked down noticeably in many parts of the country while employment levels remained far below pre-pandemic levels everywhere. While employment rose strongly in Illinois, Michigan, and areas around Lake Michigan, weak customer demand and increased uncertainty resulted in sluggishness in the rest of the Midwest. Many firms began making permanent layoffs to cut costs. Businesses in the South continue to recall furloughed workers slowly as demand recovers, but concerns around potential infection, childcare arrangements, and uncertainty around virtual schooling are leading to difficulties in hiring. Infection risk is less of a concern among recalled workers in the Northeast, a region that has seen declining cases over the past two months. Nonetheless, some firms continue to make permanent job cuts. Employment outlooks at hotels, tourism businesses, and transportation firms in the West, Northeast, and South are grim as travel demand remains limited.
Manufacturing activity rose modestly in the Midwest and Great Lakes regions as automotive manufacturing plants continued to resume operations. Steel producers in Ohio, Missouri, and Kentucky saw boosts in activity, and many indicate they are running at full operation. Aviation and aerospace manufacturers and suppliers in the Northeast and Midwest continue to see weak business as travel remains depressed amid the ongoing pandemic and sharply reduced airline operations. Overall manufacturing activity in the Northeast was tepid and "slowed to a crawl" in New York. Food production and home goods production led modest gains in the South. Manufacturers in the upper Midwest noted greater concern about the rest of 2020 and the beginning of 2021 as new orders and business continued to decline.
Construction activity struggled to keep up with demand for homes in Georgia, Tennessee, and Florida as low mortgage interest rates pushed many buyers into the real estate market. Surging home sales in Virginia and the Carolinas led to many homes being sold "sight unseen." A similar pattern continued to occur in the Midwest and Great Lakes area as low rates and increasingly tight inventories of single-family homes create a "sense of urgency." Many homebuyers who expect to work remotely demonstrated their desires for less-crowded suburban locales and larger living spaces. Homebuilding remained very sluggish in the Northeast with construction in Pennsylvania limited by lumber and labor-supply problems. Nonetheless, very strong demand for single-family homes prevailed throughout the region.
Outlook
This month's Beige Book pointed to continuing gains in manufacturing and homebuilding activity in the Midwest and South, but slowing employment growth in the Northeast, Great Lakes, and West as the COVID-19 pandemic remains a looming presence in the state economies. Although almost all areas saw restaurants and retailers reopen their doors, capacity constraints on restaurants, tourist attractions, and limitations on large events will slow the pace of the consumer spending recovery. Depressed travel and tourism along with the long-term duration of social distancing measures will limit employment and spending growth in places like California, the South, and major cities of the Northeast and Midwest that depend on conventions, conferences, and foreign tourists. States in the Northeast and Midwest that had better initial success at slowing the spread of COVID-19 will see relatively stronger hiring and spending in the near term, but raging outbreaks in other parts of the country will threaten their recoveries.
RELATED INDUSTRIES & TOPICS