Customer Logins
Obtain the data you need to make the most informed decisions by accessing our extensive portfolio of information, analytics, and expertise. Sign in to the product or service center of your choice.
Customer Logins
Fast forward: Analysing changes to the intelligence landscape in the 2020s

06 December 2017
Jane's Editorial Staff
By 2030, the operational security environment for intelligence and law enforcement agencies will be unrecognisable to a practitioner from the turn of the century. Jane's examines some of the factors surrounding the digital revolution that will dictate whether nation-states maintain an informational advantage over their adversaries.
This is an extract from an article from Jane's Intelligence Review
Key points:
Miniaturised, sensor-based platforms using artificial intelligence are likely to gain prominence in future intelligence collection, as evolutions in quantum and conventional computing will make communications interception increasingly difficult.
As the digital revolution advances, states are increasingly likely to begin fusing human and technical intelligence - and foreign and domestic operations - into single, threat-based collection processes.
Overemphasis on technological supremacy in intelligence-gathering will risk inattention to other and more prosaic challenges, such as resistance to innovation, risk-averse planning, and slow institutional response times.
For states, intelligence collection and analysis have an overarching objective: to maintain informational superiority over an adversary. Yet the ability of a state to maintain that advantage - over competitors and even its own citizenry - is no longer assured. The exponential pace of the digital revolution has already had a profound effect on how intelligence agencies and law enforcement operate. It has consigned much of the Cold War-era tradecraft to history as technological capabilities shift power away from governments and towards commercial companies and individuals, or create new realities in inter-state competition.
The digital revolution brings both threats and opportunities to the intelligence community. Recognising the pace of change, it has begun to adapt and innovate. In 2015, the CIA under former director John Brennan launched a new Directorate of Digital Innovation. According to David Ignatius writing in The Washington Post on 9 April 2015, this change reflected the CIA's recognition that, "Every aspect of intelligence, including covert action, recruiting agents and protecting officers' covers, is now linked to information technology."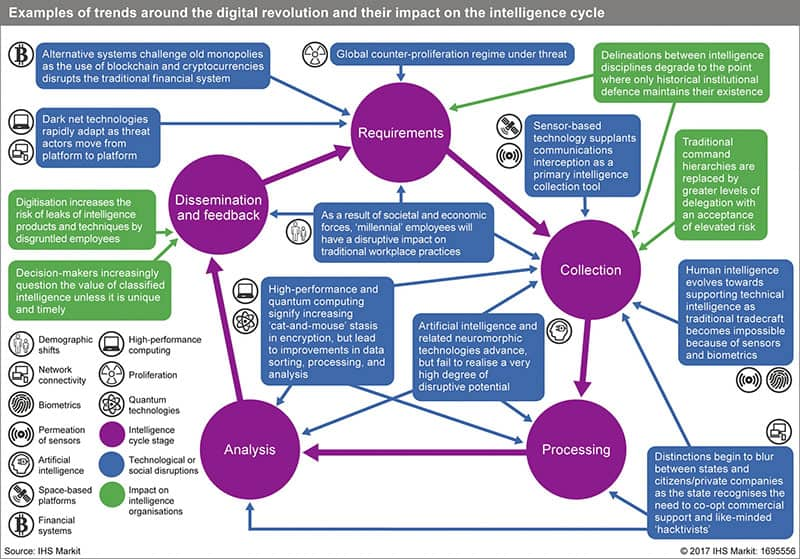 Caption: Examples of trends around the digital revolution and their impact on the intelligence cycle (© 2017 IHS Markit/Getty images)
On 20 September 2016, Alex Younger, the head of the UK's Secret Intelligence Service (SIS, or MI6) - which aims to recruit up to 1,000 new personnel by 2020 to address digital challenges - said, "The information revolution fundamentally changes our operating environment. In five years' time, there will be two sorts of intelligence services: those that understand this fact and have prospered, and those that don't and haven't."
Nevertheless, the pace of change threatens to outstrip often slow-moving and change-resistant state agencies. Multiple disruptive new technologies will come on-stream in the coming decade that will have profound implications for their operations, and commercial companies will build capabilities that exceed those of all but the most advanced states. Digitally empowered citizens will test their governments' informational superiority.
As advanced technologies proliferate, old and formerly clear delineations within intelligence work are likely to be strained in many ways: between the different intelligence disciplines such as human intelligence (HUMINT) and signals intelligence (SIGINT); between the practices of collection and analysis; between foreign and domestic intelligence; and between online and real-world personas.
Many changes by 2030 will not be directly technological. Other trends will inform a shifting security environment, such as the demographic ascendancy of the computer-literate millennial generation, rapid urbanisation within megacities, increasing popular scepticism about the state monopolies of power, and the transition to a service-based knowledge economy.
Nevertheless, technology is set to be the pre-eminent driver of change, and this will occur within a context of multiple emerging systems. Cryptocurrencies and blockchain technologies will challenge the established global financial system; US primacy in space-based technologies will face challenges from the rise of genuine state peers, most notably China - which is pursuing advanced earth observation capabilities and promoting alternative navigation and communication systems - as well as from private companies taking advantage of reduced technological and financial barriers to entry to place their own satellite constellations into orbit; and the nature of the internet itself is likely to change with differing conceptions about its operation and regulation.
This is an extract from an article that appeared in Jane's Intelligence Review. Learn more.
Jane's Editorial Staff
Posted 6 December 2017
RELATED INDUSTRIES & TOPICS