Customer Logins
Obtain the data you need to make the most informed decisions by accessing our extensive portfolio of information, analytics, and expertise. Sign in to the product or service center of your choice.
Customer Logins
Fair Value Pricing Case Study: Istanbul Stock Exchange Closure August 2018

Istanbul Stock Exchange Holiday, August 2018
When market quotations are not readily available, such as when a foreign security's primary market is closed, many funds switch to fair value pricing. This ensures that long-term investors in the fund benefit from the most accurate share price possible. IHS Markit provides an independent fair value service that calculates the best estimate of stock and bond prices outside of active trading hours.

The following case study looks at fair value results from the August 2018 Istanbul Stock exchange closure, which spanned for four days from August 21, 2018 for the Eid festival. In the absence of readily available quotes for Turkish securities during this holiday, IHS Markit provided fair value prices for Turkish securities to enable investors, primarily mutual funds with Turkish exposure, to calculate their net asset values (NAV) accurately. The need for updated prices for Turkish securities was even more pertinent in the volatile market environment caused by ongoing trade tensions, Lira's depreciation to record lows and Turkey's deepening economic crisis.
IHS Markit Fair Value Results
Throughout the 2018 Turkish holiday, IHS Markit continued to provide fair value prices for 160+ Turkish securities that were calculated using patent-pending multi-factor methodology. Global, regional and sector, and entity specific factors were used to indicate macro and micro level risks. The most common input factors into the Turkish fair valuation models from IHS Markit included:
iShares MSCI Turkey ETF
Turkish ADRs
S&P Futures
Currency TRY.USD
During the exchange closure, the Turkey ETF's movement reflected the impact of ongoing developments. Since this country specific factor was used to calculate the fair value for most Turkish securities, its +3.28% jump during this period was captured by the fair value models resulting in positive adjustments for the majority of Turkish securities. Table 1 highlights average directional correctness, closer to open, and arbitrage reduction for the Turkish universe for the period of the exchange holiday.
Table 1: Average Accuracy Statistics for Turkish Securities


Impact of Lira freefall on Turkish Banks
The declining Turkish Lira had a major impact on Turkish banks given considerable exposure to foreign debt. The impact on financial firms and banks is two-fold as they are exposed to increased default risk of corporates having considerable amount of debt in USD and EUR. Table 2 highlights fair value adjustments made through August 24 and compares it to the open on August 27 for some of the largest Turkish banks. This table also shows how effective a multi-factor model can be, capturing price movements on not only the security level with ADRs but also on the regional level with country ETFs and the global level with index future movements.
Table 2: Banks of Istanbul Stock Exchange (market cap in billions)
Large Cap with Significant Movement
The majority of Turkish securities opened higher after the four-day Eid holiday, with some of the largest securities in terms of market cap across different sectors opening significantly higher. The multi-factor model from IHS Markit effectively captured these significant movements as shown in the table below. Table 3 outlines adjustments made through August 24 for some of the companies with significant movement.
Table 3: Large Cap Companies of Istanbul Stock Exchange (market cap in billions)
Top 20 Large Caps in Aggregate
The chart below tracks the change in aggregate market cap for the 20 largest Turkish securities (market cap > ₺10B) with respect to market cap through the market closure. By the end of Friday Aug 24th, IHS Markit added ₺2.76 Billion to the total market cap, capturing 90% of the total movement.
Chart 1: Total Market Capitalization Change Through the Holiday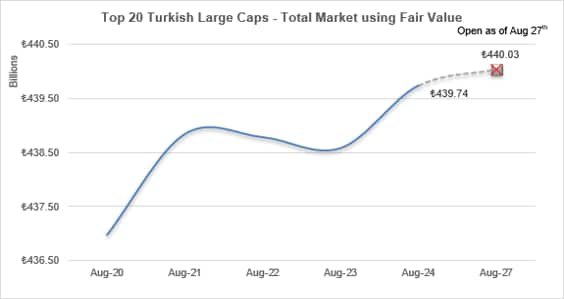 IHS Markit's Fair Value service helps clients meet their regulatory and compliance requirements by providing daily fair value adjustment factors and prices for over 150,000 equity and fixed income securities. We provide security-level as well as aggregate-level fair value adjustment factors across global hourly snaps with the ability to add custom snap times tailored to client requests. To learn more, please visit: ihsmarkit.com/products/pricing-data-fair-value.html or contact: MK-FixedIncomePricingBusinessDevelopment@ihsmarkit.com
RELATED INDUSTRIES & TOPICS