Customer Logins
Obtain the data you need to make the most informed decisions by accessing our extensive portfolio of information, analytics, and expertise. Sign in to the product or service center of your choice.
Customer Logins
Fair Value Event: A Look Back at the China Golden Week Exchange Holiday, October 2018

When market quotations are not readily available, such as when a foreign security's primary market is closed, many funds switch to fair value pricing. Using fair value pricing ensures that investors in the fund benefit from the most accurate share price possible. IHS Markit provides an independent Fair Value Service that calculates the best estimate of stock and bond prices outside of active trading hours.
The following case study provides an analysis of fair value results for the China Golden Week stock exchange closure that spanned five days from October 1 - 5, 2018 and included several consecutive national holidays. In the absence of readily available quotes for Chinese securities during this holiday, IHS Markit provided fair value prices for Chinese securities to enable investors, primarily mutual funds with Chinese exposure, to more accurately calculate their net asset values (NAVs).
With a look ahead to the upcoming Golden Week this October 1 - 7, 2019, those holding Chinese Securities should consider that Fair Valuation service could be that much more valuable compared to last year due to major events happening around the globe - including the ongoing Hong Kong protests and the U.S./China trade war -that could impact the prices, even when the local exchanges are closed.
IHS Markit Fair Value results - 2018 Chinese Golden Week
Throughout the Chinese stock exchange holiday, IHS Markit continued to provide fair value prices, calculated using patent-pending multi-factor methodology, for 2500+ Chinese securities. Global, regional, sector, and entity specific factors were used to indicate macro and micro level risks. The most common input factors in the IHS Markit Chinese fair valuation models included:
Nikkei Futures
Hang Seng Index Futures
S&P Futures
iShares China Large-Cap ETF
Sector ETFs
China ADRs
Table 1: Average Accuracy Statistics for China securities
Top 50/Top 10 Large Caps in aggregate
The charts below track the estimated Chinese market movement during Golden Week using our fair value prices for both the 50 largest Chinese firms and 10 largest Chinese firms by market capitalization traded on Chinese stock exchanges. The prices are aggregated using a capitalization weighted index calculation method like that of the Nikkei 225 or S&P 500. Each firm is weighted by its market capitalization and aggregated for a total value in billions of yuan. The value for 8 Oct uses the actual open prices that mark the end of Golden Week.
From the return perspective, we were able to capture 56% and 63% movement respectively for Top 50 and Top 10 Chinese firms by market capitalization traded on Chinese stock exchanges.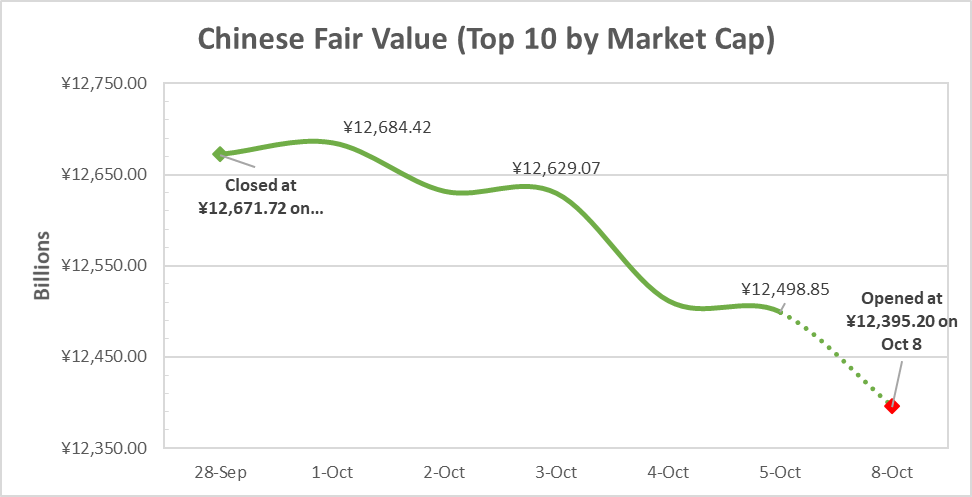 CSI 300 Index
CSI 300 Index consists of the 300 largest and most liquid A-share stocks. The Index aims to reflect the overall performance of China A-share market. The Chart below shows the performance of Top 100 firms in the CSI 300 index. The Prices are aggregated using Weighted Average prices for the securities. The value for October 8, 2018 uses the actual open weighted prices that mark the end of Golden Week.
From the return perspective, we were able to capture 47% movement a day before open prices were available for Top 100 firms in the CSI 300 index.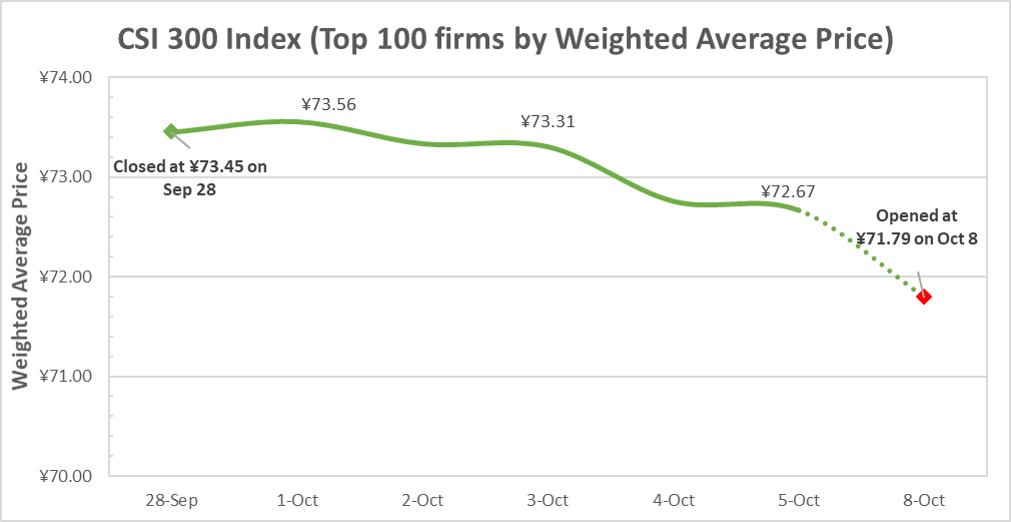 The table below highlights securities that were fair values and captured significant movement.

Related Reading
IHS Markit Fair Value Case Study: 2019 Istanbul/Karachi Stock Exchange Holiday in Observance of Eid al-Adha
IHS Markit Fair Value Case Study - Japan Golden Week May 2019
Fair Value Pricing Case Study: Istanbul Stock Exchange Closure August 2018
IHS Markit provides industry-leading data, software and technology platforms and managed services to tackle some of the most difficult challenges in financial markets. We help our customers better understand complicated markets, reduce risk, operate more efficiently and comply with financial regulation.
---
Follow Financial Services
RELATED INDUSTRIES & TOPICS