Customer Logins
Obtain the data you need to make the most informed decisions by accessing our extensive portfolio of information, analytics, and expertise. Sign in to the product or service center of your choice.
Customer Logins
Extreme right activists build transnational narratives online

This an extract from a report written by the Jane's Intelligence Unit that appears in Jane's Intelligence Review.
The threat posed by the extreme right has gained greater prominence in 2019. Mark Wilson, from Jane's Intelligence Unit, surveys the online extreme-right landscape, examines the narratives being deployed among users from different countries, and assesses how these communities are likely to evolve.
Key points
The internet is providing a platform for extreme right-wing narratives and activists to coalesce across national borders.
Extreme right-wing supporters are gravitating towards lesser-known parts of the surface web and displaying greater security awareness, which is likely to make them harder to track.
Alternative social media networks championing free speech are acting as echo chambers for extreme far-right ideology, increasing the risk of online radicalisation.
Two attacks on mosques in Christchurch, New Zealand, on 15 March refocused attention on the threat posed by the extreme right wing. The attacks underlined how the internet is aiding this threat by giving the extreme right a means to transcend national borders. The alleged Christchurch assailant, Australian Brenton Tarrant, livestreamed the attack on Facebook. In the aftermath of the attack, the footage quickly appeared on a range of alternative online platforms popular with extreme right-wing supporters and activists, such as the social media networks Gab and Minds, the messaging boards 4chan, 8chan, and Stormfront, and the video-sharing website BitChute.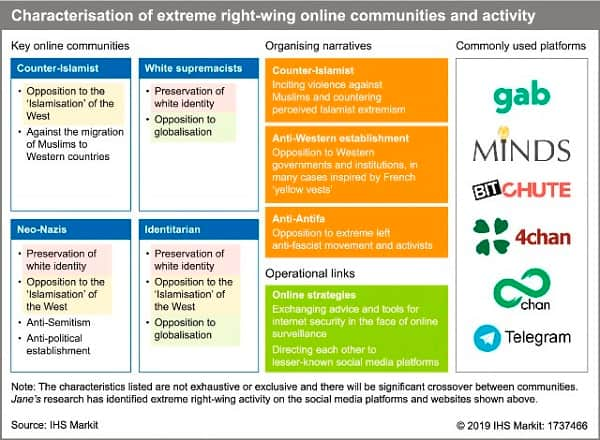 Characteristics of extreme right-wing online communities and activity (IHS Markit)
The internet has long been a news-dissemination tool for the extreme right, but open-source research by Jane's shows how they are increasingly using the online space to transnationalise their agenda. The process is not led by any one individual or organisation, but by networks of activists in different countries who use a range of alternative social media platforms and websites to focus on issues that cut across national borders. In some cases, these extremists are linked by their discussion of the same topics, while in others their links are operational.
Monitoring extreme right-wing activity across a range of online platforms, Jane's has identified three narratives of the extreme far right's developing online transnational agenda. First is the counter-Islamist narrative, with extremists in several countries fomenting alarm at what they perceive as the 'Islamisation of the West'. Second is the anti-political establishment narrative, with extreme right-wing activists attempting to use the gilets jaunes ('yellow vests') protests in Europe to advance their agenda. Third is their focus on the US-based Antifa (anti-fascist) movement, for which activists inside and outside the US have a shared hatred.
In terms of extreme right-wing transnational operational links, extremist forum and social media users share skills on how to stay online in the face of security crackdowns, signpost each other to lesser-known parts of the surface web, and appear to mimic each other's use of cryptocurrency to generate funding for their activities.
This an extract from a report written by the Jane's Intelligence Unit that appears in Jane's Intelligence Review.
RELATED INDUSTRIES & TOPICS