Customer Logins
Obtain the data you need to make the most informed decisions by accessing our extensive portfolio of information, analytics, and expertise. Sign in to the product or service center of your choice.
Customer Logins
Expect deep capex cuts in China this year

27 April 2016
Stephane Teral
As we learned in February, Chinese New Year 2016 is a year of the Monkey and for people born in a year of the monkey (1920, 1932, 1944, 1956, 1968, 1980, 1992, 2004), 2016 is considered a bad year. Well, there might not be any connections but telecom spending in China looks bad this year.
For those of you who subscribe to our Mobile Infrastructure Intelligence Service, you already know the story: China fueled the LTE (Long Term Evolution) market last year, which in turn reached its peak and consequently, the outlook looks bleak this year with double-digit year-over-year decline! However, if it's any consolation, LTE spending is not looking too bad and may actually be one of the few bright spots after all.
China's telecom spending will sink 18% this year
In late March, China's Big 3 reported their full 2015 financial results and provided their 2016 capital outlay guidance (see Exhibit 1). China Unicom will cut the most with -44%, followed by China Telecom (-11%), and China Mobile the least with -4.8%. It's worth mentioning that last year's implementation of tower sharing handled by a joint venture company named China Tower has already delivered significant operational and capital expenditure savings for the three service providers. China Mobile owns 38% of China Tower, China Unicom 28% and China Telecom 28%. The final 6% is held by China Reform Holding Company (CRHC), an entity controlled by the government's State-owned Assets Supervision and Administration Commission (SASAC).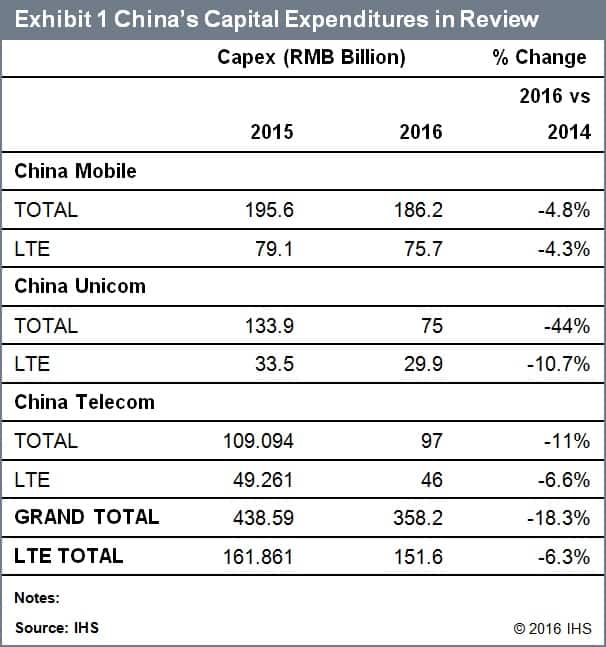 As usual, the devil is in the details:
China Unicom is committed to reduce capex through strategic cooperation with rival China Telecom (agreement signed in January 2016) and expects to save RMB59.9B year-over-year, which leads to the 44% cut. Starting this year, the two companies will co-build and share mobile and transmission networks for remote areas and indoor venues. The two operators have pledged to work together to accelerate shared infrastructure deployment in a bid to improve mobile coverage and performance more rapidly. They will also work together to restore one another's services should they suffer outages caused by natural disasters and major emergencies. For China Unicom, the plan is to achieve a RMB20.6B (75%) reduction in 2G/3G spending, reinforcing the acceleration of the migration to the shiny LTE network. Fixed-line broadband and data spending will be cut by a half and infrastructure, transmission and others will see a 46% reduction.
For LTE alone, the company completed the coverage phase of its network build through the addition of 310k eNBs (eNodeBs), bringing its footprint to 400k. China Unicom plans to add another 280k eNBs this year to boost coverage (perception of 97%) and quality.
China Telecom will be focusing on improving LTE coverage in towns, villages, and rural areas and will also beef up its LTE footprint in all cities. The company did not provide many details but also said they'll bring fiber to all cities.
The company added 330k eNBs last year, which is 50k above the initial plan set one year ago, bringing its LTE footprint to 510k eNBs. China Telecom plans to add another 290k this year to reach the 800k eNBs bar.
China Mobile is focusing on gradually decreasing capex each year, a pattern that started in 2014. With a planned 18% reduction, transmission will take the largest hit this year to make room for increases in areas such as business networks, support systems, buildings, infrastructures, powers, and others. The company boosted transmission spending last year to grow its interprovincial backbone network capacity by 250% year-over-year.
Regarding LTE, the company added 380k eNBs last year, bringing its footprint to 1.1 million and will add 300k eNBs this year.
Bottom line
China is no longer the new Eldorado! At this point, China looks very much like developed nations characterized by market saturation, lack of differentiation, stagnant if not declining blended ARPUs, declining voice and SMS revenues, and fierce competitive pressures. And this capex cut is not a onetime event: the three Chinese service providers made it clear that they will gradually reduce their capex each year moving forward. In fact, China Mobile started this trend last year with a 9% capex reduction over 2014 and now an almost 5% cut.
The strategic cooperation between China Unicom and China Telecom may be setting a direction toward a potential two-operator market in China. However, I believe there's a very low probability that a merger will materialize because the carriers are state backed, and the move could conflict with the government's current agenda.
Stéphane Téral is a Sr. research director, mobile infrastructure & carrier economics for IHS
Posted on 27 April 2016
RELATED INDUSTRIES & TOPICS