Customer Logins
Obtain the data you need to make the most informed decisions by accessing our extensive portfolio of information, analytics, and expertise. Sign in to the product or service center of your choice.
Customer Logins
Exact target of US Paris Treaty Nationally Determined Contribution remains in limbo

Coming up with a new nationally determined contribution (NDC) for GHG emissions reductions for the US is proving to be more difficult than expected, say observers of the Biden administration, as the president prepares to welcome representatives of up to 40 nations to the Leaders' Climate Summit, to be held on a virtual basis 22-23 April.
In announcing the summit last month, the White House said the US will produce "an ambitious 2030 emissions target as part of its new Nationally Determined Contribution under the Paris Agreement."
Reading between the lines, however, it appears that what will emerge in time for the summit will be a milepost or two that would become part of the NDC later this year, rather than a fully-fledged new plan.
This would disappoint environmental groups such as the Natural Resources Defense Council (NRDC) and Sierra Club, which remain optimistic that President Joe Biden soon will commit to a 50% GHG reduction by 2030 from 2005 levels.
"We believe the Biden administration is on track to announce a new and stronger NDC by, or before, the president's Leaders' Climate Summit," Jake Schmidt, senior strategic international climate director in the international program at the NRDC, wrote in an email to IHS Markit. "And we're very hopeful that new climate pledge will be ambitious enough to create good-paying jobs, boost clean energy, and deeply cut greenhouse gas pollution by the end of this decade—putting us on the path to a climate-safer future."
On 13 April, a coalition of 310 US-based businesses and investors wrote an open letter to Biden in favor of an NDC commitment to at least a 50% cut by 2030. "A bold 2030 target is needed to catalyze a zero-emissions future, spur a robust economic recovery, create millions of well-paying jobs, and allow the US to 'build back better' from the pandemic," the letter said, playing on themes that Biden stressed in his presidential campaign and since taking office.
Signatories to the letter represent over $3 trillion in annual revenue, nearly 6 million employees across all 50 US states, and over $1 trillion in assets under management, according to We Mean Business and Ceres, which coordinated the campaign. Utilities Iberdrola, National Grid, and Vistra signed the letter, as did renewable energy companies EDP Renewables, Enel Green Power North America, and Enviva.
However, others watching the issue play out in Washington, DC say that the complexity of coming up with a complete NDC is delaying the process. They say it might take the Biden administration several more months to firm up its plan, leading to the upcoming summit becoming more about statements of intent than a forum for new commitments.
"I can see Biden announcing stretch goals, new objectives," said Frank Maisano, senior principal, policy resolution group, Bracewell, in a call with IHS Markit on 12 April. "But I've been saying since early in the year that I expect a full NDC to be ready for Glasgow," the next international climate summit, COP26, to be held in November.
"A decision by the administration to release the US NDC later than April 22 would not be surprising, given the enormous technical challenges in meeting a 50% reduction by 2030," said Jack Belcher, principal, advisory services, Cornerstone Government Affairs. "A delay would allow for further analyses of what can be achievable by 2030."
NDC and US emissions trajectory
An NDC is each country's non-binding interim commitment to GHG reductions by 2030, which would put it on a path to net-zero emissions by 2050, which is the target to limit global warming to 1.5 degrees Celsius compared with pre-industrial levels.
The 2015 Paris Agreement included a promise that signatories would submit NDCs by the end of 2020. The UN Framework Convention on Climate Change, which coordinates the global response to climate change, said 191 nations have submitted an initial NDC, and eight countries have submitted a second NDC as an update.
However, according to the World Resources Institute, the NDCs as of the end of 2020 would "set the planet on a course for around 3 C of warming," or far short of the goals of the Paris Agreement.
The Obama administration's September 2016 NDC stated the country "intends to achieve an economy-wide target of reducing its greenhouse gas emissions by 26-28% below its 2005 level in 2025."
President Donald Trump's withdrawal from the Paris Agreement meant the NDC was no longer in effect. It was reinstated when the US rejoined the Paris Agreement in January 2021 under Biden.
Through 2019, the US had cut its emissions by about 13% from 2005, according to the Environmental Protection Agency — reducing emissions from 5.999 billion mt to 5.769 billion mt. EPA's most recent GHG inventory report was issued on 14 April.
While that reduction exceeds almost every other country's, it lags the target of President Obama when he issued the NDC in 2016. Obama's NDC assumed that rules such as the Clean Power Plan and higher corporate average fuel economy standards would take effect, but they were held up by litigation and then rescinded by President Trump. As a result, the US' emissions reductions trend had leveled out in 2018-2019, as shown in the IHS Markit graph below.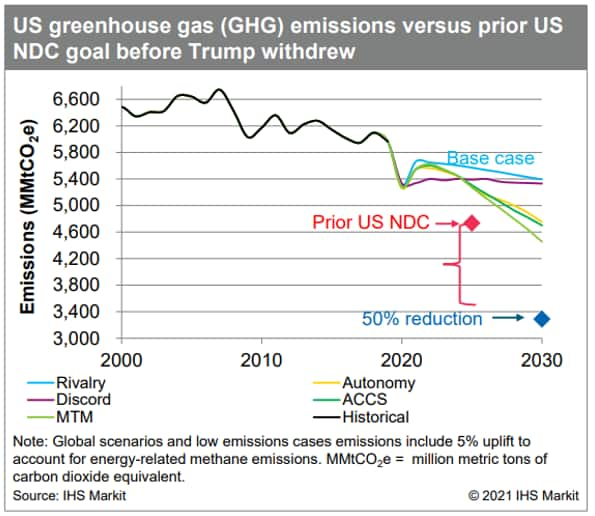 The COVID-19 economic downturn in 2020 will reduce 2020 US emissions by about 10-11%, according to preliminary estimates by the Rhodium Group. But that's widely seen as a one-time event that will be reversed as the US economy rebounds; in other words, it doesn't solve the NDC gap.
As the graph above shows, the gap is wider if the new NDC is set at a 50% reduction. "Probably one of the most difficult aspects of [a new] NDC is going to be how to balance an ambitious target with a credible target," said Anna Mosby, IHS Markit principal research analyst. "The international community will want to see both in the US plan."
Practicality should be a priority, Maisano agreed. "The commitment needs to be substantive, and it needs to have some basis in reality," he said. "We [the US] are going to be held to what we say we will achieve."
One factor to consider is that the NDC cannot just be a promised emissions reduction; it must be backed up with information on the policies the US will take to achieve that goal, even if they are not fully enacted or even spelled out in complete detail. This is why the Obama administration spent more than a year developing its NDC, Mosby said.
US power sector
In thinking about how to develop a credible and ambitious plan, a new government-sponsored study about the US power sector provides a more optimistic perspective about how Biden's goals are achievable in one sector of the economy.
Lawrence Berkeley National Laboratory found in a study released 13 April that US power sector emissions in 2020 were 52% below what they were expected to be in 2030, compared with a 2005 baseline.
"Business-as-usual projections saw annual carbon dioxide emissions rising from 2,400 to 3,000 million metric tons from 2005 to 2020. But actual 2020 emissions fell to only 1,450 million metric tons," said Berkeley Lab scientist Ryan Wiser, lead author of the study.
Breaking down how that was achieved, the study attributed it to energy efficiency cutting projected demand by 24% — that is, leaving it flat from 2005 through 2020. The study said natural gas use in power generation was 112% higher than expected, and renewables provided 79% more power than projected as well. With the influx of gas and renewables, the use of coal and oil in the power sector fell 70% below projections. The shift from coal and oil to gas and renewables was facilitated by a fall in gas prices due to the "shale revolution" and federal policy that increased requirements on coal- and oil-fired power plants to reduce their emissions, the study said.
Proponents of a market-based approach to reduce GHG emissions point to studies such as the Berkeley Lab report as indicative that current policies are working and that incentives for further innovation are key to a cleaner future.
"The NDC ought to be constructed based on what's either already been authorized, or what Congress has a say in including. The Energy Act of 2020 is a perfect example with a lot to offer -- clean energy innovation, incentives, and ramping down hydrofluorocarbons -- plus strong bipartisan support. America's innovation-led approach to decarbonization is already the envy of large countries worldwide, and we should commit to more of what is technologically and politically realistic, as opposed to an administration going it alone," said Rich Powell, executive director, ClearPath, which advocates for "breakthrough innovations" in energy, such as carbon capture and next-generation nuclear power.
Regardless of the details of the US plan announced at the Leaders' Climate Summit, Maisano credited Biden with showing that he is serious about pivoting to bring the US into a leadership role on climate change. The summit is expected to bring together countries responsible for approximately 80% of global emissions and global GDP, according to the White House. "The President also invited the heads of other countries that are demonstrating strong climate leadership, are especially vulnerable to climate impacts, or are charting innovative pathways to a net-zero economy," the White House said.