Customer Logins
Obtain the data you need to make the most informed decisions by accessing our extensive portfolio of information, analytics, and expertise. Sign in to the product or service center of your choice.
Customer Logins
EV loyalty climbs to 55%

It feels like electric vehicles are dominating the industry now - everyone is talking about them, the manufacturers are rushing to design and engineer them, battery plants are springing up everywhere, and so on. Given such widespread attention to this powertrain, it would make sense to take a look at how current EV owners feel about their cars or light trucks. Fortunately, IHS Markit's census registration data and supplemental sales and powertrain data provide a good look into the behavior of electric vehicle owners, including their re-purchase patterns.
EV owners' loyalty to the electric vehicle propulsion system*, regardless of brand, size, or price, has steadily been increasing over the last five years. From a fuel type loyalty of 34% five years ago, EV loyalty has climbed to 55% in 2020, according to IHS Markit loyalty data. Also, given the prominent position of Tesla in the EV space, it is understandable to assume Tesla plays a central role in these improving EV loyalty results, but that's not the case. It turns out that non-Tesla EV owners are almost as loyal to the EV concept as Tesla owners, with loyalty of 52% in 2020, up from 31% five years ago.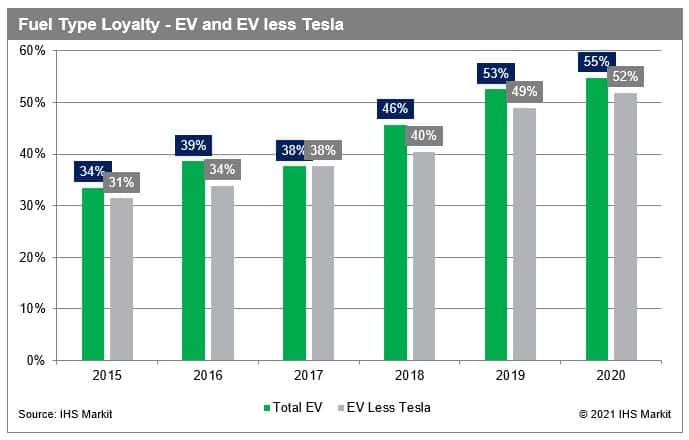 A second, related metric supports the trend mentioned above, i.e., an increasing openness to the electric vehicle concept. IHS Markit registration data indicate that owners of all four major fuel types, including gasoline, hybrid, diesel, and EV, are moving at an increasing rate to electric vehicles. Although the numbers are small for gasoline, hybrid, and diesel households moving to an EV, the results are up for all three fuel types when compared to five years ago. Hybrid movement to electric vehicles has quadrupled since 2015 (when measured as a percent of total hybrid return to market volume), diesel movement to EVs has more than doubled, and gasoline switching to EV has quintupled (admittedly up from a small base).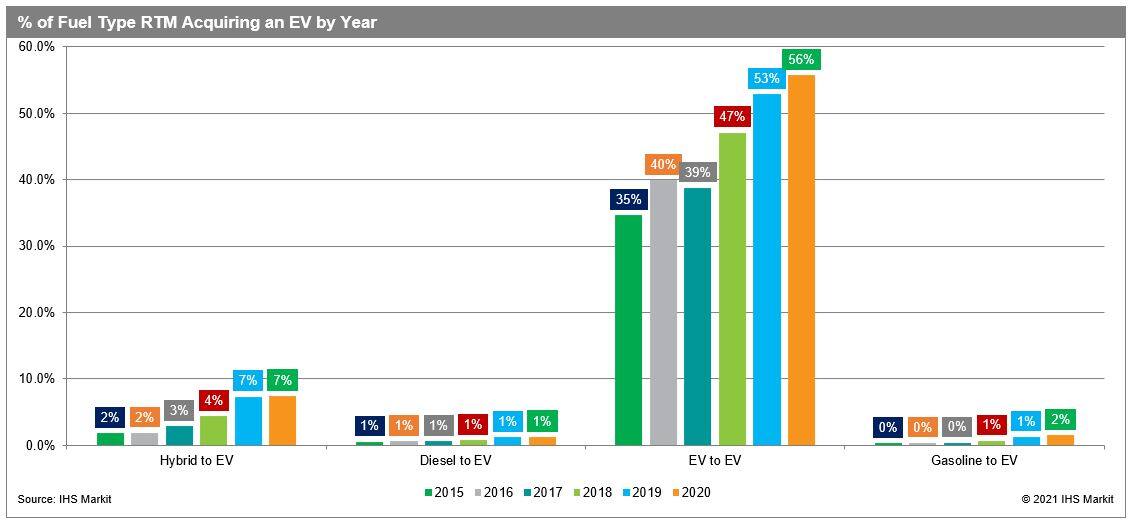 EV market share reached just 1.8% of the U.S. new light vehicle market in 2020, a far cry from what many OEMs are expecting in the future given their enormous R&D expenditures. But several metrics, including EV loyalty and movement from other fuel types to electric vehicles, are moving in the right direction.
--------------------------------------------------------------------------------------
*Fuel type loyalty is defined as: of the households with a certain fuel type vehicle in the garage that return to the market in a defined time frame, what percent acquire a vehicle with the same fuel type, regardless of brand, price, size, or any other attribute of the newly acquired vehicle.
RELATED INDUSTRIES & TOPICS