Customer Logins
Obtain the data you need to make the most informed decisions by accessing our extensive portfolio of information, analytics, and expertise. Sign in to the product or service center of your choice.
Customer Logins
Eurozone PMI at all-time low as economy locks down to fight COVID-19

Eurozone PMI slides to all-time low of 13.6 in April
Business activity, order books and employment all drop at record rates
Record falls in output seen in all four largest states, with services under greatest pressure
Pessimism eases marginally to raise hopes April represents a low point for output
The extent of the euro area economic collapse from the COVID-19 outbreak was laid bare by PMI™ survey data showing record downturns in every country surveyed in April, with output falling at unprecedented rates in manufacturing and services in all cases. Employment also fell at a record rate across the region as firms scaled back capacity in line with gloomy prospects.
The PMI collapse comes on the heels of official data showing that euro area GDP fell by an estimated 3.8% in the three months to March, its steepest decline since data were first compiled in 1995.
Although pessimism eased slightly in April to fuel hopes that orders and output indices may rise in coming months, the sheer scale of the declines in output and employment seen in March and April, and the limited scope for opening up the economy again due to the fear of further virus outbreaks, means it is likely to be a long haul before the economy fully rebounds from the pandemic, with pre-virus levels not recovered for several years.
Shutdowns lead to record drop in output
With a large part of the region's economy shut down in April while COVID-19 infections spiked higher, the economic data were inevitably going to be bad, but the scale of the decline is still shocking. The headline IHS Markit Composite PMI™ - the survey's main gauge of output across the combined manufacturing and service sectors - plunged from a prior all-time low of 29.7 in March to 13.6 in April. With the previous low having been 36.2, hit in February 2009, the current downturn is clearly of far greater ferocity than seen even at the height of the global financial crisis (GFC).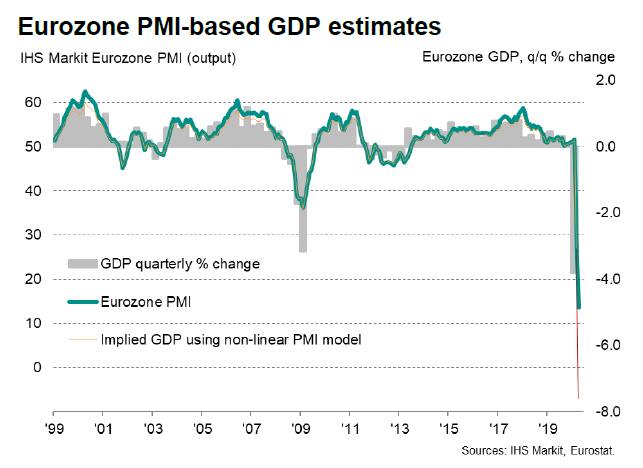 Using a model which uses logarithms to take into account the possibility of 'non-linearity' during times of extremely strong growth or decline (reflecting the fact that during the global financial crisis some PMI readings appear to have underestimated the resultant decline in official data such as GDP, potentially because the PMI omits some sectors such as energy and retail or simply due to the binary survey methodology where respondents can only report a change in either direction, rather than the scale of any change), the April survey is PMI indicative of the eurozone economy contracting at a quarterly rate of just under 8%.
For the first quarter, the non-linear model pointed to a decline approaching 3%, which was below - but of similar magnitude - to the Eurostat first estimate of -3.8%.
Service sector hardest hit
The service sector has taken the hardest hit from the pandemic, reflecting its greater exposure to households and the need for social distancing. At 12.0 in April, the services PMI output index has far surpassed the GFC low of 39.2. Given that the services PMI excludes retail and a vast number of self-employed who operate in the services economy, the actual GDP decline is likely to be considerably greater than indicated by the survey, with initial models pointing to a rate of contraction in in the region of 8%.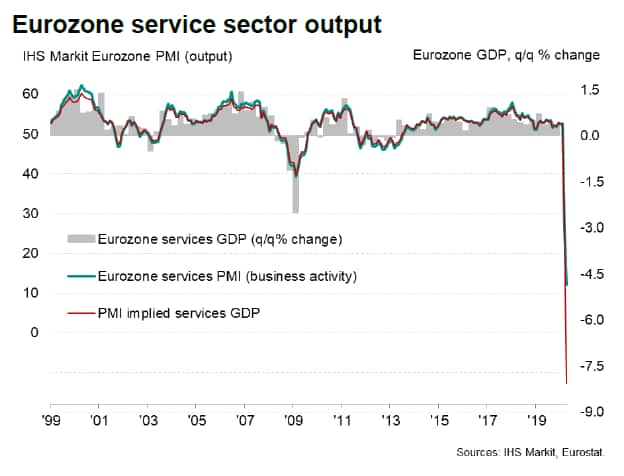 The manufacturing sector has meanwhile also been struck hard by the virus containment measures, with many factories closing to safeguard workers and global demand slumping at a record rate. The PMI manufacturing output index, at an all-time low of 18.1, is indicating an industrial sector that has collapsed at a quarterly rate of decline well into double digits.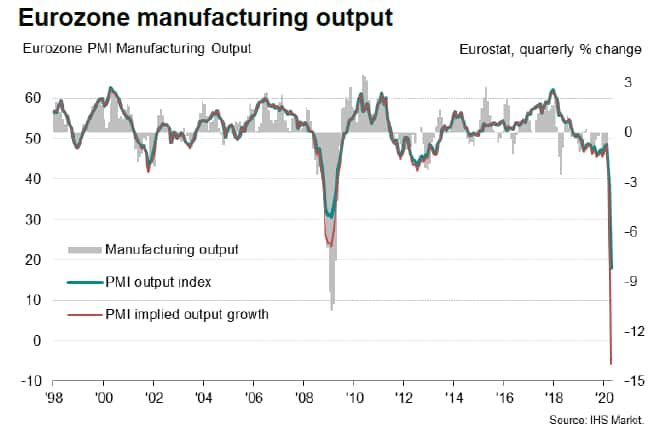 A month of record job losses
Jobs are also being lost at a rate never previously seen as companies cut operating capacity in line with a record fall in new order inflows across the region. The survey's composite employment index sank in April to almost seven points lower than the GFC nadir.
With the survey signalling a quarterly drop approaching 1%, this represent a huge rise in unemployment numbers, given there were approximately 160 million people employed in the single currency area at the end of last year (i.e. a decline in employment of roughly 1.5 million).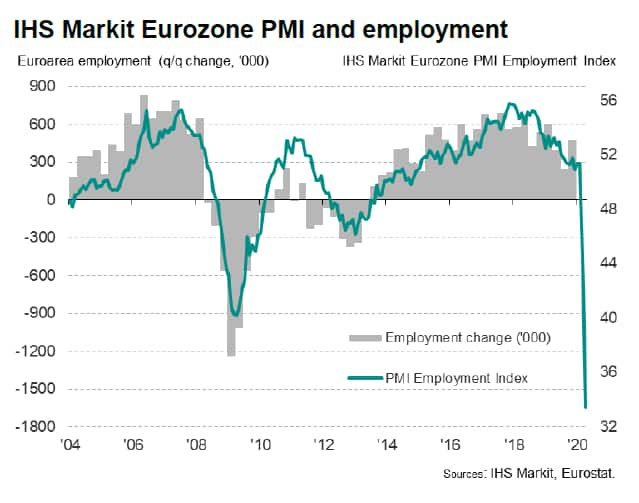 Record falls in output across the board
The unprecedented scale of the collapse was common across the region, with record rates of contraction (by wide margins) seen in all countries surveyed, with service sectors hardest hit. Looking at the four largest member states, the lowest composite flash PMI output index was seen in Spain (9.2), followed closely by Italy (10.9) and France (11.1). Of the four, Germany saw the weakest - though still severe - declines in both manufacturing and services (its composite PMI sliding to 17.4).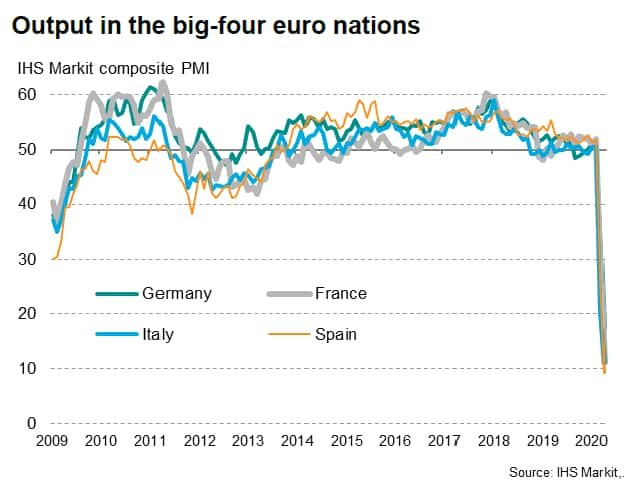 Close to the bottom?
One ray of light came from a marginal upturn in the survey's future expectations index. Although the number of pessimists continued to exceed optimists to a record extent bar that seen in March, the uptick will add to hopes that April will have seen the PMI's output and new orders gauges bottom out.
With coronavirus curves flattening and governments taking steps to ease lockdown restrictions, many sectors should start to see output and demand pick up. The process will be only very gradual, however, as governments juggle between reviving economies and preventing a second wave of infections. Most companies will inevitably need to work well below full capacity and sectors such as retail, travel, tourism and recreations - already the hardest hit - will continue to be badly affected by social distancing for months to come.
Employment may also continue to fall at an increased rate in coming months, especially if companies perceive the impact of the pandemic to persist longer than initially thought.
While the rate of decline may ease in coming months, we consequently do not expect to see any material signs of recovery until the second half of the year, and it is likely to be several years before the output lost due to the virus outbreak is regained.
Chris Williamson, Chief Business Economist, IHS Markit
Tel: +44 207 260 2329
chris.williamson@ihsmarkit.com

© 2020, IHS Markit Inc. All rights reserved. Reproduction in whole or in part without permission is prohibited.
Purchasing Managers' Index™ (PMI™) data are compiled by IHS Markit for more than 40 economies worldwide. The monthly data are derived from surveys of senior executives at private sector companies, and are available only via subscription. The PMI dataset features a headline number, which indicates the overall health of an economy, and sub-indices, which provide insights into other key economic drivers such as GDP, inflation, exports, capacity utilization, employment and inventories. The PMI data are used by financial and corporate professionals to better understand where economies and markets are headed, and to uncover opportunities.
RELATED INDUSTRIES & TOPICS