Customer Logins
Obtain the data you need to make the most informed decisions by accessing our extensive portfolio of information, analytics, and expertise. Sign in to the product or service center of your choice.
Customer Logins
European olefins: Epilogue or prologue?

The past decade has been a challenging one for European petrochemical players with the main building block of the industry, the steam cracker, coming under pressure. The period following the financial crisis of 2008 had been one of not just dealing with an unprecedented collapse in demand but also one of coming to terms with a loss of competitive position relative to a changing global industry.
Cost competition was not something new to European players, but the magnitude of capacity based on advantaged feedstock was growing with Middle Eastern developments, and a huge shift in fortune for the US with the advent of fracking, and a sharp downward move in US feedstock costs. Changes in demand would be absorbed by operators across a smaller proportion of global capacity whilst Europe was indirectly competing with Asian operators.
The pressure that resulted on European producers, from the combination of demand weakness and a loss of cost competitiveness resulted in nearly 10 years of debate around the prospect of capacity rationalisation in the region.
Rationalisation is not a new concept for the industry; the ever increasing scale and efficiency of petrochemi-cal assets leaves older units disadvantaged and at risk of closure. The problem of ageing assets is not unique to Europe but other regional players have been better placed to close down noncompetitive units in weak market conditions, particularly in the US. Social pressure, environmental clean-up costs and govern-mental involvement have made shutting assets down in Europe considerably more difficult.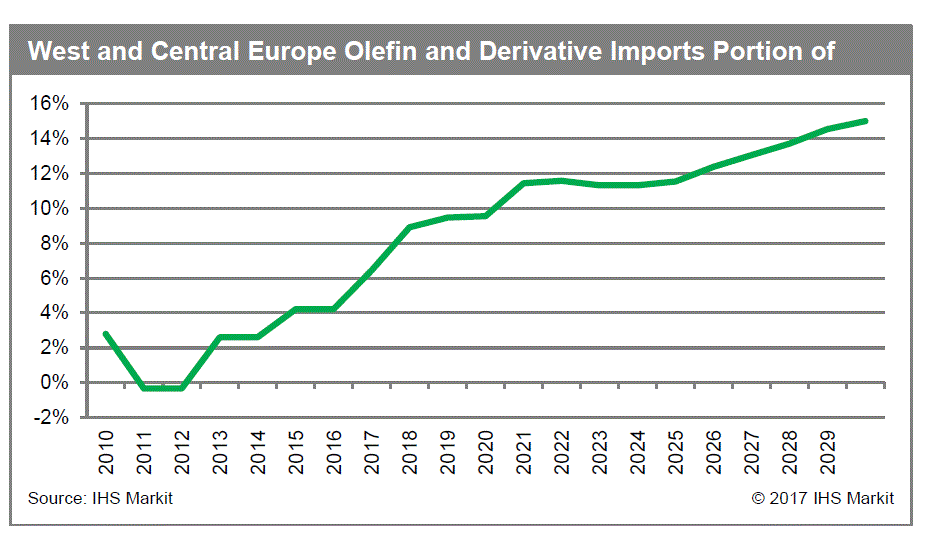 However, with a sharp and sustained downturn in demand, European producers were forced to work through the painful and costly process to close down older and uncompetitive units. Since the start of 2008, 2 million metric tons of ethylene capacity has been shut down in Europe, roughly 8 percent of the industry. The same developments have been seen, and even magnified, in derivative capacity. The reduction in European capacity was primarily completed by 2015.
The year of 2015 will not be one that is soon forgotten by the industry. The period since the financial crisis had ensured that steam crackers were optimised to control costs and change maximising to improve reliability and change output to maximising output had not been high on the agenda when prioritising maintenance programmes. With a decline in capability to supply, the sudden increase in demand left petrochemical players badly placed to meet this. A high number of unplanned outages, which only put greater pressure on the industry to run harder, led to further problems and outages. If the situation had been isolated to Europe alone, imports would have rushed to fill the gap. However, the shift to
a tighter global balance and similar reliability challenges elsewhere left Europe short of product, prices and margins responded reaching record levels. Even when normalis-ing long term historical margin figures for the inflationary impact of capital costs, 2015 was comparable to the boom year of 1995.
The natural response to a tight market is for all the participants to make changes to their businesses to mitigate the risk of a repeat. Sellers who had lost out through poor operational reliability increased maintenance budgets, buyers looked to shift to a higher level of inventory, downstream users also started to shift from the 'just in time' inventory management approach to something closer to a 'just in case' approach.
As a result, 2016 was a year of markedly improved reliability for petrochemical producers who were able to benefit from extremely robust demand. The market balance remained relatively tight through 2016, supported by a similarly tight Asian market. Export flows of excess ethylene and derivatives ensured that operating rates returned to levels not seen since 2007 on a set of asset arguably far less well equipped to fulfil that demand. Another supporting factor was the lower cost environment. No doubt, had oil remained above $100/ bbl, margins in 2015 and 2016 would have been strong, but not as strong. Lower costs allowed these exceptional margins to be maintained even though consumers were seeing prices unchanged from 2011-2014 levels.
Two record margin years and an unprecedented capital return in this period has reset the European olefin mindset. No longer is the question of 'who will close?' being asked but 'who will invest?' Such a shift in thinking in a such a short period of time gives some indication of how good the times have been since 2015.
Nevertheless, the rationale for investment in Europe is supported by more than just a temporary boom in earnings. Europe has returned to growth and the modest levels of GDP increases achieved in recent years has shifted the market from contraction to expansion. The combined West and Central European trade position for olefins and olefins derivatives is gradually shifting from balance to shortness. Though growth is modest, in comparison to China or Southeast Asia for instance, it is positive and this introduces the opportunity for local investment to meet at least part of the increased consumer need.
A number of projects have been announced that are focussed on meeting this demand growth. As is usually the case, potential investors are generally looking at opportunities to optimise what they currently have rather than investing in new and costly assets. In effect, the recent surge in earnings and the improved cash position are giving the European industry an opportunity to deal with the imbalances in their systems through investment in new capacity. Ineos' announcement for a project to increase ethylene capacity by 0.9 million metric tons within its system is a move to reduce its large merchant exposure as a buyer. Orlen is constructing a metathesis unit in Poland, optimising refinery output to meet petro-chemical demand.
There is also another focus for investors which is somewhat more defensive. The recent change in feedstocks from LPG and naphtha to ethane has left Europe short of propylene. In such a situation, 3 or 4 years ago the market would have moved to close derivative capacity. However, the approach is now a more positive one and investments to fill the supply gap are being considered. Two large propylene buyers, Borealis and Ineos, are both looking to an investment in propane dehydrogenation assets. These investments would allow them to ensure long term propylene supply as well as open up the opportunity for deriva-tive capacity expansions. Grupa Azoty are also looking at a propane dehydrogenation investment and have recently added polypropylene to the project escalating capital requirements.
There is no shortage of other opportunities for Europe to invest, and with strong balance sheets and a shift to structural importer of olefins and derivatives, further announcements should be expected and many of these projects may well be realised. There may even be the possibility of an investment in a world-scale grass roots cracker, the first since 1994.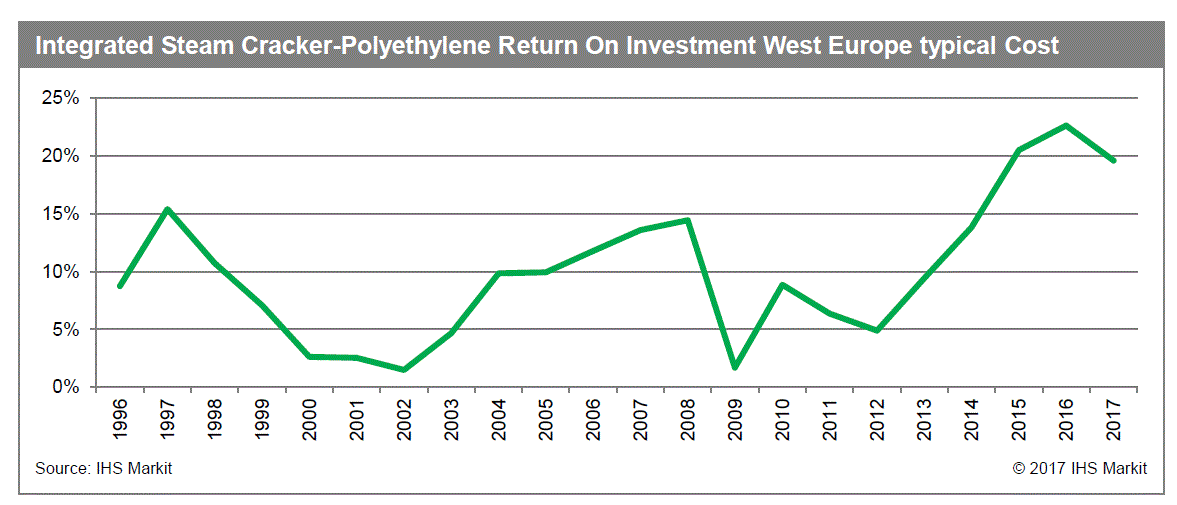 Matthew Thoelke is a Research and Analysis Director, Market Services at IHS Markit
Posted 9 October 2017
RELATED INDUSTRIES & TOPICS