Customer Logins
Obtain the data you need to make the most informed decisions by accessing our extensive portfolio of information, analytics, and expertise. Sign in to the product or service center of your choice.
Customer Logins
Ethylene Market Outlook Considering the Impact of COVID-19

With the planning cycle underway for several industry participants, it is an opportune time to review the outlook for the olefins markets for the next few years. The uncertainty that surrounds the industry given the pandemic crisis makes it even more important to understand what the future may hold. The quantitative work behind the 2021 World Analysis - Ethylene is complete, and a revised view of the supply and demand outlook considering the impact of the COVID-19 pandemic is now available to clients of this service.

Introduction
The new decade started on a challenging note. Global GDP is expected to contract by 5.6% in 2020, caused largely by the rapid and uncontrolled spread of COVID-19 globally in the first half of 2020. Most countries had to lock down, halt business activity, and impose strict social distancing measures. Air, sea, and road travel have been severely restricted, decreasing demand for transport fuel; leisure travel has been almost non-existent as countries have closed their borders, especially for air travel. Adding to the challenge in 2020 is extreme price volatility across the petrochemical chain, starting from the crude oil market. The crude oil market has been extremely volatile due to both a demand shock from the pandemic and a supply shock in March and April as Saudi Arabia increased its production and slashed its prices amid disagreements among OPEC+ members regarding production cuts. As of May, OPEC+ members agreed upon and largely adhered to production cuts, and oil prices started to recover from the previous lows. However, several downside risks continue to weigh on the market, including high crude oil inventories accumulated in the first half of 2020, fears that a second wave of COVID-19 infections may limit the recovery in global refined product demand, and continued political tensions between the United States and mainland China.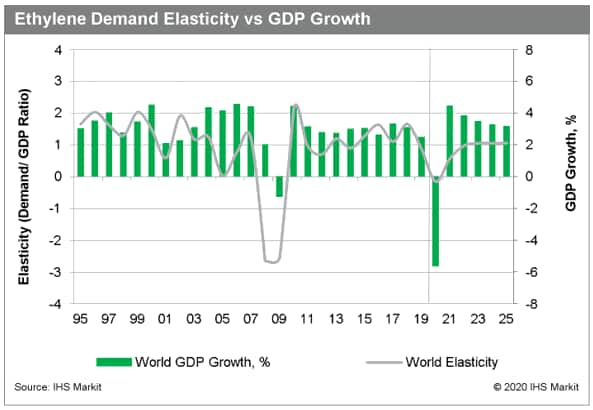 Historically, global demand for ethylene has grown at a multiple of global GDP growth. However, the relationship between ethylene demand growth and economic growth is becoming less straightforward these days as ethylene demand to GDP elasticity is being diluted by the increasing influence of the technology and services sector on GDP growth and the correspondingly lower impact of manufacturing. Also, there has been a strong push toward sustainability and recycling, so some ethylene demand has been replaced by recycled or natural materials (paper, glass, etc.). This is resulting in lower multiples to GDP growth, especially in developed countries. Despite the sharp contraction in global GDP growth, estimated global demand for ethylene is projected to grow by 1% to approximately 165 million metric tons (mt) in 2020. Demand loss from some derivatives such as aromatics and the vinyls chain has been offset by demand growth in other sectors, such as polyethylene (PE). Demand for monomers going into PE has been boosted by increased requirements from the packaging sector and less emphasis on using single-use packaging during the pandemic; the low crude oil prices in the first half of 2020 also supported restocking and virgin PE demand.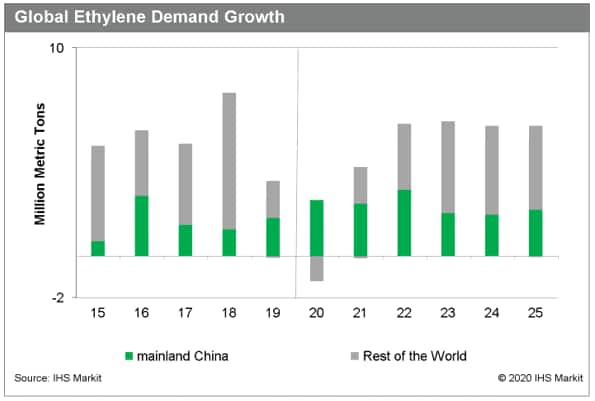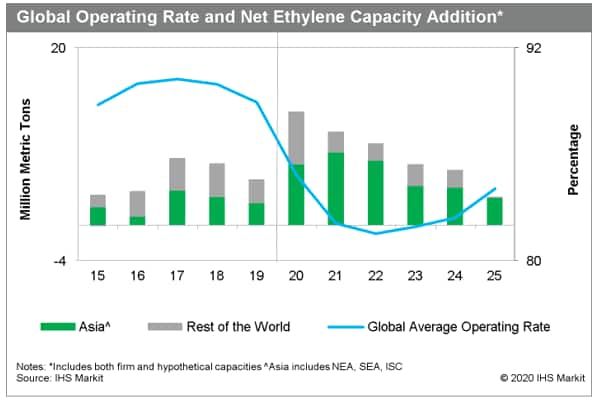 Global capacity addition has been uneven across global regions, influenced by infrastructure and port facilities, feedstock competitiveness, economic growth, and demand. Asia and the Middle East have been leading new ethylene capacity addition in the past decade, and Asia—particularly mainland China—will continue to do so in the next decade. The United States has also invested heavily in new cracker projects in recent years due to an ethane feedstock advantage; approximately 7.5 million mt of new ethylene production facilities were added in 2017-19, and capacity totaling approximately 7 million mt is expected to come onstream in 2020-22. Despite some delays due to the COVID-19 pandemic, most new cracker projects are going ahead—especially in Asia, where approximately 22 million mt of new capacities are likely to start up in 2020-22. Referring to the Global Ethylene Demand Growth chart, the COVID-19 pandemic has caused demand growth to be negative across various regions, but this is more than offset by growth observed in mainland China. Globally, demand is estimated to grow by approximately 1.5 million mt in 2020; it is forecast to grow by approximately 4 million mt in 2021 and more than 6 million mt year on year in 2022-25. Referring to the Global Operating Rate and Net Ethylene Capacity Addition chart, IHS Markit forecasts global operating rates to fall from approximately 89% in 2019 to 85% in 2020 and to subsequently hover at the low end of the 80-89% range until 2025 as global capacity addition is expected to outpace demand growth in the short term. Operating rates are forecast to rise to the high end of the 80-89% range toward 2028-30.
Asia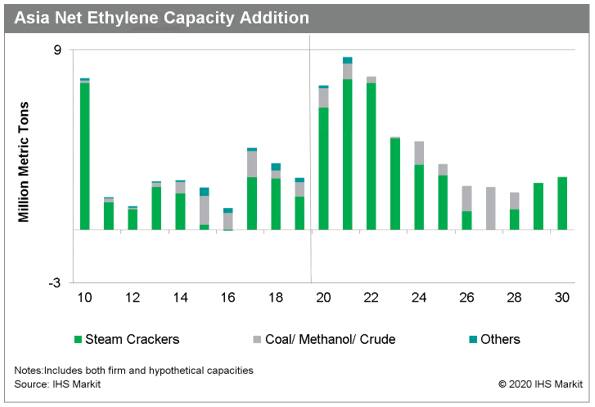 The emergence of lower-cost coal to olefins (CTO) and methanol to olefins (MTO) technologies to produce light olefins starting from around 2012-13 came at a time when crude oil and naphtha prices were close to peak levels. As a result, in the years that followed, new capacities in mainland China were dominated by CTO and MTO while interest in traditional steam cracker projects was deferred due to weaker project economics. However, the tide has shifted against MTO and CTO technologies due to the current relatively low crude oil and naphtha prices since the collapse at the end of 2014. The industry also recognizes that both CTO and MTO technologies have their own sets of challenges. CTO technologies are coming under increasing scrutiny in mainland China due to environmental reasons, carbon emission, and high CAPEX while MTO technologies are mainly under pressure from economics. As such, some new MTO and CTO projects have either delayed commercial operations or been cancelled in mainland China. In the long term, however, CTO and MTO projects are not expected to disappear completely as coal chemicals—together with coal to liquids or coal to gas—could be an alternative supply source from a national energy security perspective.
Meanwhile, steam cracker projects have regained prominence due to both environmental and economic advantages. In mainland China and South Korea, the two countries that are leading new cracker expansions/investments, most new projects allow for the use of both naphtha and LPG as feedstocks. However, naphtha is still the largest feedstock for crackers, accounting for approximately 78% of total steam cracker feedslates and 67% of total ethylene feedstocks in 2020 in Northeast Asia. Over the next 10 years, naphtha is expected to remain the dominant source of feeds in Northeast Asia, but increasing new investments will be seen in lighter and also flexible feedslate crackers that allow more gas oil cracking as new refinery-cracker integrated investments come onstream. By 2030, naphtha will account for approximately 70% of total steam cracker feedslates and 60% of total feedstocks in Northeast Asia. Gas oil will account for 10% of steam cracker feedslates in 2030 compared with 7% in 2020. Ethane, propane, and butane combined will account for 23% of steam cracker feedslates in 2030 compared with 16% in 2020.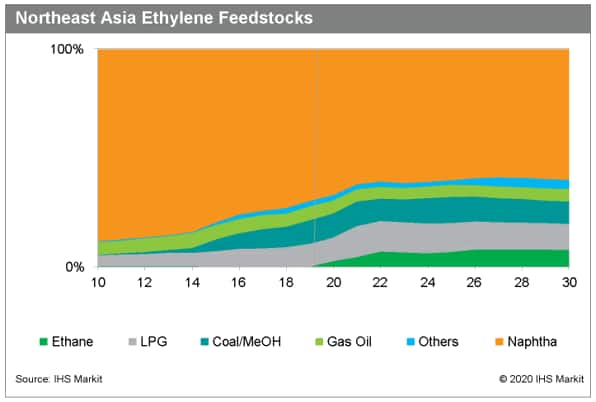 LPG production in the United States has continuously increased since 2015, and the country became the largest LPG exporter as of 2018. The increase in LPG supply from the United States gives several steam crackers in Northeast Asia more flexibility to crack lighter feedstocks. It has also incentivized new steam cracker investments to accommodate flexible feeds, which allows for cracking of lighter feedstocks. In mainland China, most crackers in the coastal area have a certain capability to crack light feedstocks, such as propane and butane. There were also several ethane gas crackers under construction and in the planning phase—especially along the coastal area—using US-origin ethane as feedstocks, but most of these projects have been stalled or cancelled due to the current low crude oil price environment and high political tensions between the United States and mainland China. However, one pure ethane cracker in East China, Satellite PC, has almost completed construction and is likely to come onstream within the next two years, along with its integrated derivatives. There is also an increasing trend in new crackers integrated to refineries in South Korea, such as GS Caltex, Hyundai Chemical (a joint venture of Hyundai Oil Bank and Lotte Chemical), and S-Oil, allowing more use of gas oil in the cracker feedslates. Asian crackers are becoming more versatile to remain cost competitive, especially with capacity growth outpacing demand and with increased exports of competitive ethylene and derivatives from integrated complexes in the United States. A more detailed analysis of Northeast Asian supply and demand trends, as well as trends for other regions globally, can be found in the 2021 World Analysis - Ethylene book.

Trade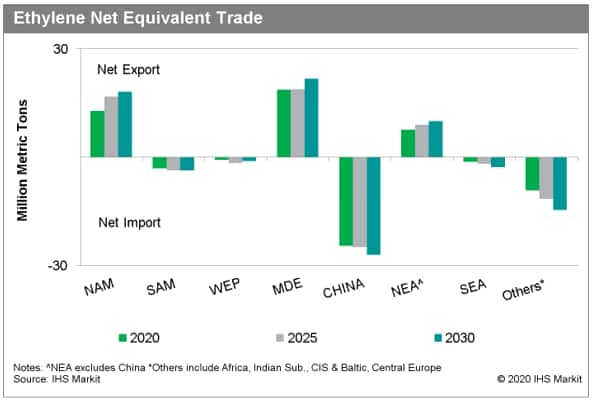 International trade of ethylene monomer will remain quite limited overall compared with its derivatives owing to high freight costs associated with transporting refrigerated liquids. However, this is still necessary to maintain outlets for ethylene in regions that have imbalances in production and consumption of ethylene, and with crackers operating at high rates due to high margins. In 2019, spot cargoes from various origins—including the Middle East, Europe, and Southeast Asia—have been shipped to Northeast Asia due to tight supply in the region and workable pricing. Furthermore, sluggish sales of key downstream PE have resulted in several integrated Asian producers offering spot ethylene monomer to maintain high cracker operating rates. In 2020, more ethylene monomer from the United States—both for term contracts and spot when arbitrage is open—is expected to be shipped to Northeast Asia with the new Enterprise export terminal in operation, but volumes are fluctuating throughout the year. When oil and naphtha prices collapsed in March and April this year, the cash cost of naphtha-based Asian and European crackers fell drastically and was even negative at one point as by-product credits could offset feedstocks and production costs. This sharply decreased arbitrage spot exports of ethylene from the United States as ethane crackers moved higher on the cost curve, but term shipments continued to Asia. As the naphtha price increased from May and arbitrage opened from the United States to Asia in the second quarter, several spot cargoes were concluded, and large quantities are expected to arrive in Asia in the third quarter of 2020. However, in August and September, arbitrage has closed again as US ethylene spot prices have soared amid prolonged outages of some crackers and the impact on Hurricane Laura in late August.
Throughout the forecast period, most of the ethylene traded across international borders remains in the form of derivative chemicals, including PE, ethylene glycol, styrene, and vinyls due to much lower transportation costs. IHS Markit tracks the "net equivalent" trade volume globally, which is the total amount of ethylene contained in the derivative trade. Shipped as liquids or bulk solids, these ethylene derivatives are far less expensive to transport than ethylene monomer.
Despite slower economic growth and aggressive investments in new ethylene/derivative capacities to boost self-sufficiency, mainland China will continue to dominate ethylene derivative imports. Other markets in the Northeast Asian region, including South Korea, Japan, and Taiwan, remain net exporters throughout the forecast period. Ethylene equivalent exports from the Middle East have increased rapidly as new capacities allow Middle Eastern producers to increase PE and ethylene glycol exports to Asia, mainly targeting mainland China, although shipments are also going to other regions such as Europe. Exports of ethylene derivatives from the United States to global markets are expected to increase over the forecast period as new steam cracker and derivative capacities are brought online in the next few years, taking advantage of the low-cost ethane feed available. Meanwhile, exports of ethylene derivatives from other parts of Asia (Southeast Asia and other Northeast Asian markets) will face pressure as these regional exporters become less competitive compared with producers in other regions with ethane feedstock cost advantages based on IHS Markit crude oil forecasts.
In addition to global trade flows and supply and demand trends, there are other key strategic issues that, in the opinion of IHS Markit, will have a significant impact on global ethylene markets over the next 10 years. These are discussed widely and in greater depth in the 2021 World Analysis - Ethylene.
The 2021 World Analysis - Ethylene annual service provides comprehensive analysis of and insight into the global markets for ethylene. The process for developing an updated forecast involves the analysis of all derivative sectors with a country-by-country analysis of demand trends, taking into account the economic, political, and legislative environment. This rigorous approach is taken to develop clear demand and growth prospects. From a supply perspective, the developments in all major regions are analyzed, with prospective projects included. This is based on the most recent IHS Markit estimates for startup timing given feedstock, engineering, and construction availability, as well as the current progress of investments. Clients can also access the following:
The online capacity database, which is updated frequently throughout the year
A 10-year supply and demand forecast for producing and consuming countries and regions, which is updated twice during the 12-month service period
A 10-year price forecast for key benchmark prices, which is updated every quarter
Detailed trade analysis
Access to IHS Markit ethylene experts globally is also included in this 12-month service period.
RELATED INDUSTRIES & TOPICS
{"items" : [ {"name":"share","enabled":true,"desc":"<strong>Share</strong>","mobdesc":"Share","options":[ {"name":"facebook","url":"https://www.facebook.com/sharer.php?u=http%3a%2f%2fihsmarkit.com%2fresearch-analysis%2fethylene-market-outlook-considering-the-impact-of-covid19.html","enabled":true},{"name":"twitter","url":"https://twitter.com/intent/tweet?url=http%3a%2f%2fihsmarkit.com%2fresearch-analysis%2fethylene-market-outlook-considering-the-impact-of-covid19.html&text=Ethylene+Market+Outlook+Considering+the+Impact+of+COVID-19+%7c+IHS+Markit+","enabled":true},{"name":"linkedin","url":"https://www.linkedin.com/sharing/share-offsite/?url=http%3a%2f%2fihsmarkit.com%2fresearch-analysis%2fethylene-market-outlook-considering-the-impact-of-covid19.html","enabled":true},{"name":"email","url":"?subject=Ethylene Market Outlook Considering the Impact of COVID-19 | IHS Markit &body=http%3a%2f%2fihsmarkit.com%2fresearch-analysis%2fethylene-market-outlook-considering-the-impact-of-covid19.html","enabled":true},{"name":"whatsapp","url":"https://api.whatsapp.com/send?text=Ethylene+Market+Outlook+Considering+the+Impact+of+COVID-19+%7c+IHS+Markit+ http%3a%2f%2fihsmarkit.com%2fresearch-analysis%2fethylene-market-outlook-considering-the-impact-of-covid19.html","enabled":true}]}, {"name":"rtt","enabled":true,"mobdesc":"Top"} ]}