Customer Logins
Obtain the data you need to make the most informed decisions by accessing our extensive portfolio of information, analytics, and expertise. Sign in to the product or service center of your choice.
Customer Logins
E&P investment opportunities in a low price world

Bid Rounds taking place in 2016 - How attractive are they?
In a world with an oil price that is less than half what it used to be two years ago, both companies and governments needed to make adjustments. The direction and intensity of these changes greatly depend on the current economic situation of these particular countries or companies. On the one hand, we have governments facing pressure to capture revenues, to maintain jobs and retain investors, among other things; and on the other hand, we have investors facing pressure to cut costs, to enhance profitability and limit their risk exposure. Faced with this dilemma, some countries have recently taken measures to improve their fiscal terms, in order to continue to attract investment, whereas others have taken the opposite direction, and have adopted measures tending to maximize their revenues, so they can keep up with domestic spend.
Recent trends in fiscal terms:

Investment Opportunities:
Although in the current price scenario investment opportunities are reduced, there are still countries actively looking to attract investors. To date there are a total of fourteen countries that have announced bid rounds for the reminder of the year, and there are at least six more looking to launch offerings in the near future. Below there is a map with some of the bid rounds announced (or planned) for the upcoming months: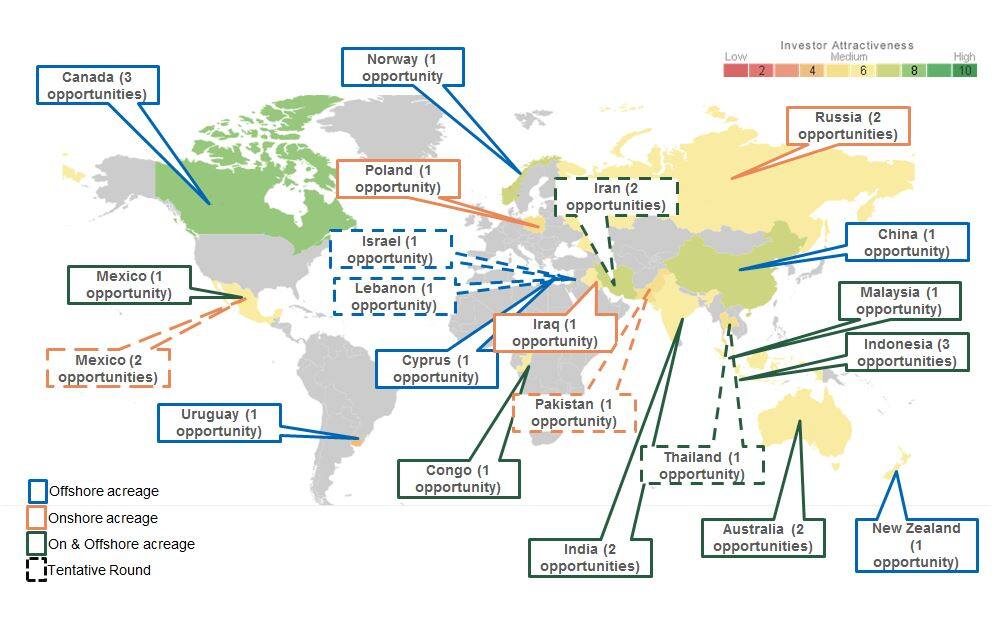 Some rounds are more ambitious than others, and some countries may generally be perceived as more attractive than others. However, what constitutes the "right" balance of risk vs. potential rewards very much depends on the investor's perspective. The announced rounds present a variety of options. For example: there are opportunities in regions with high prospectivity but where the fiscal terms on offer may be fairly stringent (Russia and Iraq); countries with good fiscal terms and low above ground risk but with little recent exploration success (New Zealand and Poland); or, countries with very little prior E&P data and historical development but which are considered as interesting prospects by the industry (Uruguay, Lebanon).
The table below from the Petroleum Economics and Policy Solutions (PEPS) product shows how countries can be quantitatively compared to expose these differing country types.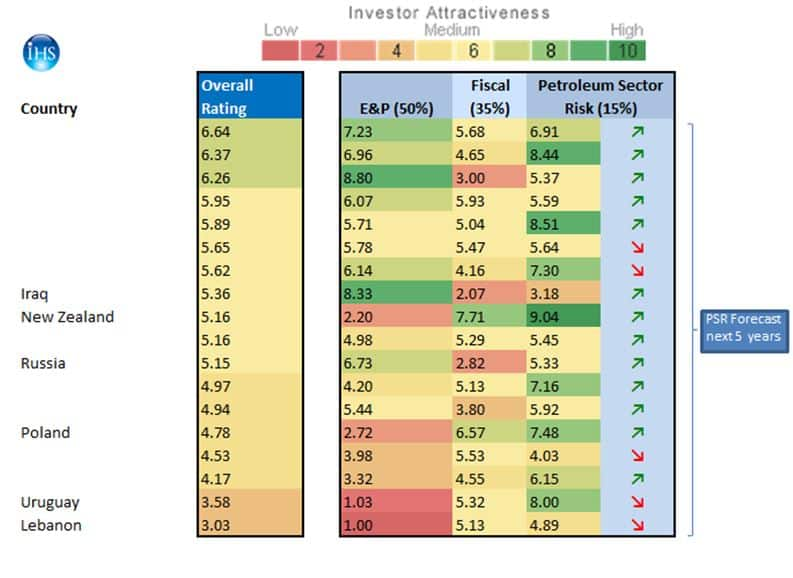 IHS Petroleum Economics and Policy Solutions (PEPS) product can help companies better understand these opportunities, identify potential risks and areas for potential negotiation with host governments. At the same time, IHS can help governments better understand their competitive position at global and/or regional level, as they get ready to search for foreign investment.
Learn more about IHS' Petroleum Economics and Policy Solutions (PEPS)
Juliana Abella is Sr. Manager, Research, IHS Energy
Posted on May 31, 2016
---
Follow IHS Markit Energy
RELATED INDUSTRIES & TOPICS