Customer Logins
Obtain the data you need to make the most informed decisions by accessing our extensive portfolio of information, analytics, and expertise. Sign in to the product or service center of your choice.
Customer Logins
Energy transition demands a critical minerals supply chain transformation: IEA

A transformation of the supply chain for minerals critical for the production of electric vehicles (EVs), wind turbines, and solar panels is needed for a rapid and affordable energy transition, according to the International Energy Agency (IEA).
In a report issued 5 May titled "The Role of Critical Minerals in Clean Energy Transitions," the IEA said demand for critical minerals such as lithium, cobalt, and rare earth elements would soar in the coming years due to the energy transition. "Given the urgency of reducing emissions," hampering the supply lines was "a possibility that the world can ill afford," it added.
In the next few years, supply problems won't be too much of an issue for some minerals key to the transition, according to the IEA, but unless intensive efforts in both the public and private sphere kick into gear soon, it will be too late further down the line.
Mined lithium and cobalt are in a supply surplus at present and will remain so near term, the Paris-based agency said, while lithium compounds, battery-grade nickel and rare earth elements -- such as neodymium and dysprosium -- might face supply tightness in the years ahead.
"However, looking further ahead in a scenario consistent with climate goals, expected supply from existing mines and projects under construction is estimated to meet only half of projected lithium and cobalt requirements and 80% of copper needs by 2030," it said.
Raw materials are a significant element in the cost structure of many of the existing and emerging technologies across the energy transition, although costs have fallen in areas such as solar panels and lithium-ion batteries over the past decade.
As a result, the cost of raw materials and any increase in prices can have a greater impact. The IEA estimates a doubling of lithium or nickel prices would induce a 6% increase in battery costs.
Mineral demand to soar
Mineral demand for use in EVs and battery storage is set to jump at least 30 times by 2040, the IEA said. Lithium can expect the steepest upside, with demand growing more than 40 times in the IEA's base case scenario by 2040, while consumption of graphite, cobalt, and nickel is set to increase around 20-25 times, it said.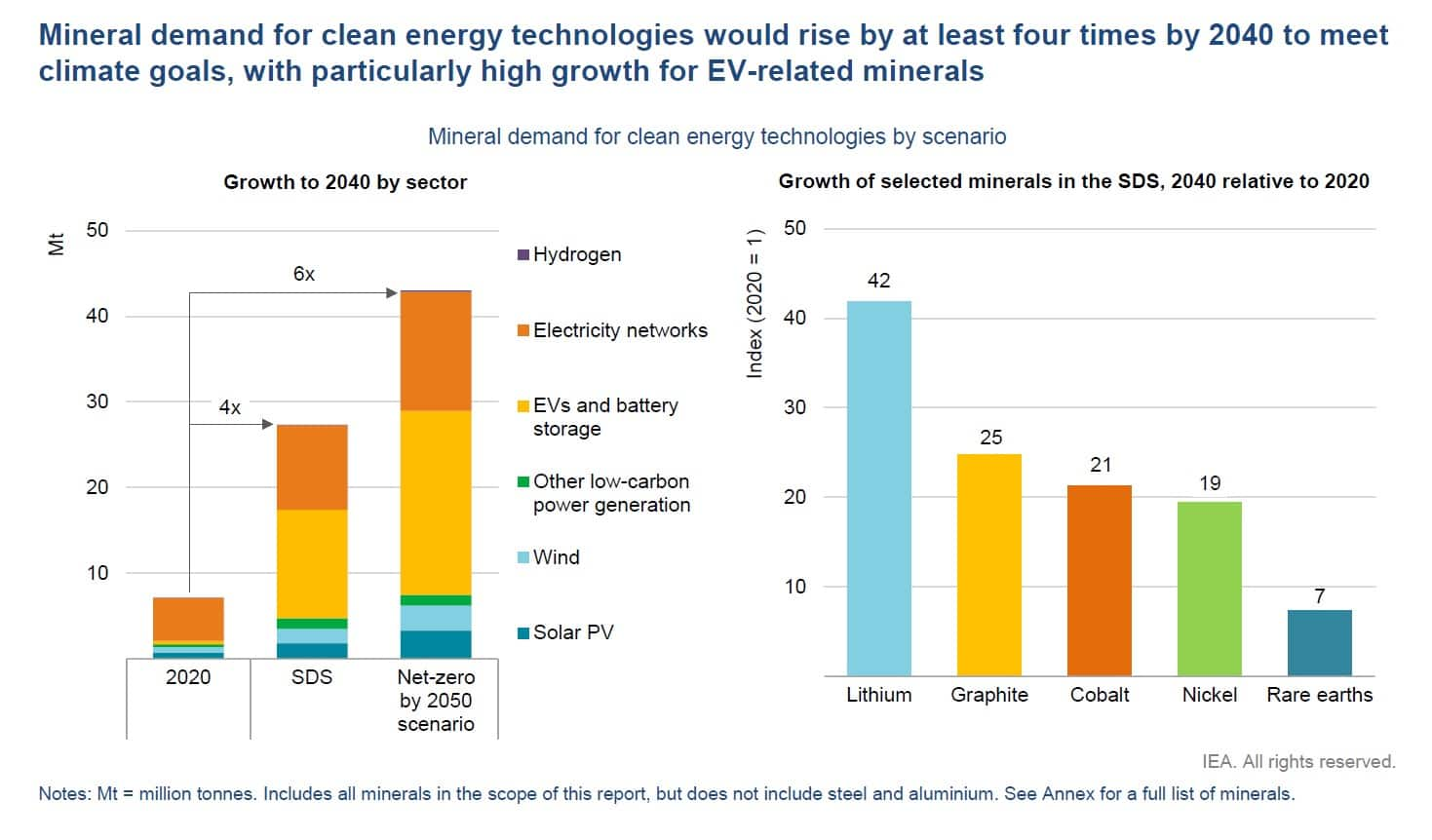 Not only will demand surge, but it will do so around the world, rather than on the regional basis seen so far, according to industry executives speaking on the same day the report was released.
"It feels like there is more meat on the bones this time around as it relates to the demand cycle and battery raw materials, mainly driven by [the need] becoming a bit more global in its perspective," said Ken Brinsden, CEO of Australian lithium miner Pilbara Minerals.
"The first wave of demand that arose in lithium raw materials, the period from 2015 through 2018, it was principally about China, and a little bit about the Tesla story. Now, you've got a perspective that says, well, no, electrification, the EV thematic, and energy storage more broadly is becoming a global phenomenon," he told attendees of a Financial Times conference.
Meantime, the expansion of electricity grids due to the mass electrification of the transportation and industrial sectors is likely to see copper demand for power lines more than double through 2040, the IEA said.
Evading supply bottlenecks
One of the difficulties with meeting all the fresh and coming demand is that mining projects have long lead times. By IEA estimates, it takes an average of more than 16 years to move from discovery to first production. For that to change and bottlenecks to be averted, the intergovernmental organization has a series of recommendations that include:
Ensure adequate investment in diversified sources of new supply
Promote technology innovation at all points along the value chain
Enhance supply chain resilience and market transparency
Mainstream higher environmental, social and governance (ESG) standards
Scale up recycling.
Recycling can relieve the pressure on primary supply. But the infrastructure is not well established for energy transition metals such as lithium and rare earth elements.
"The challenge for the industry is that in this relatively early phase of growth there [are] insufficient batteries for the purpose of recycling to really make the material in the supply base," said Pilbara Minerals' Brinsden. "However, it is the case, over time, that the mass of batteries being constructed, for example over the next decade, implies that in about 10 years' time there'll be a material contribution of recycled material."
The volume of spent EV batteries reaching the end of their life is expected to jump from around 2030 onwards, while demand is still expected to be increasing steeply, the IEA said.
"Recycling would not eliminate the need for continued investment in new supplies," IEA said, but "we estimate that by 2040, recycled quantities of copper, lithium, nickel and cobalt from spent batteries could reduce combined primary supply requirements for these minerals by around 10%."
In addition to a greater focus on a circular economy, there will be growing scrutiny of environmental and social performance in the sector in the coming years, the agency said, noting that production and processing of mineral resources "gives rise to a variety of environmental and social issues that, if poorly managed, can harm local communities and disrupt supply."
And if society doesn't make a sustained effort, countries or individual operators with poor standards may not be excluded in the rush to meet the growing demand from the energy transition, it said.
Western Australia is still dealing with the fallout from BHP Billiton's destruction of Aboriginal sites in Juukan Gorge in June 2020 while expanding its South Flank iron ore operations.
And Brinsden, whose company is named after the region in which Juukan Gorge and much of the country's iron ore industry is located, said investors won't accept circumstances that might once have flown.
"Without doubt, ESG issues as a whole have become a much, much more important part of the engagement with our investor base, whether it be incidents highlighting indigenous relations, the effect of tailings management, … [or] reflecting on issues in South America's carbon footprint. They are all key issues," he said.
"But, I guess, at its heart, we welcome those conversations because ultimately, we want our company, but arguably the industry more broadly to be mature, deliberate and constructive as we think about all the impacts that that our industry might well have, whether it be on the local communities or when we start to think about the global community; climate change being a key example," he added.
If ESG concerns and other vulnerabilities in the supply chain are ignored, then the progress of the energy transition and tackling climate change will slow, the IEA said, calling on governments to step in and eradicate the problems. Those government efforts should include strong policy signals and streamlined permitting, it said.
Mining of energy transition minerals is currently rare in the US and EU and China dominates processing in the sector, so some efforts have begun, including greater financial backing. In September 2020, the European Commission issued a battle plan for securing supplies, while in February, the Biden administration also sought to shore up its supply chains, including domestic mining of critical minerals. But the IEA says more is needed.