Customer Logins
Obtain the data you need to make the most informed decisions by accessing our extensive portfolio of information, analytics, and expertise. Sign in to the product or service center of your choice.
Customer Logins
Energy companies raise nearly $11 billion in sustainable financing

Clean technology financing received a boost 9 June as US-based Dominion Energy and Italy-based Enel Group raised a combined $10.86 billion in sustainable financing deals.
US investor-owned utility Dominion Energy said it will, for the first time, link the interest repayments for the majority of a newly extended line of credit of $6.9 billion to both annual renewable generation and diversity milestones as part of a sustainable financing deal.
Across the Atlantic, Enel raised $3.96 billion in a triple-tranche, sustainability-linked bond sale to move forward with decarbonizing its assets.
Sustainability linked-debt is usually sought by companies that are looking to decarbonize portfolios that traditionally relied on fossil fuels. It is usually tied to pre-set, company-wide decarbonization targets, with the borrower forced to make higher interest repayments should it fail to meet the goals. Both Dominion and Enel have committed to net zero by 2050 carbon goals.
Governments globally are increasingly pursuing policies that will lead to more rapid decarbonization and green infrastructure investment. Energy companies are moving away from their traditional carbon-intensive power generation portfolios to low carbon sources, and they are turning to sustainable financing to take advantage of the low interest rates these debt instruments offer.
Sustainably financed decarbonization
For instance, Dominion is in the process of securing US government approvals to design, build, and bring online as early as 2026 the largest US offshore wind project proposed yet—a 2.6-GW facility off the coast of Virginia. It also is soliciting requests for proposals to build 1 GW of utility-scale onshore wind and solar, as well as 175 MW of small-scale solar projects and 8 MW of community-scale solar projects in Virginia, where it is headquartered.
More recently, it received federal approval to continue operating both nuclear reactors at its Surry Power Station in Virginia for another 20 years. The Biden administration has identified nuclear power as one of the approaches for reaching its net-zero goals for the power sector by 2035.
"These green financings support our corporate sustainability objectives and complement our industry leadership around environmental, social, and governance strategies, while providing us with the flexibility to finance our $32 billion five-year growth capital plan—over 80% of which is for emissions reduction or enabling technologies," Dominion Chief Financial Officer James Chapman said in a 9 June statement announcing the sustainable financing agreement.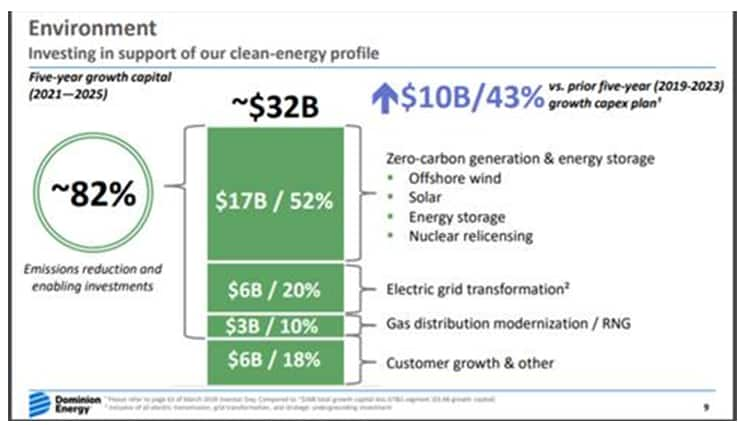 JPMorgan Chase Bank, Mizuho Bank, BofA Securities, The Bank of Nova Scotia, and Wells Fargo Securities acted as co-sustainability structuring agents in extending the $6 billion line of credit until 2026. For Dominion's supplemental credit facility of $900 million, which expires in 2024, Sumitomo Mitsui Banking Corporation (SMBC), Scotiabank, and TD Securities acted as joint lead arrangers and joint bookrunners, while SMBC also acted as sustainability coordinator.
Dominion said its agreement to meet annual renewable generation and diversity targets for the $6 billion line of credit is, in its opinion, the first time a pricing structure has been tied to a company's social and environmental performance.
Diverse employees—defined by the company as non-minority female, minority male, minority female, and undeclared female—make up 34.6% of the workforce at Dominion, which said it is committed to increasing diverse representation at the company by 1 percentage point a year until it reaches at least 40%.
"If those commitments are met, we accrue a pricing benefit for the cost of the facility to us. Alternatively, if those commitments are not met, the cost of the facility will escalate to our detriment," Dominion spokesman Steven Ridge told IHS Markit 10 June.
Where the supplemental credit facility is concerned, Ridge said, "there are no performance metrics we are tracking, but rather our cost of borrowing under the facility is lowered if we use borrowed dollars for a variety of green or social initiatives."
Nearly zero-interest rate for Enel
In Enel's case, Banca Akros-Gruppo Banco BPM, Banco Bilbao Vizcaya Argentaria, Banco Santander, BNP Paribas, CaixaBank, Crédit Agricole, Deutsche Bank, Goldman Sachs, ING, Intesa Sanpaolo, JP Morgan, Mediobanca, Natixis, Société Générale, and UniCredit acted as joint bookrunners for the bond issuance and tender offer.
Under this deal, Enel has received near-zero interest rates for the bond.
The company has tied its bond interest repayment to GHG increases exceeding certain limits by the end of 2023. "Interest on the bond will remain unchanged to maturity" if Enel meets its targets. But if they are exceeded, Enel will see its payments on the six- and nine-year bonds escalate by 25 basis points each, the company said.
Global trend
Global issuance of green, social, and sustainability bonds—or sustainable bonds, collectively—totaled a record $231 billion in the first quarter of 2021, a 19% increase over the previous quarter and more than three times higher than in the same quarter a year earlier, according to a 10 May Moody's Investors Service report.
Sustainability-linked bond issuance in particular jumped 57% to a new quarterly high of $8.6 billion, with Moody's expecting the sector to grow "as issuers seek access to sustainability-minded investors while maintaining the flexibility of general corporate purposes borrowing."
Sustainability-linked loans hit $97 billion in the first quarter, 29% higher than the previous record from the fourth quarter of 2020, Moody's said.
"Sustainable bond volumes are surging this year given strong sustained interest among debt issuers and investors," Matthew Kuchtyak, AVP-Analyst in the ESG Group at Moody's, said in a 10 May statement. "A heightened level of governmental policy focus on climate change and sustainable development globally will also spur further market growth and harmonization."