Customer Logins
Obtain the data you need to make the most informed decisions by accessing our extensive portfolio of information, analytics, and expertise. Sign in to the product or service center of your choice.
Customer Logins
EM equity short position hit post-crisis peak in early June

China leads via ADRs and Hong Kong listed shares
Four emerging markets hit post-crisis high short balances in June
EM ETFs on pace for first quarterly outflow since Q3 2015
Declining share prices, and short covering, have pulled balances down from June 8th peak
Short demand for emerging market (EM) equities is trending up- by $7.8bn YTD as of June 27th - and currently sits at a total of $101bn. The YTD increase in short positioning follows an increase of more than $29bn in 2017. EM equities now represent more than 11.5% of all equity short balances, up from 8.8% at the start of 2017. The short position in nominal terms peaked on June 8th, at $110.8bn, an increase of over $18bn from the start of the year. Since then declining share prices, along with increasing short covering, have reduced the balances to $101bn.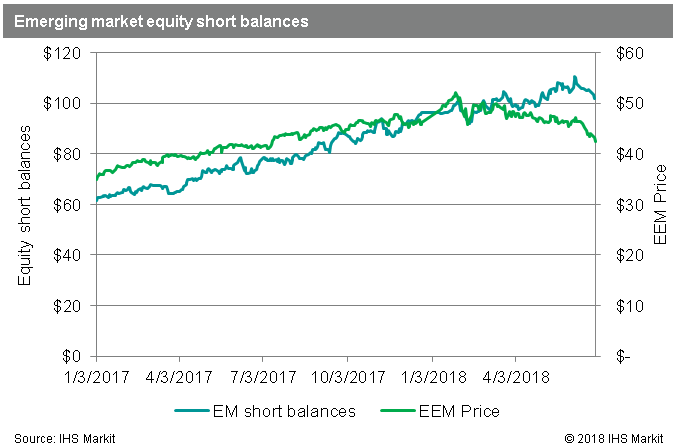 ETFs:
Increasing short balances in 2017 were against a backdrop of emerging market outperformance, with the EEM ETF advancing more than 30%, while the SPY ETF was limited to a 19% gain, and the ACWI ETF advanced 21%. That narrative has shifted in the first half of 2018. After a blistering rally in January, which saw EEM shares advance 10% in the first two weeks of the year, shares have reversed course and were down nearly 10% for 2018, as of June 26th, over 18% below the peak in late January.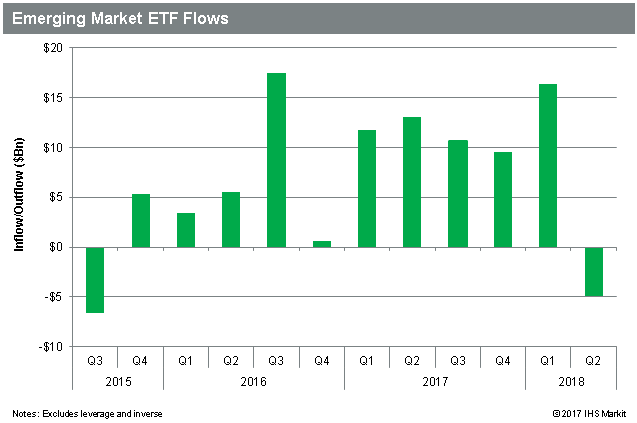 ETFs which track broad EM indices hit a record AUM of $236bn in the first quarter of 2018; however, the subsequent underperformance has prompted investors to pull $7.2bn so far in Q2. Barring a surge of inflows on the last day of June, this will mark the first such outflow since Q3 2015. The ETFs which track individual EM countries paint a rosier picture, with a total Q2 inflow of $4.6bn, 78% of which went into China focused funds.
Short positions in those ETFs have increased by $1.3bn since the start of June, though at $8.1bn EM ETF, short balances remain well below the November 2017 peak north of $10bn. The $8.1bn consists of just below $6bn in broad EM index ETFs and $2.1bn in funds which track a single country. The largest single country ETF short position is China, with over $1.4bn, followed by Brazil with $1.1bn and Mexico with $520m. The average performance for EM country ETFs in Q1 was -1.4% and they are on pace for -6% return in Q2.
China-related demand:
As China engages in its deleveraging campaign and, more recently, a potential trade war with the US, equity investors have voted with their feet, as evidenced by a 20% sell-off in ETFs which track China equities.
A discussion of short demand for China equities must start with Alibaba, the largest equity short position globally, at present $30bn, or nearly a third of all EM short balances. Of the $11.3bn YTD increase in EM balances, nearly 60% was accounted for by BABA. That follows 2017, when Alibaba was nearly 50% of the $29bn increase in EM short balances. The e-commerce firm's status as most shorted stock globally has been in tact since it overtook TSLA in June 2016. In the documentary film The China Hustle, Roddy Boyd refers to the firm's shares as lottery tickets, and on a mark-to-market basis they've all been winners so far, with shares up 130% since the start of 2017. Well-known short seller Andrew Left came out with a positive note on May 5th, saying: "Why be short the most compelling TAM situation in the history of the stock market?" For addressing that market, he suggested the firm may see another 25% upside to his target price of $250.
Short sellers initially faded Alibaba's rally off the April 6th YTD low, adding 20m shares in the run-up to the peak short position on May 17th of $34bn. Since then the shares short have declined by nearly 20m, lowering the short balance to just over $30bn.
Since the start of June the ten best performing China ADRs are up 18%. Undeterred short sellers added to those positions, with short balances in those 10 stocks growing by $1.1bn in total, over $700m of that was the result of additional shares being added. In particular shorts have shown steely resolve in Iqiyi Ads, increasing the short position three-fold to over $500m since the start of June, while shares traded up 55% through June 20th. The IQ shares have since given back 18% of those gains. Short balances in JD.com and Huya have also increased significantly since the start of June.
While there have been positive returns for some of the China ADRs, they've been the exception. The average return for China ADRs since the start of June is -6%. Those underperforming the average include recent Muddy Waters short TAL Education, whose shares have traded down nearly 20% from their all-time high on June 8th. The total short position in China ADRs, ex-BABA, hit a post-crisis high on June 19th and is currently $9.6bn, up $1.2bn from the start of June despite declining share prices.
Short demand for Hong Kong shares hit a post-crisis peak of just over $30bn on June 5th, led by demand for H-shares of Chinese firms such as Anhui Conch Cement Co, Brilliance China Automotive Holdings and China Evergrande Group. Over the last week the sell-off has taken the EWH ETF down 10%, while the short balances have declined 13%, representing short covering in addition to declining share prices. Out of the 10 largest HK short positions, four have seen shares short decline by over 15% since the start of June.

Asia ex-China
Aside from China, demand has been strong for other emerging markets in Asia with Taiwan, South Korea and New Zealand all hitting post-crisis highs in short balances in June.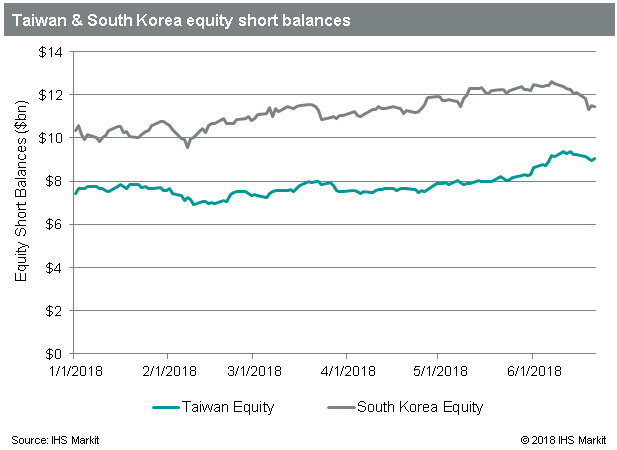 Short balances in Taiwan equities are up 20% YTD, currently just over $9bn. The most shorted in nominal terms is Yageo Corp, whose 200% share price advance drew in short sellers, ahead of a 23% decline from the June 7th peak. Bets against the firm have increased from less than $20m at the start of 2018 to over $500m. Other stocks with recent increases short balances include United Microelectronics, Globalwafers and Walsin Technology Corp. Short demand for Taiwan ETFs is currently just over $200m.

Short sellers of South Korean equities have increased their position size by over $800m YTD. The additional short exposure was well timed, with short balances hitting a post-crisis peak of $12.6bn on June 7th, just days before the EWY ETF traded down 8%, hitting the YTD low. Short balances in the EWY ETF are currently $228m, with an increase of 300k shares since start of June. Celltrion represents over 30% of South Korea's short balances, however significant recent outperformance has caused short sellers to return 7% of the shares since the start of June.

South Africa
Outside of Asia the largest EM market by short balances is South Africa, where there is currently $1.4bn in short balances in local shares. There is also $83m in ETF short balances, up 10% from the start of Q2, despite a 20% QTD decline in the iShares MSCI South Africa ETF.

At $158m, the 2nd largest South African short position is Capitec Bank, whose shares came under fire after analysts at Viceroy Research put out a negative report at the start of this year. In the immediate aftermath the shares traded down as much as 25%, however, they've since recovered nearly a third of the initial drop. The Viceroy report was given substantial air time in the press and drew a rebuttal from the firm's CEO, which is understandable given that Viceroy's previous South African research subject was Steinhoff International, whose shares are now more than 98% below where they traded in December of 2017. By virtue of the share price decline, the short balances in Steinhoff have declined to under $25m, down from a peak of over $900m in November 2017.
Americas
As noted above, Brazil and Mexico are among the most shorted EM countries via their respective ETFs, with Brazil having over $1bn short and Mexico being just over $500m.
The $1bn short position in Brazil ETFs is up slightly compared with the start of Q2, which reflects an active increase in shares short, while the funds have declined in value by 26.5% on average. We've yet to see any significant covering in the ETFs, there has been a downtrend in ADR short positions, with balances declining by 30% from May 24th through June 27th. The spike in ADR short positions in late May was the result of Petróleo Brasileiro S.A. selling off, which attracted a surge in short demand, which largely came off as shares continued to tumble.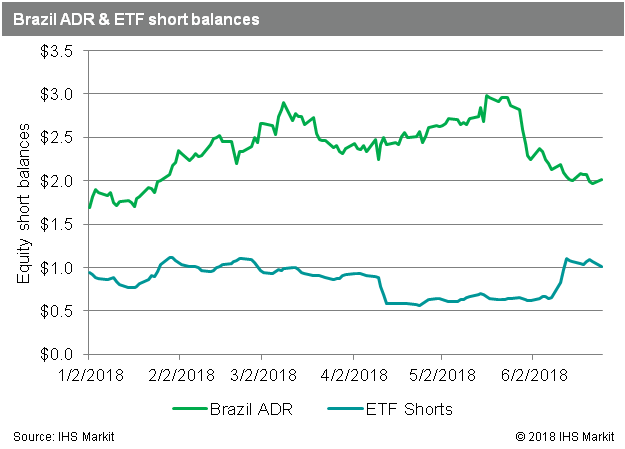 The rising trade concerns from the US have certainly weighed on Mexican equities, with the EWW ETF retreating 15% from the YTD high on April 19th. The equity short balance has grown to over $900m, but still well below the post-crisis high of $1.6bn observed in June of 2014. The largest short position in Mexico is Grupo Televisa Sab, with short positions currently totalling $72m. In addition to the local shares there is also a growing short position in the ADRs, currently over $500m, an increase of nearly $100m since the start of June, ahead of the nation's presidential election.
Wrap-up
The total EM short position has been in a clear uptrend since the summer of 2015. Alibaba has certainly played a starring role, increasing balances from less than $2bn to over $30bn, in the process going from 3% of EM short balances to over 30%. That isn't the whole story though, as ex-BABA EM short balances have also increased nearly 50% in that time and reached a post-crisis high on June 5th. While increasing demand has been particularly notable in Asia, there is also strong demand for South Africa, Brazil and Mexican short exposure.
Trade tensions, and related currency moves, have provided a recent impetus to add to short positions; however, the trend of increasing EM short exposure has been in place for longer than the current US President. From the start of 2015 through the US election on Nov 8th 2016, global equity short balances increased by 38%, while EM short balances increased by 124%. Nonetheless, it's worth noting that the recent EM underperformance, IWM has outperformed EEM by 10% in the 20 trading days ending June 21st, was the most extreme since the 20 days following the 2016 US Presidential election, when the gap was 18%. Over the last week EEM has outperformed by 3%.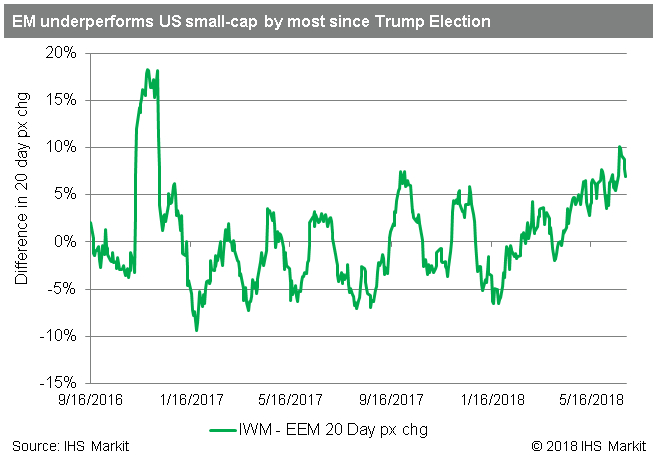 As EM equities have sold off in June there has been a limited but increasing impulse toward short covering. For traders who were short Brazil at the Q1 2016 lows, only to see the market double by the start of Q4, the temptation to book profitable EM short trades may be starting to creep in.
RELATED INDUSTRIES & TOPICS