Customer Logins
Obtain the data you need to make the most informed decisions by accessing our extensive portfolio of information, analytics, and expertise. Sign in to the product or service center of your choice.
Customer Logins
Effect of gas price incentives on Argentina unconventional production outlook: A bird's eye view

Starting in 2013, the Argentine government put into effect upstream subsidies to attract foreign investments and provide incentives to companies to invest in the country's unconventional gas areas. By 2017, to move towards a market-based approach, this pricing scheme was amended to provide an incentive by temporarily maintaining the gas price for unconventional gas projects at $7.50/MMBtu for 2018, set to decrease by $0.50/MMBtu each year thereafter through 2021. At the time of these changes, an expectation that these incentives might be extended beyond 2021 was not ruled out. These price incentives paved the way for significant and continued investments by the industry into the Vaca Muerta shale and tight gas plays in Argentina.
In early 2019, however, the Argentine government officially announced that the stimulus program would not be extended beyond 2021 and introduced volume caps on existing production to which these incentives can be applied. This has led to a strategic rethink by companies that have either produced more than capacity to take advantage of the existing incentives or made investment plans for development of newer unconventional blocks, especially for the Vaca Muerta.
To see the effect of the incentives and its exclusion on overall production, we have run sensitivities on two gas price scenarios. Scenario 1 assumes that the $6/MMBtu gas price would be carried forward post 2021, with an assumed 2% inflation. Scenario 2 assumes a wellhead gas price of $4/MMBtu in 2022, to be inflated yearly at the same rate.


Figure 1: Gas price scenarios for sensitivity analysis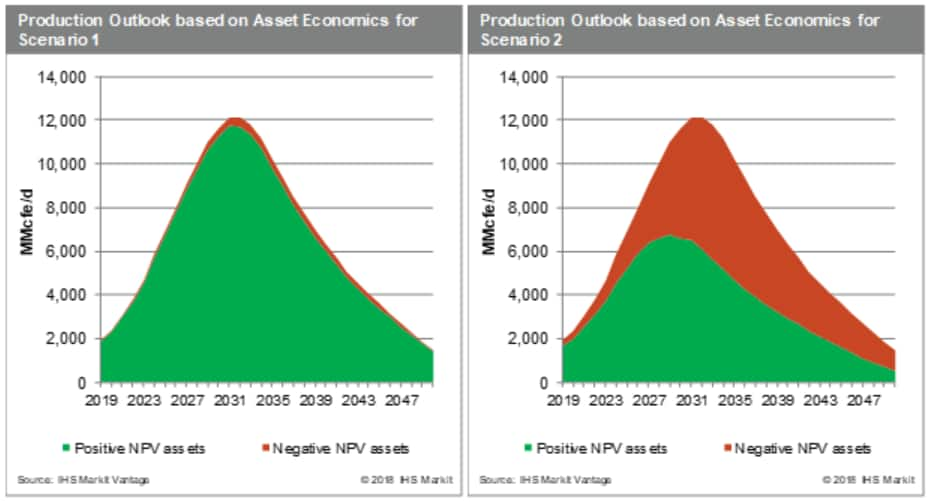 Figure 2: Production outlook scenarios

Following these assumptions, the total production in gas equivalents from economical assets in Scenario 1 peaks at approximately 11,500 MMcfe/d, whereas switching to Scenario 2 drops this down to nearly half at 6,700 MMcfe/d. Assets, both producing and future, are deemed economic/uneconomic based on current announced or assumed development plans, well costs, well productivities, and our IHS Markit Vantage® price assumptions. Significant movements in these assumptions are likely to shift an asset from one spectrum to another. The map below shows the blocks color coded by the extent of the effect of Scenario 2 gas pricing. Assets that see a higher impact on their economics are in purple with the light blue color denoting the assets which are least affected. The affected assets mostly target the tight gas reservoirs, and the dry gas and wet gas assets in the Vaca Muerta shale. With the removal of these incentives, the need to reduce well costs and increase well productivities will be even more critical, requiring the companies to realign their priorities, especially with respect to their gas assets.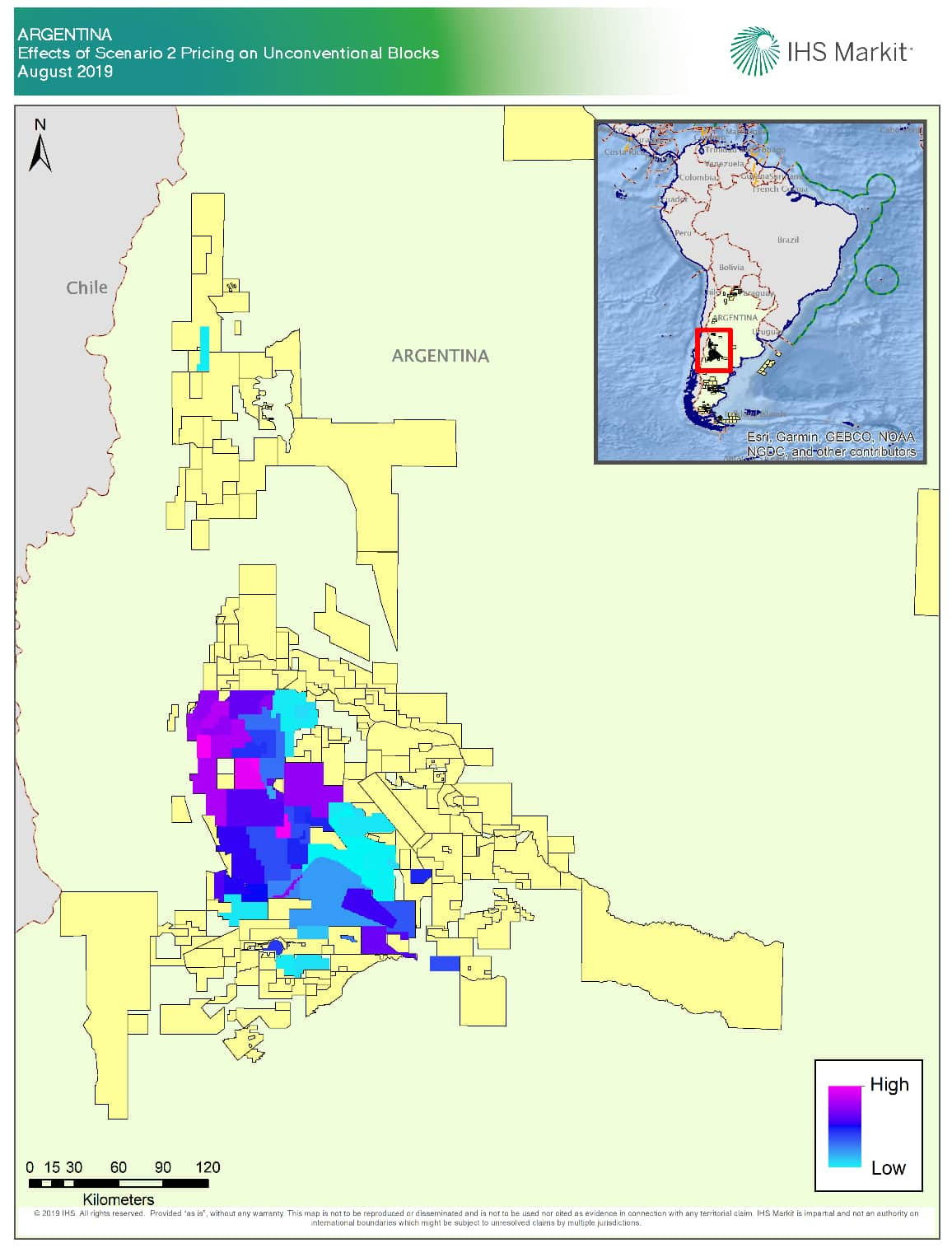 Figure 3: Effects on scenario 2
Divya Ramaswamy is aSenior Associate for Vantage at IHS Markit.
Molley Sheriff is a Senior Geospatial Analyst at IHS Markit.
Posted 20 August 2019
---
Follow IHS Markit Energy
RELATED INDUSTRIES & TOPICS