Customer Logins
Obtain the data you need to make the most informed decisions by accessing our extensive portfolio of information, analytics, and expertise. Sign in to the product or service center of your choice.
Customer Logins
Drug patent expirations 2013: Past the worst of the patent cliff, or do biosimilars provide a new threat?

Depending on how you define the proverbial "patent cliff", we are now roughly well into our third year of this unusually dense constellation of best-selling drugs whose patent protection period is running out. By some estimates, 2013 may actually represent a peak year in the patent cliff, but our assessment is that this occurred last year – and that whilst this year is by no means an easy ride for major drugmakers, the patent expirations are somewhat milder and less eye-catching.
Indeed, 2013 will come to a startling close with the patent expiration in December of Lilly's best-selling anti-depressant Cymbalta (duloxetine), which rakes in around USD3.4 billion annually. And most of the other drugs which go off-patent before then are also small molecules such as Tricor (finofibrate), Xeloda (capecitabine), Zometa (zoledronic acid), Lidoderm (lidocaine), Temodar (temozolimide), Niaspan (niacin ER) and Aciphex (rabeprazole).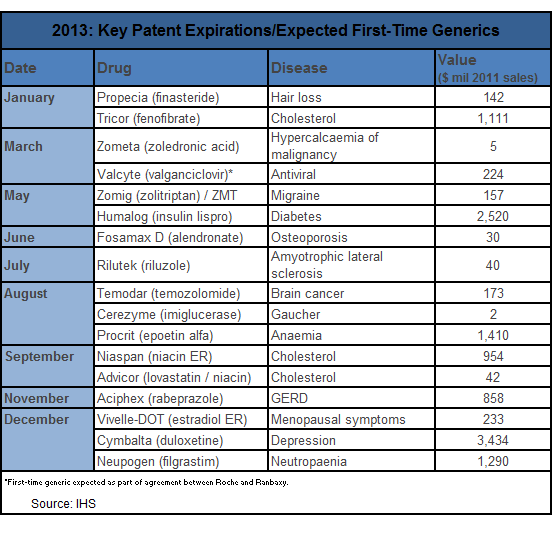 However, a key lingering uncertainty remains the patent status of several large, biotech molecules. Most notable here is the situation for Biogen Idec's multiple sclerosis blockbuster Avonex (interferon beta-1a). The original patent expires here in end-2013 – but Biogen maintains that it has an extra 13 years extended protection, and the courts will decide this one in a decision that will also affect Merck KGaA's sister drug Rebif (interferon beta-1a).
Lilly's insulin inspro drug Humalog also expires in 2013, but the biosimilar insulin market remains in turmoil following the dissolution of the Biocon/Pfizer partnership, meaning that competition here is not likely to be particularly fierce. Similarly, the patent for Johnson & Johnson's Procrit (epoetin alfa) expires in August, but there are no immediately obvious biosimilar competitors coming up against it – at least that are in the public domain. Finally, we expect to see activity in the biosimilar filgrastim market following the US approval for Teva's version of Amgen's Neupogen – and this will serve as the proverbial litmus test for the evolving biosimilars market in the United States.
For more on biosimilars
Last week, we launched our latest multi-client study, "Biosimilars and Non-Innovator Biologics in Emerging Markets – Payer, Regulatory and Pharma (PRP) Perspectives". To participate in this study and shape its outline and interview guide, please contact us.
RELATED INDUSTRIES & TOPICS