Customer Logins
Obtain the data you need to make the most informed decisions by accessing our extensive portfolio of information, analytics, and expertise. Sign in to the product or service center of your choice.
Customer Logins
Drivers reveal exactly how fast they want EVs to charge – and these cars are setting the pace

DOWNLOAD FREE — EV INFRASTRUCTURE REPORT EXTRACT
It comes as no surprise that the biggest setback for electric cars has been range anxiety and the 'inconvenience' of charging them.
Earlier this year, the number of public charging stations surpassed one million plugs - more than half of these are in China alone. Nevertheless, OEMs and governments worldwide are aggressively pushing for more outlets, including the UK's pioneering legislation for charge point installation to be mandatory on all new-build housing.
The EU has set itself a goal of installing one million chargers by 2025, in addition to those that are privately installed by consumers on their own properties.
Despite the outbreak of COVID-19, battery electric vehicle (BEV) sales are still expected to grow with 27% YoY in 2020 across NAFTA, EU28 and Greater China, according to IHS Markit's Alternative Propulsion Forecasting (H1 2020). This continuous growth is propelled by carmakers that have been making great strides to bring more attractive and usable products to market.
However, market share is still expected to be only 3.6% of the total light vehicle market and the inconvenience - specifically, the speed - of plug-in charging has been an obstacle to further adoption. It is additionally hampered by its seemingly insufficient driving ranges compared to traditionally fueled and hybrid vehicle offerings, and perhaps most critically, the expensive price tag associated with BEVs.
So, how quickly are consumers willing to wait for their electric cars to be fully charged? According to the IHS Markit 2019 Consumer Survey - which was conducted in eight major automotive markets by 8,000 participants - 35% of consumers expect to be fully charged within 30 minutes and 58% within one hour.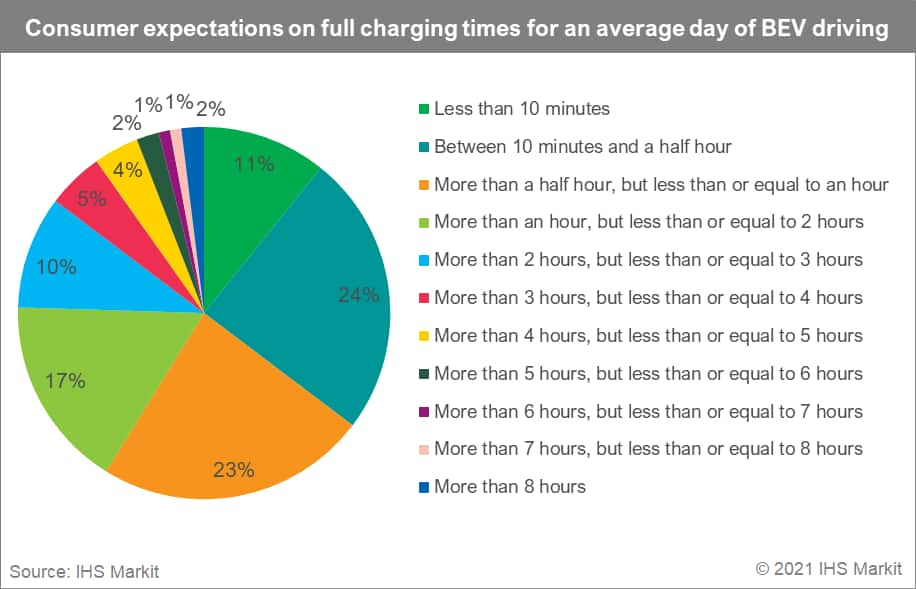 As part of carmakers' endeavours to launch more affordable BEVs in the market, there has been substantial progress in shortening fast charging times. For example, merely 3% of BEVs made in 2015 featured more than 100kW DC peak charging capability. Today, they have significantly higher power levels with premium brands such as Tesla, Porsche, BMW and Jaguar Land Rover have all tested fast chargers at 250-350kW, which typically charge BEVs five-to-seven times faster than early 50kW applications.
Despite these efforts, the time for direct current (DC) fast charging has been on the rise by around 6% on average every year since at least 2015 when IHS Markit Automotive Supply Chain & Technology (SCT) started its research. This is primarily because growing battery capacities that offer longer range result in longer times for full charge, offsetting the effects of enhanced charging capabilities.
Consequently, older BEVs appear to have a quicker full-charge time than newer vehicles with longer range. In order to counter this, a more effective way of informing consumers is by noting the kilometer/10 minute (km/10min) measurement.
The value of km/10min is a pertinent metric to assess the additional driving range that BEV drivers can typically obtain during their breaks on highways or on long journeys. That said, BEVs with high-charging power capability do not necessarily sustain the highest rate of charging linearly beyond 10-15 minutes due to the need to stabilize heat generation and to protect the battery from degradation.
According to IHS Markit's Automotive SCT team's latest research around battery technology and charging, the median value of km/10min numbers vary in each vehicle sales segment from 24km/10min in the A-segment to 36km/10min in the B-segment. This difference is predominantly caused by the larger weight associated with higher segment vehicles. The reason why the A-segment median is shorter than the B-segment is that those smaller BEVs commonly feature 30-40kW DC charging capability.
The green bar represents the total range of km/10min per segment currently tracked by IHS Markit - from the lowest to the highest values achieved by nameplates in the segment. The named vehicles in the image are the best in class per segment, in terms of highest km/10min, while the red line represents the median.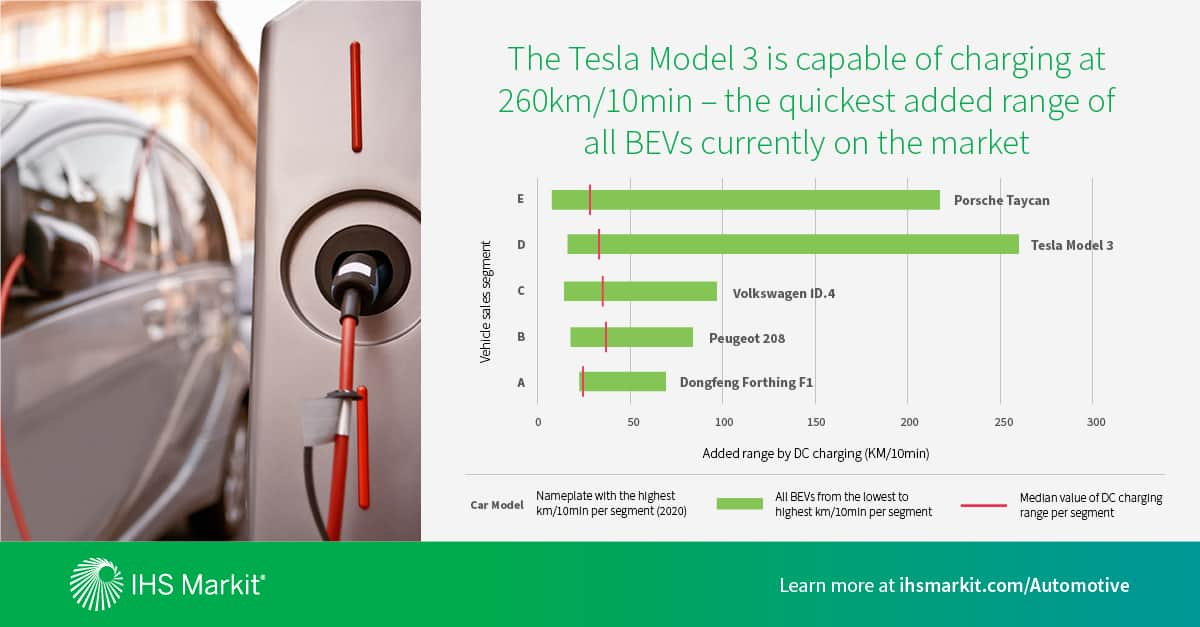 When it comes to benchmarks, the D-segment Tesla Model 3 features the longest additional driving range of 261km/10min with its V3 supercharger. In fact, only Tesla nameplates (Model 3 and Model Y) have a range of more than 150km/10min throughout its sales band worldwide; a range and time that IHS Markit believes to be sufficient in the consumer's mind. In comparison, the Mitsubishi Outlander charges at less than 30km/10min and certain E-segment commercial vehicle applications charge as low as 15km/10min, given their specific needs and use cases do not warrant faster performance.
In the E-segment, the Porsche Taycan can claim 220km/10min charging at 300kW CCS Combo 2. Audi's upcoming e-tron GT is expected to match this range/charge time, with the Tesla Model S also just above the 150km/10min threshold.
The Model 3 retails at £40,000 in the UK for its standard range model and more than £56,000 for its performance level (not including the country's £3,500 grant when buying EVs), while the Taycan sells at £84,000 for its entry-level trim and around £140,000 for its Turbo S variant. Volkswagen's more affordable ID range - namely, the ID.3 hatchback and ID.4 SUV - also fare well in km/10min for their C-segment.
In order to narrow the gap, OEMs are exploring all means to mitigate BEV drivers' concerns over charging times and driving ranges. This not only includes enhancing the charging power in the power electronics system but also improving energy efficiency at vehicle level as well as advancing battery technologies.
The ongoing development of solid-state batteries is one such innovation that could potentially double the range of first-generation BEVs to up to 1,000km on a single charge. Transitioning a battery's electrolyte from liquid to solid halves its size, resulting in less weight and ultimately longer driving ranges.
Here, the likes of BMW, Toyota and the VW Group are projected to be leaders in solid-state battery adoption. Earlier this year, Samsung announced a breakthrough in developing the technology, but IHS Markit does not expect it to be used en masse until the turn of the decade.
Dr Richard Kim, IHS Markit Automotive Principal Research Analyst and battery component expert, said: "The driving range of BEVs has already seen encouraging progress over the years, with distances improved as much as 60% in new entrants compared to their first-generation predecessors.
"With ongoing battery development and OEM efforts in vehicle lightweighting, I have no doubt that driving ranges will continue to improve. Indeed, fast charging capability and infrastructure is also gaining significant momentum globally; hopefully, this will help ease consumers' range anxiety and fuel the continued growth of BEV sales.
"Ultimately, though, this is a chicken-and-egg scenario whereby the cost of battery technology - and subsequent vehicle retail prices - will only decrease if they are produced in volume, which can only occur if the demand for electric vehicles is there in the first instance. Attractive BEV options on the market today - including their more than sufficient km/10min range - are well equipped to break this cycle."
DOWNLOAD FREE — EV INFRASTRUCTURE REPORT EXTRACT
For further information on battery component research, please contact Dr Richard Kim on:richard.kim@ihsmarkit.com
RELATED INDUSTRIES & TOPICS
{"items" : [ {"name":"share","enabled":true,"desc":"<strong>Share</strong>","mobdesc":"Share","options":[ {"name":"facebook","url":"https://www.facebook.com/sharer.php?u=http%3a%2f%2fihsmarkit.com%2fresearch-analysis%2fdrivers-reveal-exactly-how-fast-they-want-evs-to-charge.html","enabled":true},{"name":"twitter","url":"https://twitter.com/intent/tweet?url=http%3a%2f%2fihsmarkit.com%2fresearch-analysis%2fdrivers-reveal-exactly-how-fast-they-want-evs-to-charge.html&text=Drivers+reveal+exactly+how+fast+they+want+EVs+to+charge+%e2%80%93+and+these+cars+are+setting+the+pace+%7c+IHS+Markit+","enabled":true},{"name":"linkedin","url":"https://www.linkedin.com/sharing/share-offsite/?url=http%3a%2f%2fihsmarkit.com%2fresearch-analysis%2fdrivers-reveal-exactly-how-fast-they-want-evs-to-charge.html","enabled":true},{"name":"email","url":"?subject=Drivers reveal exactly how fast they want EVs to charge – and these cars are setting the pace | IHS Markit &body=http%3a%2f%2fihsmarkit.com%2fresearch-analysis%2fdrivers-reveal-exactly-how-fast-they-want-evs-to-charge.html","enabled":true},{"name":"whatsapp","url":"https://api.whatsapp.com/send?text=Drivers+reveal+exactly+how+fast+they+want+EVs+to+charge+%e2%80%93+and+these+cars+are+setting+the+pace+%7c+IHS+Markit+ http%3a%2f%2fihsmarkit.com%2fresearch-analysis%2fdrivers-reveal-exactly-how-fast-they-want-evs-to-charge.html","enabled":true}]}, {"name":"rtt","enabled":true,"mobdesc":"Top"} ]}