Customer Logins
Obtain the data you need to make the most informed decisions by accessing our extensive portfolio of information, analytics, and expertise. Sign in to the product or service center of your choice.
Customer Logins
Don't believe everything you see

Have you ever been driving on a highway, noticed how many BMW, Mercedes-Benz and Audi vehicles there are, and wondered how so many people have the money to buy all those fancy cars? (I have.) Well, in many cases the drivers may not have the money because they don't own the cars!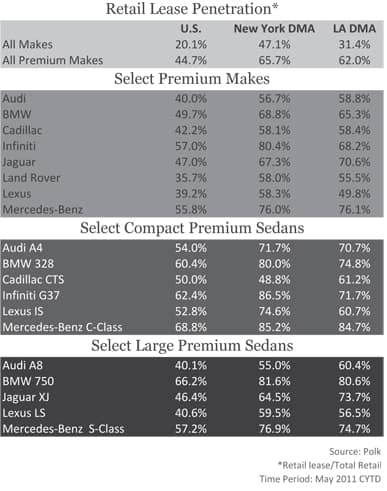 Industry-wide, leases comprise about a fifth of all new vehicle registrations, but within the luxury market, lease penetration is more than twice as high at 45%. Three premium makes: BMW, Infiniti and Mercedes-Benz, actually have national lease rates at or above 50%.

Furthermore, several popular compact premium cars have lease rates above 60%, with the Mercedes-Benz C-Class approaching 70%. Leasing is not limited to smaller vehicles, as all five of the leading large premium sedans have lease rates above 50%. Two of every three 7-Series are leased.

In the two largest metropolitan areas, New York and Los Angeles, leasing is substantially more popular than in the rest of the country. Almost two thirds of all premium vehicles registered in the New York metropolitan area are leased, and almost as many in LA. More than two thirds of most small premium cars registered in these two metropolitan areas are leased, and we see similar results for the large premium sedan category.

These extraordinarily high lease results lead to several conclusions. First, the price of the vehicle is not the be-all and end-all. Rather, the monthly lease payment is a crucial factor. The monthly payment is not completely linked to the price, as the OEM and dealer have several tools by which to manipulate the monthly payment; these include, among other things, artificially raising the forecasted residual amount and increasing/decreasing the up-front lease payment. Second, if your premium make is not in the leasing business, you need to get there right away. Lastly, your lease rates, residuals and drive-away costs need to be competitive.

Posted by Tom Libby, PolkInsight Advisor, Polk (08.01.2011)
RELATED INDUSTRIES & TOPICS