Customer Logins
Obtain the data you need to make the most informed decisions by accessing our extensive portfolio of information, analytics, and expertise. Sign in to the product or service center of your choice.
Customer Logins
DOE Defends Its 2019 LNG Export Analysis

DOE has published its responses to its report, "Life Cycle Greenhouse Gas Perspective on Exporting Liquefied Natural Gas from the United States: 2019 Update," published in draft form in September.
DOE periodically updates this report, which was first produced in 2014, in order to review the impact of new applications seeking authorization to export LNG to non-free trade agreement (FTA) countries. The agency received seven comment letters for about its 2019 report.
In the 2019 draft report, DOE asked two main questions:
How does domestically produced LNG exported from the United States compare with regional coal used for electric power generation in Europe and Asia, from a life cycle GHG perspective?
How do those results compare with natural gas sourced from Russia and delivered via pipeline to the same European and Asian markets?
The report found that "use of U.S. LNG exports to produce electricity in European and Asian markets will not increase GHG emissions on a life cycle perspective, when compared to regional coal extraction and consumption for power production," and "the use of imported coal in these countries would only increase coal's GHG profile." (See graphs below for Europe and Asia.)
DOE noted in the report and the Federal Register notice that it is not required to consider whether LNG would be displacing any electricity from renewable sources or nuclear energy, either of which would have a lower GHG profile than natural gas/LNG power.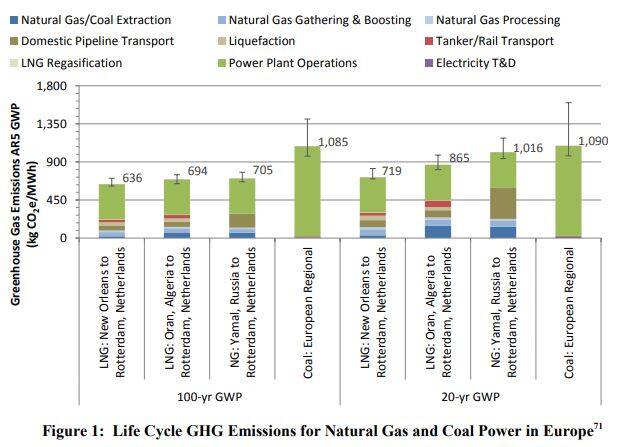 Figure 1: Life Cycle GHG Emissions for Natural Gas and Coal Power in Europe.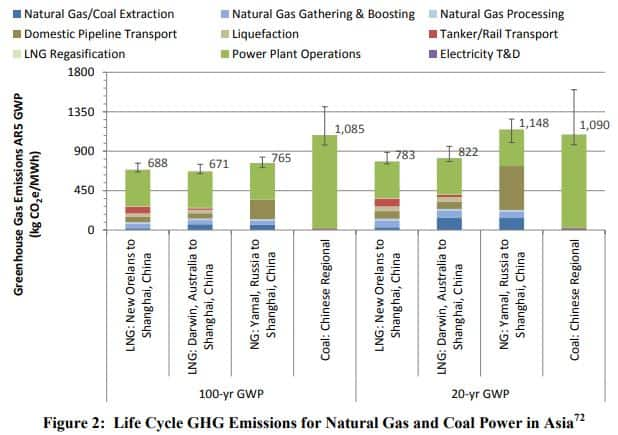 Figure 2: Life Cycle GHG Emissions for Natural Gas and Coal Power in Asia.
Comments and responses
In its comments, DOE first stated that it received widespread support for the study design and assumptions from groups such as the American Petroleum Institute, LNG Allies and the Center for LNG.
But the Sierra Club again raised the issue of displacement of renewable power, and DOE again dismissed the matter by saying that "coal-fired power… is currently the most likely alternative to natural gas-fired power for baseload generation." DOE also said that the complexity of renewables is beyond the scope of the review because different countries' policies to support renewables "are speculative…"
The Center for LNG added in its comments that natural gas and renewables are complementary, not competitive. It submitted a study that found that for each 1% increase in gas-fired generation, the amount of renewable generation increases by a nearly equal amount of 0.88%. DOE said that it agrees that natural gas "is one part of an environmentally-preferable global energy portfolio."
Sierra Club also said that non-FTA LNG exports will raise the cost of domestic natural gas and encourage gas-to-coal switching, thus raising US emissions. But DOE pointed to current and projected US natural gas prices as "historically low," and said that its 2018 study found that LNG exports will have only a marginal effect on natural gas prices. Furthermore, DOE forecasts that US coal consumption will continue to decline through 2050.
While siding with pro-LNG commenters on most issues, DOE said that it's sticking with its new, higher number for the global warming potential (GWP) of methane emissions on a 100-year scale of 36, which has become the new international standard. The Center for LNG pushed for retaining the number from prior DOE studies of 28.
Also on the methane angle, the Sierra Club said that DOE's assumption of a 0.7% leakage rate of methane from oil and gas production and transmission is far too low; Sierra Club said that 1.24%, as found by a recent National Energy Technology Laboratory review, should be used. But DOE said that other recent NETL studies have found a range of 0.7% to 0.88%, and that there is high variability among all studies of methane emissions.
Finally, DOE dismissed several criticisms of methodology by the International Energy Consumers Association (IECA), which opposes additional LNG exports. DOE said that IECA's is incorrect in claiming that the methodology is flawed because it lacks methane emissions from inside-the-fence operations, such as onsite gas refrigeration, in the receiving nation. Those forms of emissions and energy use are in the model, according to DOE.
Reprinted from PointLogic News. For more natural gas news from IHS Markit, visit the PointLogic website.
Kevin Adler is an Editorial Director at IHS Markit.
---
Follow IHS Markit Energy
RELATED INDUSTRIES & TOPICS