Customer Logins
Obtain the data you need to make the most informed decisions by accessing our extensive portfolio of information, analytics, and expertise. Sign in to the product or service center of your choice.
Customer Logins
Distributed antenna system innovation can lower TCO

19 May 2016
Stephane Teral
By definition, the total cost of ownership (TCO) of a system is a financial estimate aimed at helping the owner determine all costs associated with the system, direct and indirect. Applied to distributed antenna systems (DAS), the TCO is the sum of the capital and operational expenditures detailed in the Exhibit below. Capital expenditures are funds used by the company to either acquire or upgrade a DAS system, while operational expenditures represent the cost of running the DAS system.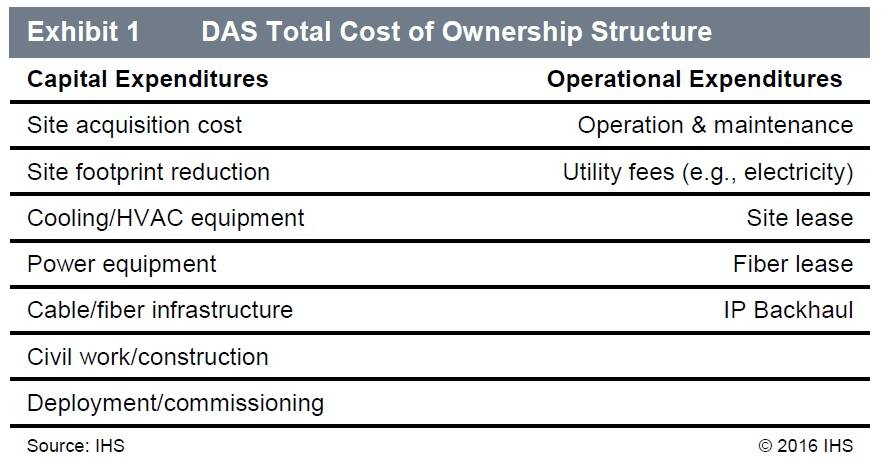 Large mobile operators such as AT&T Mobility and Verizon Wireless have been using DAS for the past two decades to improve network coverage in venues where the traditional macrocell approach does not work. In recent years, driven by a major telecom restructuring in 2008, China rose quickly to significance and became the world's second-largest DAS market after the US. As mobile networks have migrated from 2G to 3G and 4G, DAS architectures have evolved from passive to active, in which repeaters are replaced with low power remote radio heads connected to the DAS hub and capacity is added to handle the new demands of mobile smartphones.
However, the unabated smartphone-generated traffic growth experienced at major events such as the Super Bowl and the FIFA World Cup keeps mobile operators and venue owners busy with major network upgrades to stay ahead of the curve. Alternatives to offload traffic from the cellular network-such as WiFi, and more recently, small cells that densify existing macrocell networks-have been threatening the well-established DAS option, pushing major DAS players to innovate and find new ways to stay competitive. As cost is always the decisive factor, a framework is needed that starts from a tactical analysis of the total cost of DAS ownership and addresses the most significant cost points through innovative DAS designs and features.
IHS just published a technology paper that shows how DAS innovation can substantially address major cost points in capex and opex and ultimately lead to a lower TCO.
Topics covered in the paper include:
TCO reduction starts with tactical DAS capex and opex analysis
Optimizing DAS equipment installation time and cost and minimizing footprint can significantly decrease capex
Five features that optimize DAS installation time and cost
But alternate deployment models such as centralized DAS (C-DAS) lower capex and opex substantially
Then, high signal quality and operation and maintenance tools will contribute to lower opex
And finally, for enterprise applications, femto/microcells can certainly bring a compelling low cost variation to DAS
The DAS paper can be downloaded here: on.ihs.com/27B2F5Z
Stéphane Téral is a Sr. research director, mobile infrastructure & carrier economics for IHS
Posted on 19 May 2016
RELATED INDUSTRIES & TOPICS