Customer Logins
Obtain the data you need to make the most informed decisions by accessing our extensive portfolio of information, analytics, and expertise. Sign in to the product or service center of your choice.
Customer Logins
Dissecting the STACK

The last several years have seen a resurgence of interest in the Mississippian play in the northern Anadarko Basin, largely due to the advent of horizontal drilling and enhanced completion techniques.
Today, large independent unconventional specialists focus on targeting the shales, siltstones and tight carbonates throughout the Mississippian section that, due to their significantly low porosities and permeability, were previously thought to be non-reservoir zones. The silica-rich Meramec and Osage formations are the headline horizontal targets in the northern portion of the basin, while the dense Mississippi Lime continues to draw operators' interest in the northwestern reaches, namely Dewey and Woodward counties, Oklahoma. The high silica content of the Meramec and Osage formations, particularly in the chert-rich Osage Formation, lends to a relatively high brittleness index and, therefore, an overall increased occurrence of natural fractures. Additionally, the brittleness of these intervals enhances horizontal well completions, allowing for more rock volume to be stimulated.
The Anadarko Basin is an asymmetrical basin covering almost the entire western portion of Oklahoma, as well as parts of southwest Kansas and the northeastern portion of the Texas panhandle. It covers approximately 50,000 sq. mi. and is comprised of over 40,000 ft of sediment fill in the southeast where it is deepest. Mississippian and older strata are primarily carbonates, while Pennsylvania and younger rocks are mostly shales with some sandstones. Over 25 conventional Silurian-Pennsylvanian age plays were identified during the basin's conventional development boom in the 1990s, in which sands and porous carbonate intervals were the primary targets (Figure 1).
The Devonian-age Woodford shale is considered to be the most important source rock throughout the basin, producing both oil and gas. Today, the Woodford is also one of the primary horizontal targets, in addition to 10+ other oil- and gas-bearing reservoirs throughout the Ordovician-Pennsylvanian stratigraphic section (Figure 1).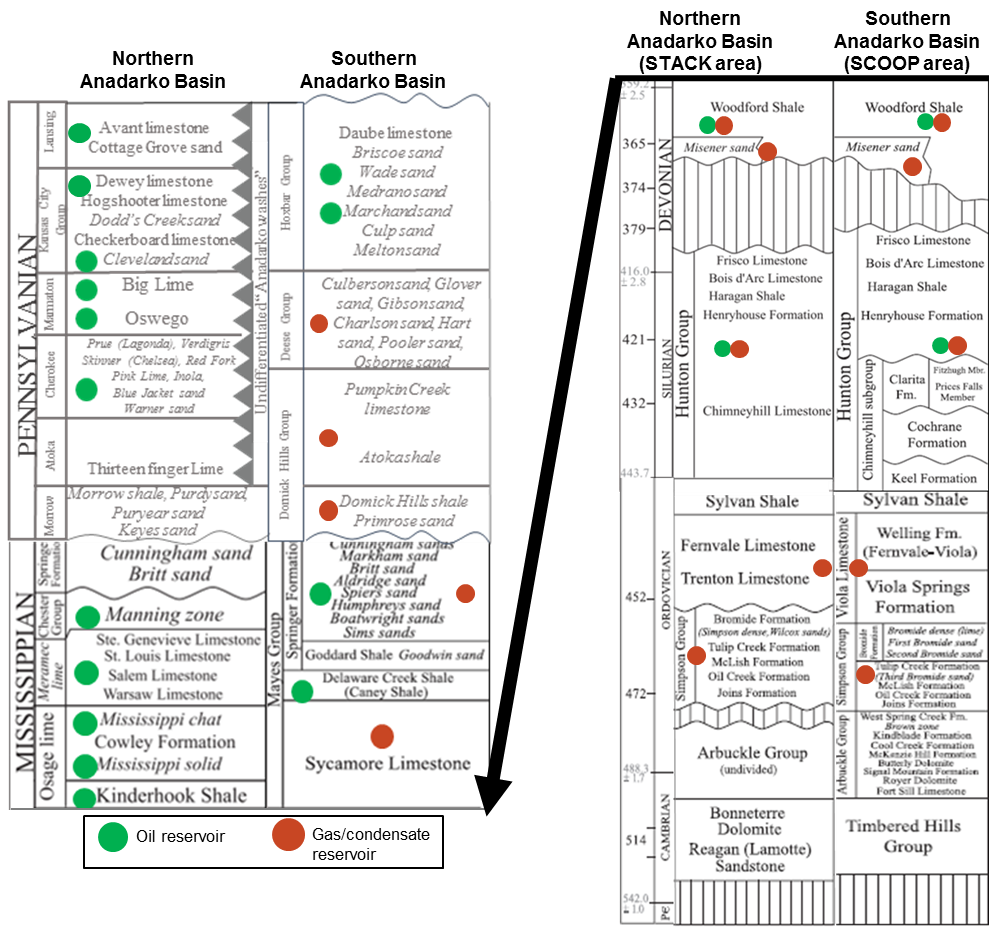 Figure 1: Generalized stratigraphic chart of the northern and southern portions of the Anadarko Basin. Modified from Gaswirth and Higley, 2012 and Boyd, 2008.
Despite decades of oil and gas production throughout the Anadarko Basin, particularly from Mississippian aged reservoirs, industry has yet to establish formal, regionally correlative, producing formation names, or "codes." For this reason, the majority of recent Meramec and Osage production is reported only as "Mississippian" or "Mississippi Lime." Therefore, in order to perform any type of production or economic analyses on these reservoirs, one must go a step further beyond simply compiling reported producing formation names and tying these with production.
IHS Markit has developed an in-house tool called PRODFit, or Producing Formation from Interpreted Tops, which leverages formation tops interpreted by geologists using vertical well log data (Figures 3 and 4) against directional surveys and perforated intervals to assign more accurate producing formation names. These new PRODFit assignments allow the analyst to compare like reservoir with like reservoir, and ensure a regionally consistent definition of the production formation.

Figure 2: Northwest-southeast cross-section of the Devonian age Woodford Shale and overlying Kinderhookian-Meramacian age (Mississippian) strata through the NW STACK area (Dewey and western Blaine counties) and core STACK area (Kingfisher and eastern Blaine counties). Note, the thickness of Kinderhookian-Meramacian age section reaches up to 1,300 ft to the northwest, therefore, requiring a finer scale, more detailed definition of its stratigraphy. Log plotted is gamma ray; blues indicate more carbonate content, grays/blacks indicate higher silt and clay content.

Figure 3: Same cross-section shown in Figure 2 with added stratigraphic detail. Note, the Mississippi A-E represents a wedge of carbonate-dominated sequences prograding to the southeast; the Osage Formation represents an on-lapping of carbonate-rich sediments onto the carbonate wedge; the Meramec A-D represents a series of aggrading and prograding carbonaceous siltstones, again, to the southeast.
Preliminary results indicate there is a wide areal extent of highly productive Meramec that breaks even below $50/bbl (10% IRR to WTI) through the Kingfisher, Canadian, Blaine, and Dewey County fairway. Though there are relatively few data points, the Cherokee, Osage, Chester, and Woodford have pockets of recent high productivity wells.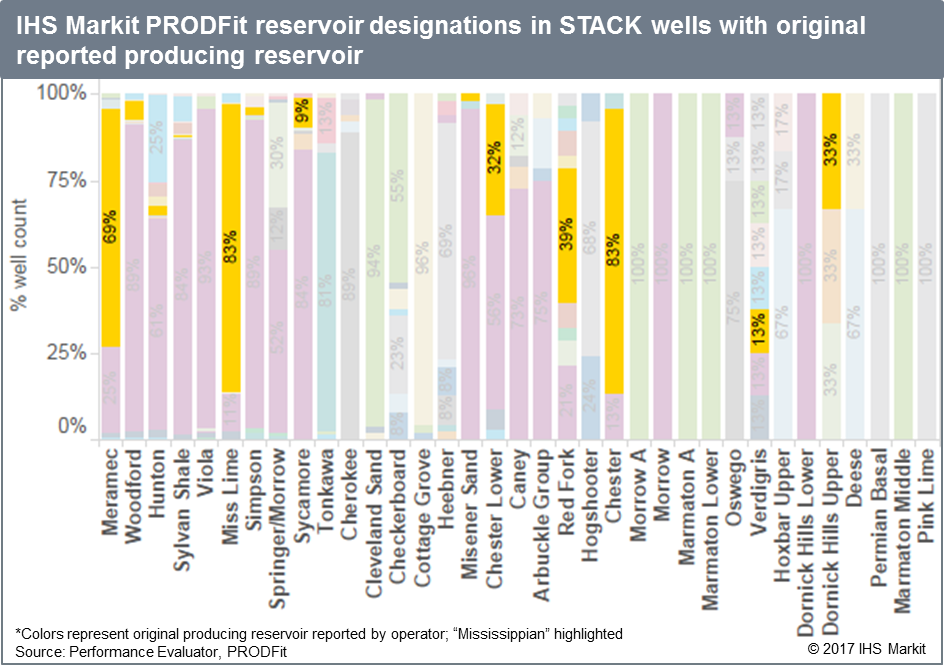 Figure 4: Preliminary results show the lack of specificity in reporting in the STACK area. In the case of the Meramec, only 3% of Meramec wells were noted as such on public filings, while nearly 70% were classified as "Mississippian".
Once complete, the PRODFit tool will enable further and better analysis of the entire inventory and sweet spots in the STACK across the many potential sources there.
To view early results and additional details, view the on-demand version of our recent webcast on this topic.
Imre Kugler is an Associate Director, Upstream Consulting at IHS Markit.
Lauren Droege is a Research Analyst, Upstream Research at IHS Markit.
Posted 20 November 2017
RELATED INDUSTRIES & TOPICS