Customer Logins
Obtain the data you need to make the most informed decisions by accessing our extensive portfolio of information, analytics, and expertise. Sign in to the product or service center of your choice.
Customer Logins
Direct Engagement – Navigating the "DIY" Approach to Investor Relations

On a recent trip to Europe, I had a number of opportunities to speak with IR professionals on current hot topics, like ESG, the impact of MiFID II and the "DIY" model for IR.
First stop, London, where I joined a presentation at our HQ office, featuring Raj Badiani, Chief UK Economist, who discussed the potential impact of Brexit from an economic perspective. Then, Jason Oury, VP & Global Head of Advisory, and I presented on the emerging "DIY" model for IR which is taking off as a result of MiFID II.
Following London, the IR Magazine Global Forum & Awards conference in Paris, where I joined a panel "How IR should operate with more direct engagement."
Throughout the trip, the theme of direct engagement with investors came up in various forums. Whether the discussion centered around targeting, ESG, or developments in artificial intelligence (A.I.) and technology, it was clear that IR teams will continue to be asked to do 'more with less' in the future.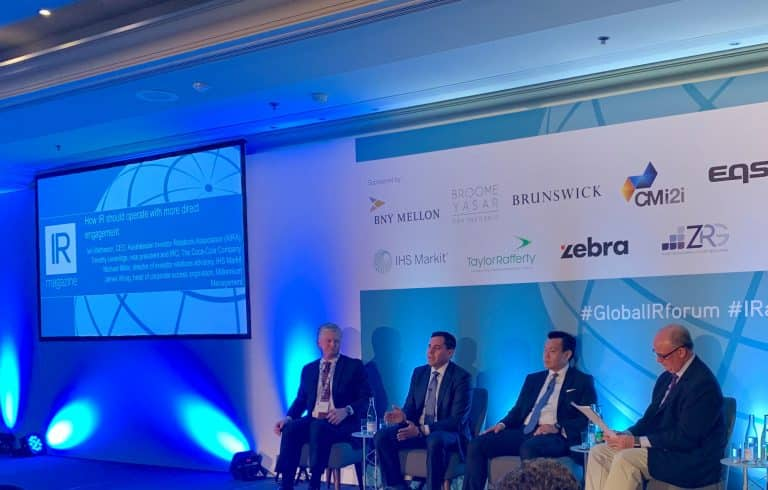 IR Conference Panelists (L-to-R): Timothy Leveridge (VP & IRO, Coca-Cola), me, James Wong (Head of Corporate Access Origination, Millennium Management); Moderator: Ian Matheson (Chief Executive, AIRA)
It was also quite evident that the dynamics between IR teams, the buy-side and the sell-side are changing across Europe and the rest of the world as a result of MiFID II. I wanted to gain further insights on these changes and see if there are some best practices that IROs can learn from as they begin to navigate the "DIY" world. So, I sat down with Jason Oury, our Global Head of Corporate Advisory, to discuss what is changing and how IR teams should prepare to meet the challenges of tomorrow.
Q&A with Jason Oury, Global Head of Advisory
Q: How have interactions with the buy-side changed since the introduction of MiFID II?
A: The buy-side has reacted more quickly to MiFID II than many expected. We are hearing that conference attendance is down, issuers are seeing the same investors from one conference to the next, and non-deal roadshows are becoming more challenging to schedule. We expected this to some extent in Europe, but the changes we have seen in the US and Asia Pacific have been somewhat surprising.
Q: Have all your clients seen similar changes from an IR perspective?
A: Not really. Interestingly, the impact of MiFID II has varied a lot from client to client. And it has depended mostly on three main factors: 1) market cap, 2) the amount of sell-side coverage a client has, and 3) the size of their IR teams. For our large cap, multinational companies with global brand recognition, not much has changed. At the other end of the spectrum, our small and mid-cap clients with limited sell-side coverage have seen significant changes and are finding themselves managing access to investors in a much more direct way.
Q: Has the model for interacting with the buy-side and sell-side changed for good?
A: Yes and no. We believe that the sell-side will continue to play a significant role in bringing investors and issuers together. In the past, almost all interactions - conferences, roadshows, 1-on-1s and small group meetings - have been facilitated by the sell-side. Today, while we are seeing some clients manage all these interactions directly, the most common scenario we are witnessing play out is the emergence of a "hybrid" model.
For example, in the past we might have seen a client do a 2-day roadshow in London managed entirely by several sell-side brokers. Today, we are seeing that same client do a day or a day and a half with the assistance of the sell-side. Then, they will do a half-day or full day on their own. This way, they can meet with all the current and prospective investors they want to meet with in compliance with the new framework and structure which has resulted from MiFID II.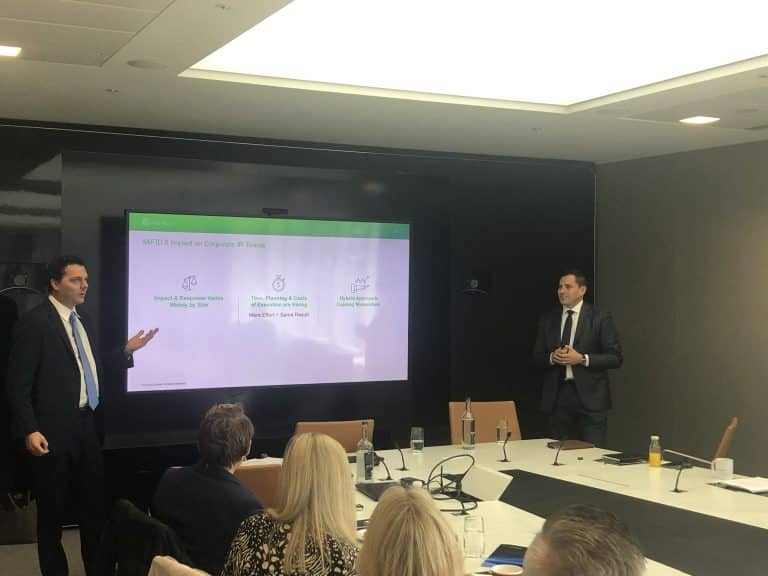 Jason Oury (VP, Global Head of Advisory) and I present Global IR Trends to London clients
Q: What advice would you give to a client who is interested in exploring a "DIY" approach?
A: In our recent piece on "DIY" investor relations, we posed this question to several of our clients who have been successful in adopting this DIY approach to IR, and they came back with some great suggestions. Some key takeaways for IROs thinking about adopting this approach include:
Be persistent in reaching out when building a proactive IR program.
Cater your message to the specific investor you are engaging.
Consider an IR-only NDR as a 'dry run' in a familiar city to iron out the kinks before taking your management team out on the road with no sell-side assistance.
Continue to leverage the sell-side where appropriate by making sure that you are 'pushing back' and getting what you want out of any sell-side led events.
All these pieces of advice are great. I especially believe in the IR-only dry run, for IR teams to follow whether they are adopting a full "DIY" direct approach for the first time, testing out the hybrid model, or continuing to rely exclusively on the sell-side for the time being.
Both the client meeting in London and the conference in Paris touched on all the hot-button IR issues, with conversations ranging from research and targeting to ESG and the anticipated impact of AI and technology. Jason helps our clients in Europe and around the globe address these challenges every day, so it was interesting to get his perspective after hearing from investor relations professionals at these two events.
For more information on IHS Markit Corporate Solutions, and/or to be informed of future events, please contact Michael at Michael.Miller@ihsmarkit.com or Jason Oury at Jason.Oury@ihsmarkit.com.
IHS Markit provides industry-leading data, software and technology platforms and managed services to tackle some of the most difficult challenges in financial markets. We help our customers better understand complicated markets, reduce risk, operate more efficiently and comply with financial regulation.
---
Follow Financial Services
RELATED INDUSTRIES & TOPICS