Customer Logins
Obtain the data you need to make the most informed decisions by accessing our extensive portfolio of information, analytics, and expertise. Sign in to the product or service center of your choice.
Customer Logins
Defence technology innovation and the future of military capabilities

The global defence technology and innovation landscape is expanding in focus, accelerating in pace and growing more crowded, complex and difficult to monitor.
More actors are investing in and acquiring more technologies to achieve more sophisticated effects using more novel applications. As a result, strategic and operational environments are increasingly marked by what former US Deputy Secretary of Defense Robert Work referred to earlier this year as "endemic surprise."
New ways of thinking about new dimensions of threat and the contingencies, competitions and missions they produce will be required in order to mitigate risks and capitalize on opportunity. Operational and strategic planners must integrate and empower novel alternative analysis methods and mind-sets that challenge existing assumptions, expand analytical filters and enable more flexible planning efforts to meet the challenges and opportunities of the future.
An Expanding Focus
A survey of unclassified defence white papers reveals a long list of technologies of broad interest to defence communities around the world. Indeed, the Jane's Strategic Assessments and Futures Studies Centre tracks over two dozen categories of emerging technologies in which modern militaries are making material investments.
Some of the these technologies - artificial intelligence, big data analytics, additive manufacturing, advanced and smart materials, virtual and augmented reality, unmanned systems, remote sensing - are central to most modern militaries' efforts to enable new effects and enhance the effectiveness of people, platforms and systems on the future battlefield.
Others are more niche, specialized or high-end, such as hypersonic and electro-magnetic weapons, quantum computing and directed energy. Fewer states may be investing in the highest-end applications of these technologies, but the capabilities these technologies enable are potentially highly-destabilizing to military and geopolitical competitions.
Ultimately, disparate development of disruptive technologies, both individually and collectively, portends radical shifts in the nature, properties and applications of future military capabilities. However, the future of technology and capability development is unlikely to unfold along a straight, or, more importantly, single, line. Different actors will prioritize development of different technologies to be used in different ways to achieve potentially similar effects.
Multi-Dimensional Innovation
Militarily-relevant technologies are no longer being produced solely by the global defence industry, but are increasingly being developed by commercial firms, research institutes and academia, further contributing to the expanding focus of innovation in defence technologies.
Multi-dimensional innovation is already reshaping what constitutes the global defence industry and producing deepening implications for defence communities, the industries that support them and how they engage with one another.
For example, the Israeli Defence Force's (IDF) Unit 8200 has served as a powerful incubator for spin-off Israeli high-tech start-ups that go on to expand their efforts beyond support to the IDF to commercial markets and the more diverse funding streams that accompany these markets. The US Department of Defense's DIU(X) program is designed to achieve the opposite result: leveraging the high-tech expertise resident in America's commercial technology hubs to better service defence programs.
Interaction with non-defence industry enterprises is seen as ever more vital, but also tricky. Reforming procurement and engagement models does not happen overnight, and most high-tech companies lack the institutional patience required to navigate Ministry and Department of Defence processes. Moreover, traditional defence industry players chafe at the suggestion that meaningful innovation in new technologies only takes place outside the defence industry, further intensifying the drive for competitive discriminators in an already savagely competitive market.
Technology Diffusion
Commercial development of relevant technologies is just one of the growing pathways of military and dual use technology proliferation, a dynamic that is further diffusing the power to disrupt.
Many states are engaged in expansive and aggressive efforts to acquire advanced technologies and expertise through both licit and illicit means in order to stimulate innovation and help mature their defence industry. China's defence industrial base has made impressive strides in many militarily-relevant technology areas despite seemingly strong structural constraints against ground-breaking innovation. Rapid development of unmanned systems, quantum computing, additive manufacturing and ballistic missile technologies, among others, have all benefitted from aggressive efforts to acquire dual-use Western technology, including through sharing of technologies between commercial and military arms of state-owned enterprises.
Non-state actors have also benefitted from new means of commercial and dual use technology diffusion. Notably, there is an impressive history of Islamist extremist groups and insurgents in Iraq, Syria, and across the Middle East leveraging commercially available technologies (including software, encryption technologies, electromagnetic jammers, and drones) to present new threats, exploit vulnerabilities and counteract rival capabilities.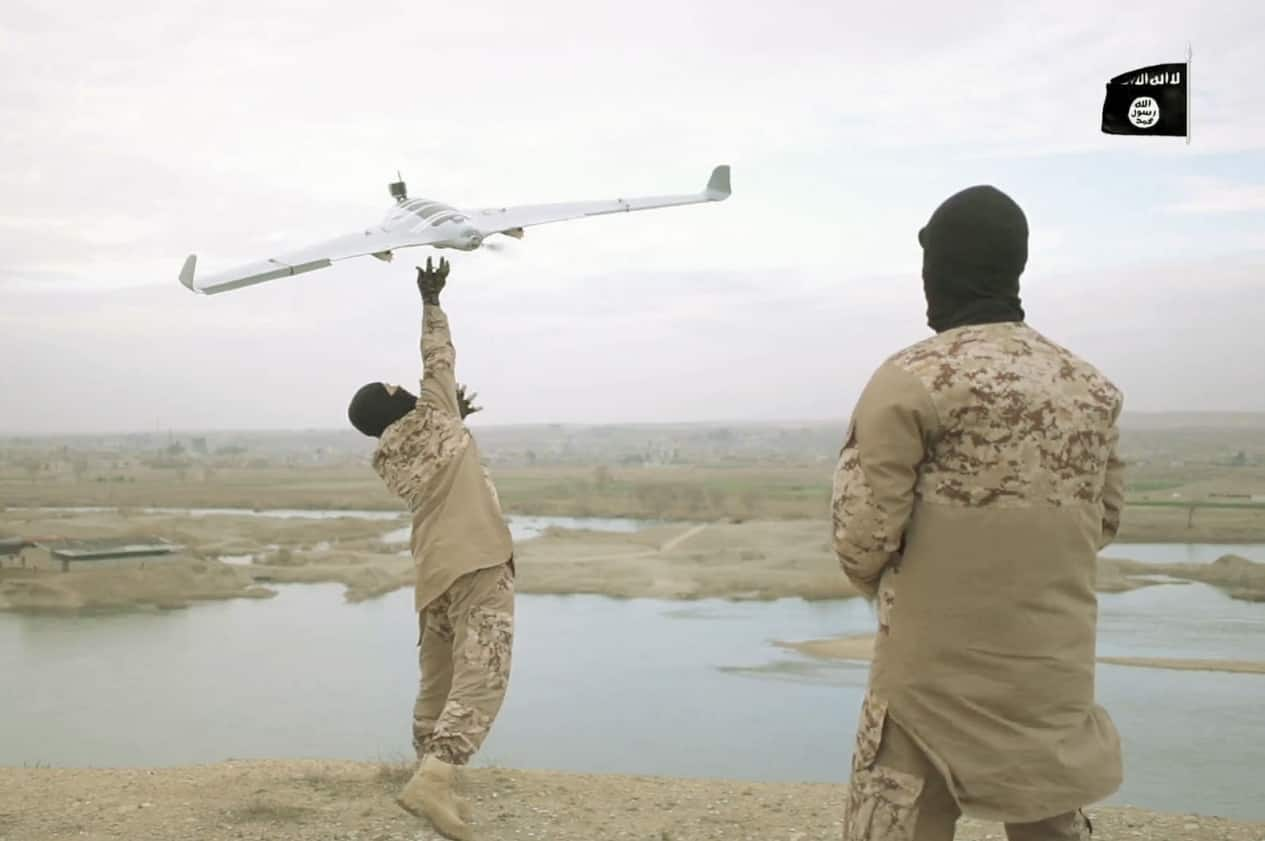 Above: a still from a video showing two Islamic State militants launching a Skywalker X7/8 UAV carrying two IEDs over the Tigris river.
Operational Concepts and Novel Applications
Currently, most attention is paid to the 'what' of technological innovation. However, the pace and scale of the diffusion of emerging technologies also places a premium on understanding the 'how' of technology and capability use - that is, the operational concepts state and non-state actors employ and the proclivities, mind-sets, objectives, and priorities that shape these concepts.
Think of the improvised explosive device, a low tech weapon, to be sure, but deployed in Iraq and Afghanistan in unanticipated ways - contrary to the conventions of modern warfare - to massive disruptive effect. The need to understand not only what adversaries and competitors have, but also how they might use it on the battlefield requires innovation in methods that help defence communities better understand and think like their adversaries and, as a result, better deter, dissuade, diminish, degrade or defeat uncertain and dynamic future threats.
Alternative Futures Analysis
Identifying the origin, nature, pace and trajectory of future threats in this environment constitutes a daunting intelligence challenge.
Improved tradecraft and the latest in machine learning and automation technologies will be necessary, but not sufficient to cope with the 'endemic surprises' of the future.
New dimensions of threat are shaping radically new questions for defence communities, which are, in turn, demanding fundamentally new answers, buttressed by unconventional mind-sets and integration of methods that facilitate both.
Scenario planning, red teaming and wargaming all stand out as especially relevant techniques. When executed well, these methods force stakeholders to challenge inherited assumptions and expand the range of alternatives considered. Critically, they also help analysts and decision-makers to incorporate-rather than seeking to eliminate-uncertainty and complexity into efforts to manage and exploit the innovation, vulnerability and anxiety of fast-moving and dynamic defence environments.
The Strategic Assessments and Futures Studies (SAFS) Centre at Jane's by IHS Markit was established in December 2013 to deliver these strategic solutions to help defence and intelligence communities as well as the defence industry better anticipate, plan for, respond to and even drive strategic and operational disruptions. Find out more about the Strategic Assessments and Future Studies Centre.
Tate Nurkin is Senior Director of Strategic Assessments and Futures Studies
Posted 13 September 2017
RELATED INDUSTRIES & TOPICS