Customer Logins
Obtain the data you need to make the most informed decisions by accessing our extensive portfolio of information, analytics, and expertise. Sign in to the product or service center of your choice.
Customer Logins
Crude Oil Trade: VLCC freight rates, what goes up must come down

April started with the market's sentiment in the Middle East Gulf (MEG) deteriorating further, as several shipowners compete for a smaller amount of VLCC cargoes across the Middle East Gulf, as OPEC members proceed with the planned production cuts.
As data provided by IHS Markit's Commodities at Sea shows below, demand for VLCCs has been affected by OPEC cuts, with volumes moving down until February, then marginally improving in March, primarily driven by the improvement in West Africa. Early data for April, which might change signficantly over this week and next suggests activity has been limited in West Africa and will not increase further in the US Gulf, as earlier anticipated. Middle East Gulf volumes are not expected to remain as strong as depicted in the chart, as there have been limited fixtures for the second half of this month so far.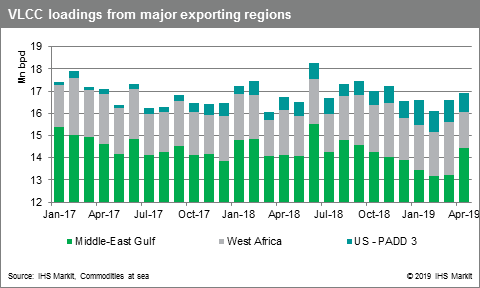 We only expect a couple more fixings for the second decade of the month, with limited activity seen lately. The situation is much worse for April's last decade, with less than 30 VLCCs fixed so far to pick up cargo from the region. Some expect Unipec to step in and fix later this month, but this hasn't been the case so far. However, there's no doubt that the first signs of increasing interest is already there to observe, especially as the current low levels might not last for much longer.
The market might not manage to surpass 50 fixtures for April's latest decade, exactly as it happened in early March. The rather low freight rates experienced since late March are expected to last, keeping earnings for VLCC owners significantly lower than in Q4 2018 or early 2019. Most of the recently fixed deals only reached levels marginally above WS 38, much lower than the WS 45 they got in early April. This pushed TCEs to USD 8,600 per day, from USD 28,000 per day on average in Q1 2019.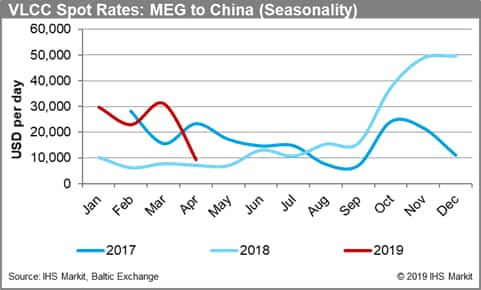 Meanwhile, the VLCC segment hasn't been performing much better in the US Gulf, with less owners deciding to send ballasters across the Atlantic. This translates into more pressure for the major exporting region, with more ballast tonnage added to the Middle East Gulf market during the last couple of weeks. The only good thing to report is that both sides of the market agree that the floor has been met and charterers won't be able to push freight rates lower. This has been supported by the West African market stabilizing levels as well.
Time will show how the market will react, but the more bookings we see, the better market fundamentals should get. Countries across Asia start absorbing much more, with more fixtures to countries like Vietnam and the Philippines reported last week. The latter is driven by major charterers like Unipec and SK remaining quiet. Meanwhile, the narrower than usual discounts for older units seen recently cannot be a good sign for market performance.
RELATED INDUSTRIES & TOPICS