Customer Logins
Obtain the data you need to make the most informed decisions by accessing our extensive portfolio of information, analytics, and expertise. Sign in to the product or service center of your choice.
Customer Logins
Crude Oil Trade: Middle East Gulf and Western Africa flows to India strengthening, replacing volumes from Iran

In parallel to uncertainty increasing after saboteurs attacked Saudi Arabian oil tankers amid Middle East tensions between the US and Iran, the market still needs to adjust to the new conditions, as major importers seem to have nearly abandoned Iranian barrels. Of great interest has been India's response, the country's demand remains healthy, but may face a higher cost for additional imports from other producers.
After significantly improving its market share in China, Saudi Arabia now seems focussed on exports to India. The world's largest oil company Saudi Aramco has started to provide additional crude oil to India's oil refiners in parallel to shortages arising since the US decided to lift Iran sanction waivers. The leading producer of the Middle East Gulf offered to increase its crude oil flows to India by 200 thousand barrels per day (b/d). This is the equivalent to at least half of the volumes the country used to import from Iran since November 2018. Iran has been the third major exporter to India so far in 2019, after Iraq and Saudi Arabia, but this has dropped since the middle of last month.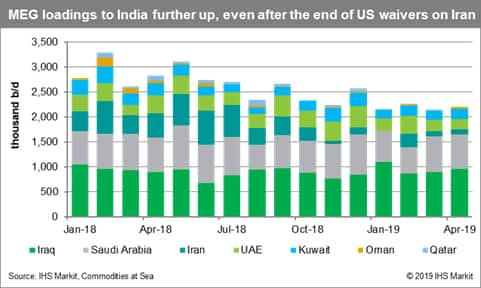 Data made available by IHS Markit's Commodities at Sea suggests that Iraq will increase its flows to India during May, with liftings during the first ten days of the month pushed higher than a month ago, but still below 1.5 million b/d. This spike is believed to be the result of the immediate response of Indian refiners after the relevant announcement by US President Trump a couple of weeks ago. In an effort to avoid any disruption, importers rushed to order more Iraqi barrels to fill any gap that might be created after May 2.
Saudi Arabia immediately responded by trying to take advantage of the opportunity, with the first of the additional Saudi Arabian volumes expected to reach India in June, some minor flows from Iran are still in place, since these contracts were agreed earlier. However, the solution provided is not that popular, as the preferred terms given by Iran could not be met. Without doubt, refiners might face the significantly higher cost of Arab light crude. Meanwhile, Indian refiners were offered a 60-day credit for oil deliveries from Iran, together with dynamic discounts on freight and insurance. India will get charged a premium, as the country primarily focuses on preventing any disruptions.
India seems to be also proceeding with replacing Venezuelan barrels with volumes from other producers across Latin America, such as Brazil and Mexico, with an eye on West African producers as well. The country has already established healthy relationships with these countries and volumes are expected to further increase over the second half of this year, in parallel to the US adding pressure for India to avoid Venezuelan barrels.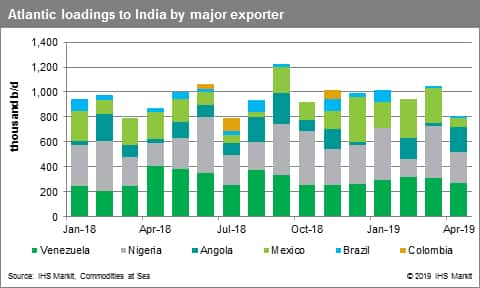 Meanwhile, the world's largest refinery will be shut down for around a month, with planned maintenance to commence in the middle of June. The facility at the Jamnagar refinery in India which is controlled by Reliance Industries has a capacity to process 330 thousand b/d of crude oil. Maintenance carried out earlier this year at the other crude unit lasted for four weeks.
RELATED INDUSTRIES & TOPICS