Customer Logins
Obtain the data you need to make the most informed decisions by accessing our extensive portfolio of information, analytics, and expertise. Sign in to the product or service center of your choice.
Customer Logins
Crude Oil Trade: Challenges ahead for Japanese imports

According to the Japanese Agency of Energy and Natural Resource (AENR), Japan imported around 27 million barrels of crude oil in June 2019 from the United Arab Emirates. This is very close to the number that IHS Markit Commodities at Sea calculated based on crude oil tanker movements between the two countries. Commodities at Sea can already provide the numbers for July, with a decline of 3% to observe in terms of barrels per day month-on-month, as July only reached 855,000 b/d, lower than June's levels of around 882,000 b/d. This means the market share of UAE in Japanese imports once again dropped below 30%, after surpassing it in June.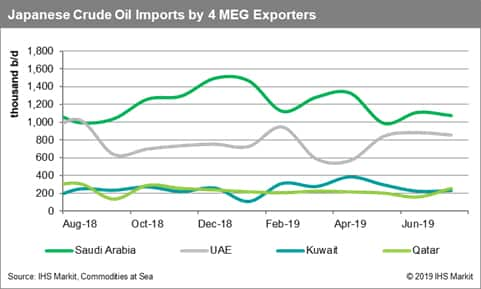 Meanwhile, the country's exposure to barrels from the Middle East Gulf remains high, which results in concern around the escalating tensions in the region in parallel to the tanker attacks since June. Tokyo is understood to have been considering a US-led maritime security coalition for the Strait of Hormuz to protect interests of Japanese ships and ensure normal crude supply. The country's government has been trying to secure the safe navigation of Japanese tankers without damaging its relationship with Iran. One of the two tankers attacked in mid-June is operated by a Japanese shipping company, while the Middle East Gulf continues to supply more than 80% of Japan's crude oil imports, as displayed by data from IHS Markit Commodities at Sea. However, Tokyo refused to send any warships into the Strait of Hormuz, just days after South Korea decided to participate.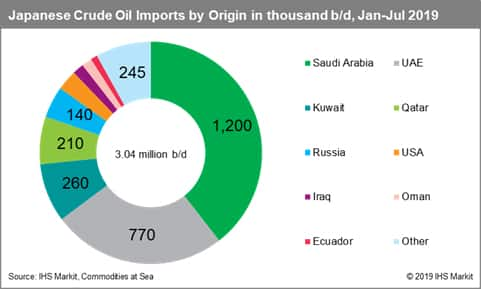 We also need to highlight that Tokyo's decision not to join the coalition might have been affected by its problematic relationship with Seoul, as Japan recently dropped South Korea as a "preferred trading partner". This followed the decision of a South Korean court to order Japanese firms to pay compensation to Koreans over forced wartime labour.
And it's not only the United States and South Korea that Japan has been in a diplomatic crisis with, as Russian Prime Minister Dmitry Medvedev recently visited the disputed Kuril Islands, known as Iturup in Russian and Etorofu in Japanese, which has been occupied by Russia since the end of the second world war. Japanese imports of Russian crude oil have declined by around 12% for the first seven months of 2019, year-on-year, although July 2019 levels have been higher than a year ago. Volumes have been highly volatile, driven by the price differentials of Russian grade Sokol.
Elsewhere, the country's largest refiner JXTG Nippon Oil & Energy has been trying to diversify away from Middle Eastern suppliers due to the risks in the region. With a combined refining capacity of 1.93 million b/d and 11 refineries across Japan, the company has the biggest share in the country's imports. Its crude storage capacity is estimated to exceed 46.23 million barrels.
Its compatriot refiner Fuji Oil expects to reduce crude purchases by 1.3 million barrels by the end of September amid issues at secondary refining units at its Sodegaura refinery in Tokyo Bay, which has a capacity of 143,000 b/d. This has been the major importer of Iranian crude oil in Japan, having imported around 20% of its requirements from Iran before the end of sanctions. It now has plans to switch to other suppliers in the Middle East Gulf by the end of 2019, once operation returns to normal levels. The company needs to replace around 30,000 b/d.
RELATED INDUSTRIES & TOPICS