Customer Logins
Obtain the data you need to make the most informed decisions by accessing our extensive portfolio of information, analytics, and expertise. Sign in to the product or service center of your choice.
Customer Logins
Article: COVID-19 will hit Indian sugar and ethanol sector

This extract is taken from an article on our FO Licht platform dated 27/05/20.
After a stretch of bumper harvests, the sugar industry in India has reaped a lower crop in 2019/20 with a good recovery on the cards for 2020/21.
While supplies remained more than ample, the minimum sugar price has supported the sector, and this is showing in the financial results. After two lean years, 2019/20 (Apr/Mar) will see the industry moving back into profit.
The outlook for 2020/21 is less rosy as the country-wide lockdown as a result of the COVID-19 pandemic has resulted in considerable demand destruction for sugar and ethanol. This will directly impact revenue and, as a result, profits.
Lower crop brings little relief
In contrast to the last couple of seasons, the Indian Sugar Mills Association had little reason to revise its estimates for the 2019/20 season very much. It was clear from the very start that output would be considerably lower following adverse weather conditions in Maharashtra.
At the start of the season ISMA expected a crop of around 28.2 mln tonnes, white value, down from 33.2 mln the previous year. This was then lowered to 26.9 mln tonnes in November following flooding in Maharashtra. However, this number included about 850,000 tonnes of sugar diverted to the production of ethanol so that sugar production for human consumption was 26.0 mln tonnes. In February this was then lifted again to 26.5 mln tonnes.
By the end of April, net output had reached 25.8 mln tonnes while the volume of sugar processed into ethanol was about 980,000 tonnes by that date. Total net sugar production can therefore be estimated at somewhat more than 26 mln tonnes.
However, that would still be above local consumption which will be badly affected by the country-wide lockdown in the wake of the COVID-19 crisis.
Rating agency Icra expects demand to fall by at least one million tonnes as the domestic food industry had stopped considerable parts of its operations. The report further said that the sugar mills are unable to fulfil their monthly sales quota allocated by the government owing to the demand squeeze.
This has resulted in a sugar price decline closer to the minimum support price (MSP) of INR31 (USD1=INR75.00) per kg from INR32.5 per kg in February.
The drop in sales has consequently led to pressure on the working capital requirements of sugar mills and thus a rise in cane dues to farmers, it added.
But not only consumption was negatively impacted by Delhi's efforts to reign in the pandemic; exports suffered as well.
Before the start of the season, ISMA had targeted 7 mln tonnes of exports (and eventually set an official export target of 6 mln tonnes), up from 3.7 mln in 2018/19.
Even before the lockdown, Indian industry officials had cut 2019/20 sugar export estimates to 4.5 mln tonnes as a drop in prices had made overseas sales unprofitable. This is expected to fall further as the lockdown has been extended to May 31.
Mills had contracted about 4.2 mln tonnes of exports by the beginning of May and exports are likely to resume from June-July 2020.
In the meantime, the sugar industry's latest financial reports reveal that the MSP did a lot to shore up results despite the lower cane crop.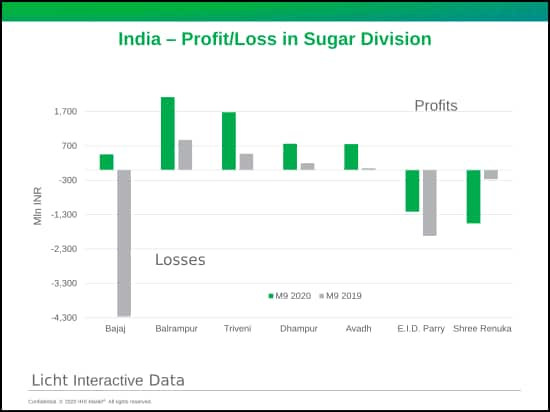 Company's result will be hit in 2020/21
The 2016/17 deficit on the Indian sugar market proved to be a short-lived blessing for the country's crisis-ridden industry as the supply glut in 2017/18 already started to pressure sugar profits. The situation deteriorated in 2018/19 and hardly any company escaped unscathed during this cycle.
The 2019/20 season brought considerable relief in the form of the MSP and the lower crop numbers. This prompted the market price for sugar to even rise above the MSP for an extended period of time.
This allowed most milling groups to post solid results in the first three quarters of the 2019/20 fiscal year and this is not going to change in the final quarter as the lockdown only started in April.
Bajaj Hindusthan Ltd., by far the biggest producer, managed an impressive turn-around in 2019/20. In the nine months to December 31, 2019, Bajaj posted a profit of INR0.5 bln in the division against losses of INR4.3 bln in the same period in 2018/19.
At the same time its ethanol profits diminished amid poorer crushing numbers. They only reached INR0.8 bln against INR2 bln in the same period a year earlier.
Bajaj Hindusthan operates 14 sugar mills in the state of Uttar Pradesh where the cane arrears are the highest. Its units have a combined cane crushing capacity of 136,000 tonnes per day and alcohol distillation capacity of 800,000 litres per day. Its cogeneration capabilities amount to 449 MW across 14 mills.
The country's No. 2, Balrampur Chini Mills Ltd., greatly extended its sugar profits to over INR2 bln against INR0.9 bln in the same period a year ago.
Ethanol profits dipped slightly to NR1.9 bln from INR2.3 bln.
The company operates 10 mills with a combined daily crushing capacity of 76,500 tonnes and alcohol production capacity of 520,000 litres per day. Its cogen capacity is 165 MW.
The third-largest sugar producer in the country is Dhampur Sugar Mills. In 2018/19 its mills put out 799,000 tonnes of sugar while its distilleries manufactured 84 mln litres. Traditionally it is one of the most profitable sugar producers and indeed, so far in 2019/20 it managed to generate a sugar profit of INR0.8 bln against INR0.2 bln in 2018/19.
Its ethanol profit fell from INR1.4 bln to INR0.8 bln.
The company operates five mills with a daily crushing capacity of 45,500 tonnes while its alcohol plants can produce up to 400,000 litres per day.
The No.4 in the country, Triveni Engineering, posted a sugar profit of almost INR1.7 bln in the nine months to December 31, 2019. This compares with earnings of INR0.5 bln in the same period a year ago. Its ethanol profits remained largely unchanged reaching INR0.9 bln.
The company operates seven mills with a combined daily crushing capacity of 61,000 tonnes and alcohol production capacity of 320,000 litres per day.
The No.5 in the sugar market is Avadh Sugar, part of the Birla Group. Its sugar profits reached almost INR0.8 bln against less than INR0.1 bln a year ago.
This company operates four sugar mills with a combined milling capacity of 32,000 tonnes per day. Its two distilleries can produce up to 220,000 litres per day while its cogen capacity is about 80 MW.
That the situation of the industry remains rather difficult was exemplified by two other heavy-weights in the sugar market.
Shree Renuka Sugars Ltd. posted a sugar loss of over INR1.5 bln for the three quarters ended December 31, 2019 as compared to a loss of INR0.3 mln in the same period a year earlier.
In contrast its ethanol business continued to grow. Here profits reached INR0.7 bln against INR0.5 bln.
Besides its two coastal refineries the company controls six sugar mills with a daily crushing capacity of 36,500 tonnes. Its distillery capacity is 830,000 litres per day of which 630,000 from molasses and the remainder from rectified spirits.
The only other big sugar company which posted losses in its sugar business in the first three quarters of 2019/20 was E.I.D. Parry Ltd. This operator was in the red by INR1.2 bln against a loss of INR1.9 bln in the same period a year ago.
E.I.D Parry together with its subsidiaries has nine sugar mills with the capacity to crush 43,400 tonnes of cane per day, generate 160 MW of power while its four distilleries have the capacity to produce 234,000 litres per day.
There is a chance that some of the milling groups may avoid bigger losses in their sugar division this year. However, most likely they will be unable to repeat this performance in 2019/20. Therefore, the calls on the government to take immediate actions will become even more urgent.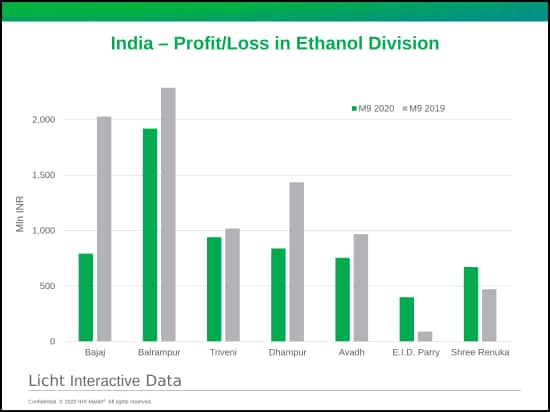 ---

RELATED INDUSTRIES & TOPICS