Customer Logins
Obtain the data you need to make the most informed decisions by accessing our extensive portfolio of information, analytics, and expertise. Sign in to the product or service center of your choice.
Customer Logins
Coronavirus (COVID-19) added insult to the already injured frac sand market just as suppliers were taking small, measured steps toward rebalancing

The latest, quarterly release of IHS Markit's ProppantIQ report provides detailed perspective into the many aspects leading up to, and through, the unforeseen and unprecedented events that created historic turmoil in the oil and gas market, and more specifically the subsequent effects on the proppant market.
Exiting 2019 and heading into 2020, the frac sand market was unwell; in fact, the market was slightly hovering above a recently found "new" bottom with supply vastly outstripping demand and pricing compressed to record lows as sand producers realized razor- thin margins. This resulting, arduous environment prompted abrupt action from frac sand suppliers and set the stage for a rough Q1 2020.
Nevertheless, the frac sand producers still standing adapted quickly and strategically. This adaptation began with a focused effort of optimal resource rationalization, by which inefficient and non-core assets were shut down or divested, while production was consolidated into their most efficient, cost-effective, and logistically optimized facilities. This measured approach was a logical next step forward to helping frac sand producers right-size their operations, improve utilization, and lower opex costs amidst lingering oversupply and the nearly unsustainable pricing environment.
Resource rationalization was just one critical initiative emphasized toward achieving the long-term goal of a rebalanced, fundamentally driven market. In addition to rationalization, another heavily weighted focus was placed on strengthening balance sheets and achieving sustainable cost discipline, all while incorporating new technology advancements.
The entirety of these measures gave the frac sand market some cautious optimism in early 2020, however this tiny shred of optimism didn't last long. The break-down in March of The Vienna Alliance and the coronavirus (COVID-19) pandemic, coupled with already moderated demand, left a wake of unforeseen, diminished demand at historic, unstable levels, which has now become the operating paradigm.
IHS Markit expects annual demand degradation of over 62% from 2019-21F, which is a far greater destructive magnitude than seen in the last market downturn from 2014-16. We project North American total Q1 2020 quarterly demand to be around 47.3 billion pounds, with Q3 2020 roughly a mere 1/4th of Q1 2020 demand (figure 1).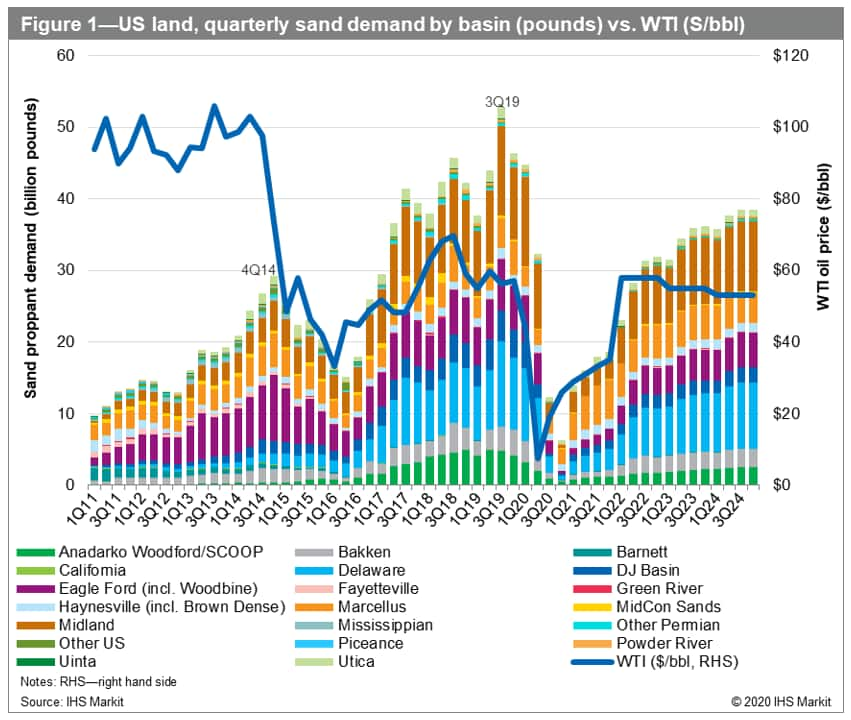 Figure 1: US land, quarterly sand demand by basin (pounds) vs. WTI (S/bbl)
Unsurprisingly, pricing has followed suit and the value of the proppant market has dropped precipitously. IHS Markit forecasts the proppant market to reach an all-time low in 2021, owing to many factors: low barriers to entry, a highly fragmented and competitive landscape combined with lingering oversupply, as well as the waning demand of lower cost, substitutable products above the higher quality material (i.e. regional/in-basin sand versus Northern White Sand).
Amidst the chaos, completion designs have generally remained fundamentally the same, with some slight continued growth in input intensity, as operators inch closer to reaching their optimal proppant loadings with an added focus on enhanced targeting. In the US, lateral lengths should continue growing, and IHS Markit estimates average proppant-per-foot increases of 3% and average stage length decreases of 2.2%.
With the broader market's erratic behavior and simultaneous freefall of WTI, operator capex, and overall demand, combined with the most competitively priced and oversupplied proppant market ever witnessed, the only thing certain for the 2020 frac sand and proppant market, is uncertainty.
We provide full details on the proppant market in our ProppantIQ report which is open to clients of IHS Markit's Onshore Services & Materials subscription. Learn more about our ProppantIQ service.
Brandon Savisky is a Principal Research Analyst at IHS Markit.
Posted 29 May 2020
---
Follow IHS Markit Energy
RELATED INDUSTRIES & TOPICS