Customer Logins
Obtain the data you need to make the most informed decisions by accessing our extensive portfolio of information, analytics, and expertise. Sign in to the product or service center of your choice.
Customer Logins
Country risk month ahead: September 2020

Our country risk team provides a snapshot of the events shaping country risk in September.
Ethiopia's contested federal elections: 11 September
Inter-American Development Bank's president: 12 September
EU-China investment and trade summits: 14 September
US divestment of Chinese data platforms: 15 September
World Trade Organization's director-general shortlist: 16 September
Inter-American Development Bank's president
The Inter-American Development Bank (IADB) is the largest source of multilateral development financing in Latin America with an active portfolio of 604 projects worth USD57.7 billion. Its members will elect a new president on 12-13 September but for the first time since its 1959 inception the region is considering a non-Latin American to lead the entity. Ecuador, Brazil, Colombia, Uruguay, Paraguay, Honduras and Haiti support the election of Mauricio Claver-Carone, a US National Security Council member nominated by US President Donald Trump to boost IADB's lending profile and counter China's financing influence in Latin America. Claver-Carone has promised to recapitalize the bank and improve transparency in the award of loans. Left-wing governments in the region, however, fear that his stance for the democratization of the Cuban and Venezuelan governments will translate into IADB prioritizing loans to countries that support the Trump administration. Argentina, Mexico, Chile, Costa Rica and the EU (non-Latin American countries are members) oppose his designation and are calling for the postponement of the election. Other candidates include Argentina's Secretary of Strategic Affairs Gustavo Beliz and former Costa Rican President Laura Chinchilla. IADB planned to lend about USD20 billion in 2020.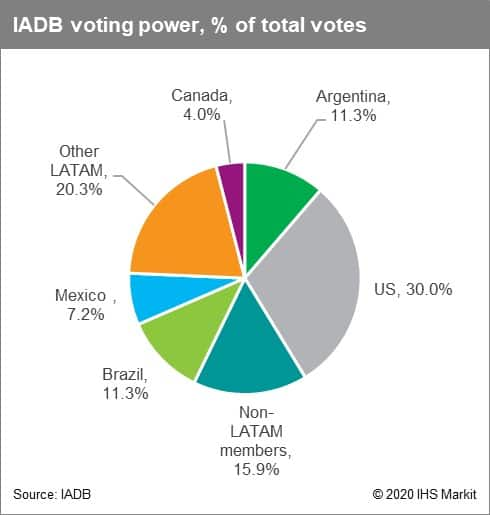 \
Indicators to watch:
US President Donald Trump decides to reduce US contributions to IADB if Claver-Carone is not elected, reducing the entity's lending capacity.
Joe Biden wins the November US election, leading to the resignation of Claver-Carone if elected in September, triggering a new voting process in 2021.
World Trade Organization's director-general shortlist
The World Trade Organization (WTO) will shortlist five candidates from 7-16 September to replace the outgoing director-general, Ricardo Azevêdo. The 164 members of the WTO's general council must then come to a consensus on the new appointment before 7 November or otherwise conduct a vote. The administration of US President Donald Trump has escalated the US's push for reforms to the WTO by blocking all appointments to the WTO's Appellate Body, which has prevented it from hearing new appeals in trade disputes. US Trade Representative Robert Lighthizer said in June 2020 that the US's preferred candidate must also support "fundamental reforms", especially on claims of China's unfair trade practices. The WTO is viewed by the Trump administration as facilitating weaker domestic industry and employment offshoring. The EU has similar WTO reform objectives to those of the US, wanting to strengthen monitoring and compliance rules, but also incorporating environmental and labour rights considerations into WTO standards. For the Chinese leadership, the content of any candidate's reform agenda is probably less important than whether they maintain friendly ties amid an increasingly competitive US-China relationship and are less exposed to US influence.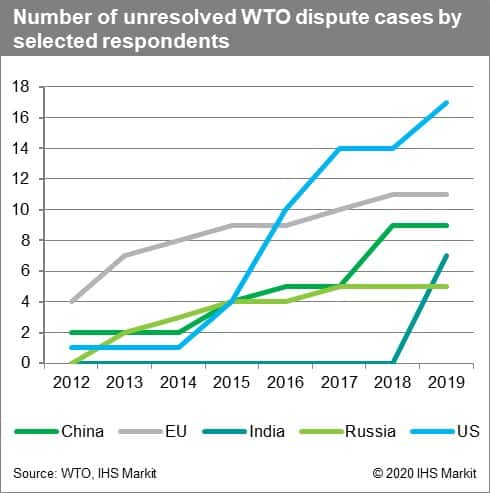 Indicators to watch:
The African Union announces its support for one of the three African WTO candidates before 7 September, indicating more unified support, including from China.
The next US administration fails to renew the Trade Promotion Authority's mandate by 30 June 2021, indicating that US trade negotiations will advance more slowly.
Other events to watch in September
Brazil's Black Friday, 3 September. 'Semana do Brasil' (Week of Brazil) takes place from 3-13 September involving the federal government supporting major retailers through deals and discounts. The Brazilian economy is showing some signs of recovery. Last year the event increased retails sales by 42%.
IMF reviews Pakistan's Extended Fund Facility programme, by 30 September. After the programme's third tranche was suspended because of the COVID-19 pandemic, the government implemented IMF guidance in July by amending power sector tariffs, improving prospects of the IMF approving a USD450 million tranche.
RELATED INDUSTRIES & TOPICS