Customer Logins
Obtain the data you need to make the most informed decisions by accessing our extensive portfolio of information, analytics, and expertise. Sign in to the product or service center of your choice.
Customer Logins
Country risk month ahead: August 2020

Our country risk team provides a snapshot of the events shaping country risk in August.
Anniversary of the People's Liberation Army in mainland China: 1 August
Shifting Mekong trade relations: 1 and 12 August
Venezuela's election candidates: 10 August
Israel's disputed budget talks: 15 August
Ecuador's debt restructuring deadline: 15 August
African Development Bank's annual general meeting: 25-27 August
Israel's disputed budget talks
Israel's government coalition has agreed 15 August as the deadline for passing a two-year budget. If it is not passed, the government will be dismissed and new elections scheduled. A budget that does not increase financial support for those affected by the COVID-19 virus pandemic is likely to cause protests demanding the government's resignation, with unemployment having risen from 4% in March to 21% in July. Prime Minister Benjamin Netanyahu is advocating for only a one-year budget covering the 2020-21 fiscal year. However, his coalition partner Benny Gantz is unlikely to approve this, as it would enable Netanyahu to call elections over the subsequent 2021 budget approval process - and therefore avoid ceding the premiership to Gantz in November 2021, as per the coalition government's current agreement. Even if Gantz concedes, the government is still likely to collapse before mid-2021 due to extensive policy agreements. Although Netanyahu's approval ratings fell from 74% in May to 46% in July, the most recent local polls indicate that his Likud party will remain the largest party capable of leading a majority coalition without Gantz. Consequently, Netanyahu is unlikely to approve a two-year budget before the deadline.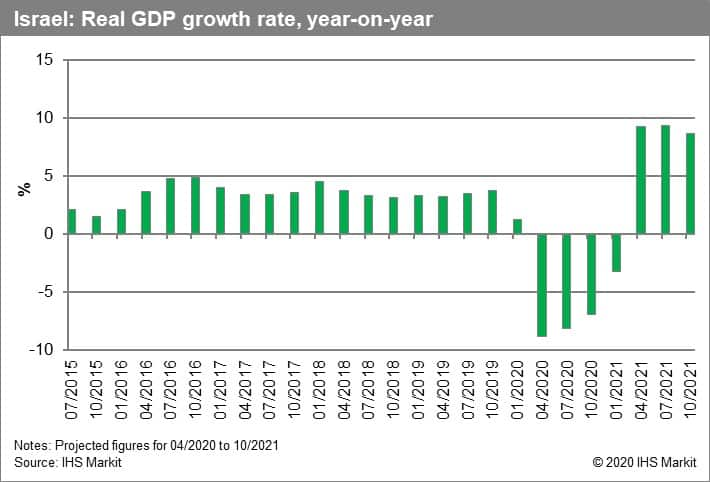 Indicators to watch
Netanyahu continuing to support only a one-year budget covering the 2020-21 fiscal year would decrease the likelihood of elections.
Increased participation in anti-government protests, including support from centrist and right-wing politicians, would indicate declining support for Netanyahu and the Likud party.
AfDB's annual general meeting
The 2020 Annual Meetings of the African Development Bank (AfDB) will take place from 25-27 August in Abidjan, Côte d'Ivoire. Topics for discussion will include leadership succession and governance reforms at the AfDB, as well as the implementation of the African Continental Free Trade Area (AfCFTA). The AfDB in June appointed former Irish president Mary Robinson to chair a high-panel group tasked with reviewing the report of the AfDB's Ethics Committee, which cleared the bank's president Akinwumi Adesina over misconduct and corruption allegations, which he denied. Adesina, a former Nigerian cabinet minister, is the sole candidate running for another five-year term at the bank's meeting. The investigations indicate growing rivalry between multilateral and bilateral lenders seeking to play an increasingly influential development financing role in Africa. Separately, implementation of the AfCFTA was originally scheduled to commence on 1 July, but has been tentatively postponed to January 2021 due to the COVID-19 virus pandemic.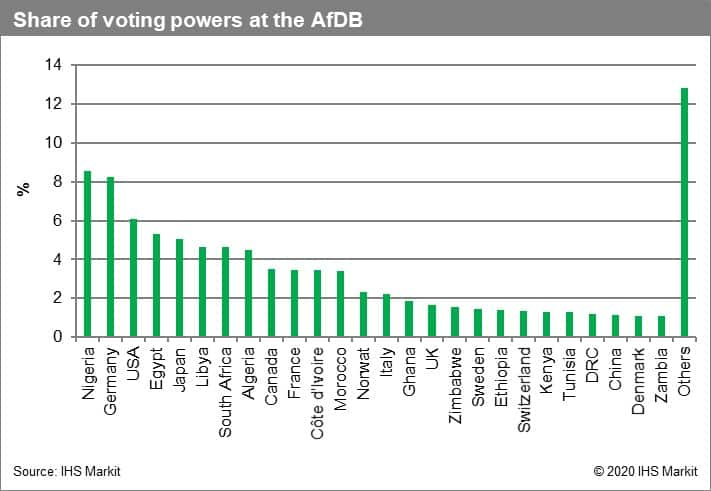 Indicators to watch
Lack of agreement on the AfCFTA start date, with countries such as Nigeria advocating for a delay of up to one year.
Lack of agreement on an AfDB presidential candidate following the release of the Robinson Committee report, possibly implicating Adesina. Potential replacement candidates include Ngozi Okonjo-Iweala, Trevor Manuel, and Tidjane Thiam.
Other events to watch in August
Trinidad and Tobago's election, 10 August. Although both main parties broadly agree on the need to invest in infrastructure and attract foreign investment, an opposition victory would likely result in changes to the tax code and further investment in green energy projects.
Côte d'Ivoire's ruling party nominates presidential election candidate, before 31 August. Comments from senior officials in the ruling Rally of Houphouëtists for Democracy and Peace (Rassemblement des Houphouëtistes pour la Démocratie et la Paix: RHDP) party indicate that incumbent President Alassane Ouattara will seek a third term at the 31 October poll, after the death on 8 July of his intended successor Amadou Gon Coulibaly.
RELATED INDUSTRIES & TOPICS