Customer Logins
Obtain the data you need to make the most informed decisions by accessing our extensive portfolio of information, analytics, and expertise. Sign in to the product or service center of your choice.
Customer Logins
Costly counterfeit electronic components in the supply chain can also be a safety concern

Despite government and industry efforts to keep counterfeit electronic components out of the supply chain, they continue to be a safety concern for transportation and critical infrastructure or a security concern for military equipment and infrastructure. Additionally companies affected by counterfeit electronic components suffer brand damage and costly product replacement or repairs with overall costs running as high as $7.5 Billion to US semiconductor manufacturers and over $200 Billion to companies affected on an annual basis according to the Semiconductor Industry Association.*
Simply put counterfeit electronic components are substandard or intentionally misrepresented electronic components that can be as simple as recycled components being sold as new, low reliability components being remarked and sold for high reliability end use or even state sponsored fakes. Since counterfeiting is most often a crime of opportunity, the vast majority of counterfeiting is for components that have significant supply constraints while demand remains strong as companies scramble to locate sources of hard to find critical components. In fact, since Jan 1, 2014, two thirds of the reports on counterfeit components are for parts that have already been discontinued by the original component manufacturer.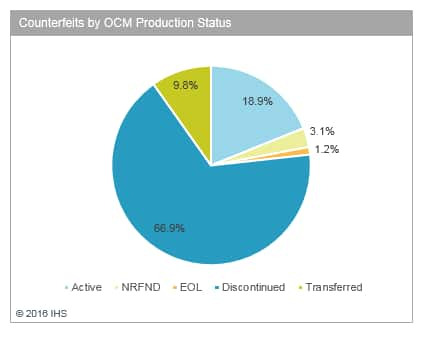 Although the source of Counterfeit Electronic components comes from countries in Asia, Africa and the Middle East, over 53% of the substandard or counterfeit electronic components continue to come from China.** Since Jan 1, 2014 the most often counterfeited electronic component device types include the highly dynamic memory and programmable logic or the higher priced core circuit devices like Microprocessors& Microcontrollers. Although all component device types have had some reports on counterfeit activity as evidenced by the associated pie chart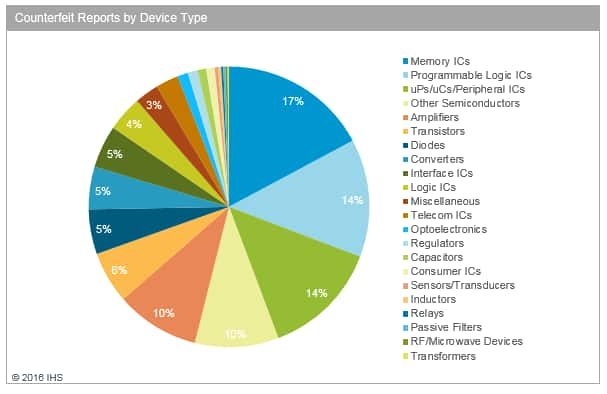 Much has been done to try to avoid counterfeit components by governments, industry and companies since the problems have materialized over the past decade. The US government issued a rule and supplement by the Defense Acquisition Regulations System concerning Detection and Avoidance of Counterfeit Electronic Parts, (DFARS Case 2012-D055) effective on May 6, 2014. Among other items, this rule encourages companies to establish a "Trusted" Supplier list and encourages distributors to provide component traceability back to an authorized source. Lacking traceability, the rule encourages quality testing and inspection of components procured outside of an authorized source. Similar guidance standard have been published by standards organizations such as DIN, IEC, BSI and most notably SAE with publication of the AS5553A, AS6081, AS6462A and AS6301 standards designed help companies put in place policies and practices to limit the risk of exposure to counterfeit electronic components
These counterfeit avoidance publications indicate that the best way to avoid substandard or counterfeit components from getting into a company's products is to always buy directly from an authorized distributor for the manufacturer. Careful product life cycle planning coupled closely with timely procurement purchasing can help insure critical component inventory quantities are available to produce the products to fill customer orders. A good information resource such as the part solutions products provided by IHS, allow access to a good source for component EOL and obsolescence events and good information on current authorized distributions which helps with planning to avoid counterfeits.
Of course it's a great idea in theory to only buy from authorized distribution sources but in practice inevitably companies get surprised by component discontinuance or shortages and companies are forced to take their chances acquiring components from the gray market. Once a procurement professional finds themselves in this situation the best advice is to buy from a "trusted" stocking distributor and insure the components have traceability back to the authorized distributor. Lacking traceability the next best alternatives are to investigate reputable aftermarket manufacturing companies for alternatives parts made to original specifications. In the end, if forced to buy from an unknown supplier insure that through component testing and inspection is utilized to avoid the obvious fakes.
In summary, counterfeit electronic components in the supply chain remain a significant challenge to OEMs, contractors and companies throughout the supply chain. Adopting an avoidance strategy based on government and industry best practices can not only save money, but potentially can save lives as well.
*Source: http://www.intercomp.com/14-ways-to-spot-counterfeit-components/
**Source: http://www.connectorsupplier.com/challenging-the-counterfeit-connectors-hult-110513/#.UoU025G6LoB
***Source: IHS CAPS+4D Parts Database
Greg Wood is a Director in the Electronic Parts business at IHS
(Contributor: Praveen Hiraskar)
Posted on 6 January 2016
RELATED INDUSTRIES & TOPICS