Customer Logins
Obtain the data you need to make the most informed decisions by accessing our extensive portfolio of information, analytics, and expertise. Sign in to the product or service center of your choice.
Customer Logins
Cost of clean power falling faster than expected: BP's Dale

The cost of clean power generation fell faster than expected in recent years, driven by greater growth in the sector than forecast, and is set to continue to decline at a rapid rate, said BP Chief Economist Spencer Dale.
In a letter accompanying the release of the energy company's 70th Statistical Review of World Energy, Dale said the cost of onshore wind and solar power had fallen by around 40% and 55%, respectively, over the past five years, more than double the pace the company expected.
Although it is a "gross simplification," he said, cost reductions for renewables are often encapsulated in "learning-by-doing" framework. As increasing amounts of renewable capacity are produced and installed, the members of the supply chain learn how to become more and more efficient, driving costs progressively lower, he added.
"Viewed in this way, renewable costs can fall by more than expected, either because the buildout of renewables is greater—hence allowing for 'more learning'—or because costs fall by more for a given level of buildout—'faster learning,'" he said.
"Our analysis shows that the biggest factor accounting for the larger-than-expected falls in renewables costs is 'faster learning'—which explains around three-quarters of the error on wind costs and two-thirds for solar costs," he added.
With global renewable capacity additions likely to continue apace, a virtuous circle will continue to be fed.
The world's installed renewable power generation capacity must jump ten-fold by 2050 if there is to be any chance of limiting global warming to less than 1.5 degrees Celsius compared with pre-industrial levels, the International Renewable Energy Agency said in March.
Last year
Renewable capacity additions continued to reach unprecedented heights even amid the chaotic events of the past 18 months.
Despite the huge disruptions associated with the global pandemic and the collapse in GDP, wind and solar capacity increased by 238 GW in 2020—50% larger than at any time in history, Dale said in the letter. The main driver was China (see graph below), he said, which accounted for roughly half of the increase.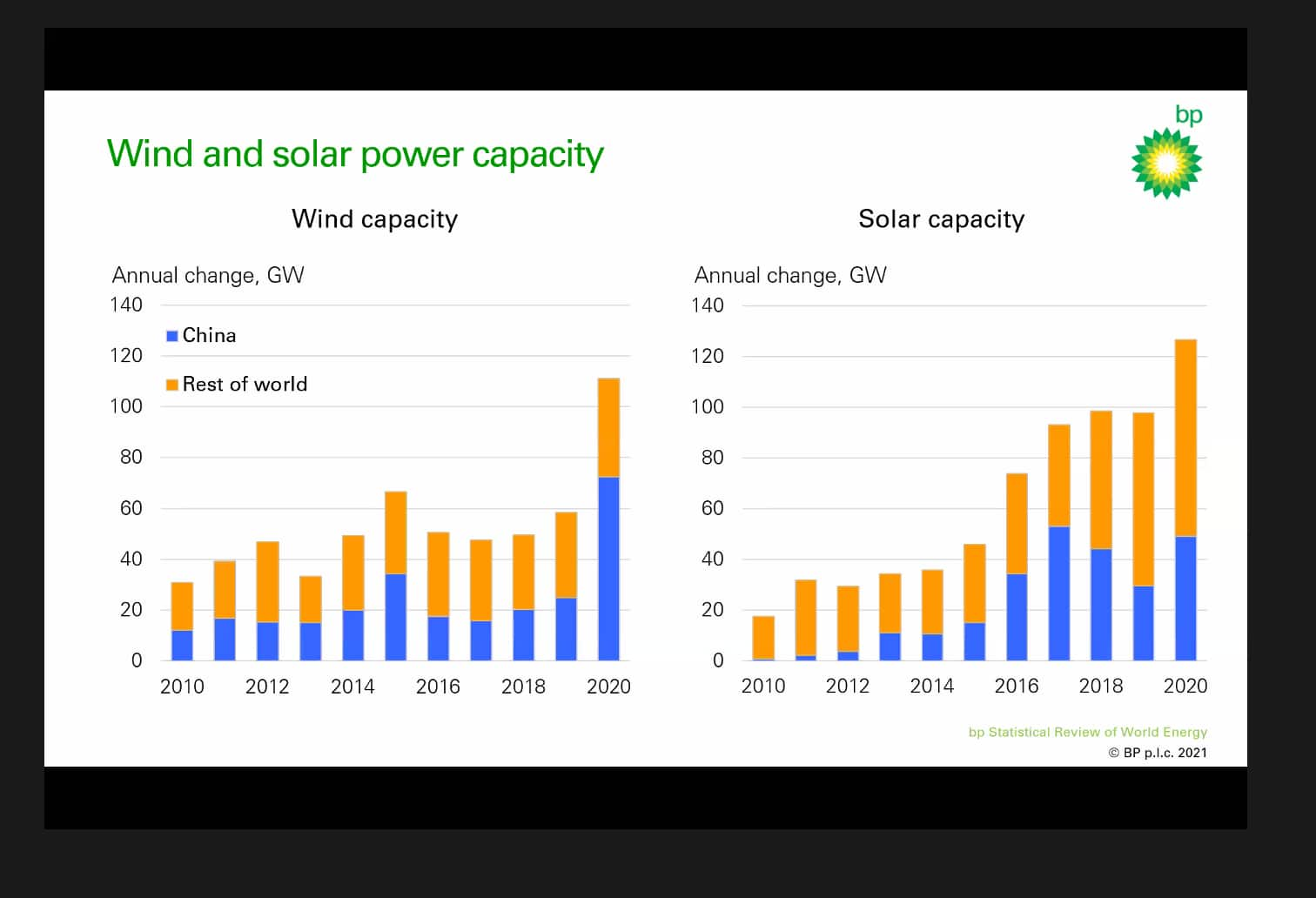 Annual installations of renewable power generation globally will accelerate to about 300 GW by 2024, according to a white paper IHS Markit released in March.
Wind and solar capacity more than doubled between 2015 and 2020, increasing by around 800 GW, which equates to an average annual increase of 18%, BP data show. "To put that in context, in BP's Rapid and Net Zero scenarios, wind and solar capacity increase at an average annual rate of around 14% and 18%, respectively, over the next 10 years. So, the current pace of growth is broadly on track with those scenarios," Dale said.
Overall, global renewable power generation—which included the output of geothermal, biomass, and other facilities as well as wind and solar—increased 12.5% year on year in 2020 to 3,147 TWh, BP said. Some 1,322 TWh was produced in the Asia Pacific, with China contributing 863.1 TWh of that; Europe accounted for 921 TWh, with Germany the top contributor at 232.4 TWh; and North America produced 642.1 TWh, of which the US took care of 551.7 TWh, according to the review.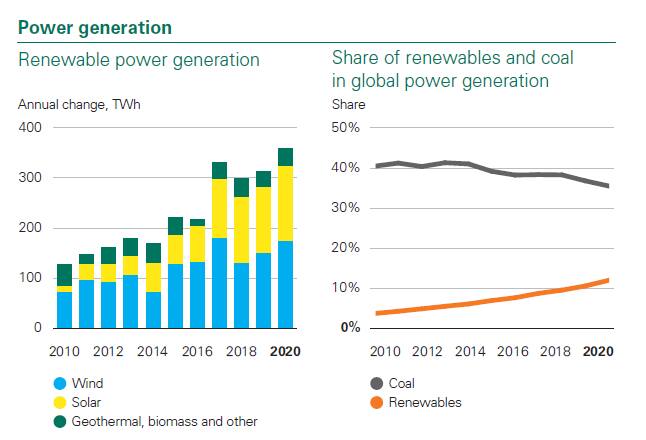 Source: BP
The growth in renewables in 2020 came largely at the expense of coal-fired generation, which experienced one of its largest declines on record at 405 TWh or 4.4%, according to BP data. In addition to falling power demand and increasing deployment of renewables, coal was also hurt by a loss of competitiveness relative to low-cost natural gas, especially in the US and EU, he said.
That said, total global coal generation was unchanged in 2020 from 2015, even with the increase in renewable energy production, according to Dale. And China's coal consumption grew for a third consecutive year in 2020, even though many thought it had peaked, perhaps as early as 2014, he said.
Demand for electricity, due to the growing move toward electrification and away from hydrocarbons, isn't slowing down though. Even as the pandemic disrupted so many of perceived economic and social normalities and pre-COVID industrial sectors, it failed to have an outsized impact on the power sector, BP data show.
Electricity consumption is estimated to have experienced the smallest decline across the main components of final energy demand in 2020, falling by just 0.9%, Dale said during a webinar organized the Atlantic Council to discuss the review.
The relative resilience of electricity usage was aided by the nature of the lockdowns, with the dropoff in power demand in industry and commercial buildings partially offset by increased domestic use by homebased workers and locked-down families, he said.
In contrast, oil saw the biggest part of the pandemic-induced decrease in energy consumption at 9 million b/d, or 9.3%, which was three-quarters of the total energy demand reduction, he said.
With a heavily oil-dependent economy, the American energy demand decline was about 70% bigger than the average elsewhere around the globe, he added.
Societal change
The first 18 months of the pandemic also saw an increase in societal demand or expectations when it came to environmental, social, and governance, or ESG, factors and renewables, Dale said during the webinar. The pandemic led to a higher level of demand from consumers and investors that there wasn't going to be a worse crisis involving the climate, he said.
What the pandemic also illustrated, he said in the letter, is that it was important to remember that this pace of progress on renewable energy needs to be matched by the many other dimensions of the energy transition: energy efficiency; the growth of new energy vectors, such as hydrogen, to help decarbonize hard-to-abate sectors; and the buildout of carbon capture, use and storage. Continued rapid growth in renewable energy is necessary to get to net zero, but it's not enough on its own, he said.
However, there is another factor that must not be underestimated.
There is an almost universal agreement, said Dale, even in the International Energy Agency's (IEA) net-zero scenario, that there is a need for enormous sums of investment to support the energy transition.
Total global investment in clean energy, which was about $1.2 trillion per year over the 2016-2020 period, will have to rise to more than $4 trillion per year by 2030 and continue at that level through 2050, it said.
And annual clean energy investment in just emerging and developing economies needs to increase by more than seven times, from less than $150 billion in recent years to over $1 trillion by 2030, for the world to be on a path to reach net-zero emissions by 2050, the IEA and the World Bank said in June.
It is clear the world needs to transition to renewables, said Dale. But it is going to take a long while for the world to transition to an energy industry that is net zero or lower carbon, he said. That's why, he said, there will need to be a large investment pool for oil and gas.