Customer Logins
Obtain the data you need to make the most informed decisions by accessing our extensive portfolio of information, analytics, and expertise. Sign in to the product or service center of your choice.
Customer Logins
Corporate Actions during COVID-19: First wave of impact

A number of companies have reported earnings over the past few weeks, providing an early insight into how the COVID-19 outbreak has had a significant impact on revenues and profits in the first quarter of 2020. Many companies refrained from providing full year guidance stating significant uncertainties in assessing the time period of the pandemic and how markets would behave. The situation has changed quite rapidly in this time.
Since the beginning of February, global financial markets have seen extreme volatility in security and energy prices, triggering several market regulatory trading halts. Governments and regulators such as the Australian Prudential Regulation Authority, Reserve Bank of New Zealand, European Council, Bank of England, Ministry of Finance Norway and Bank of Italy have already either recommended or appealed to banks and insurance firms to refrain from making distributions during this period. This appeal seeks to support businesses, utilizing the freed-up capital and available profits to extend credit or other urgent financing needs to their customers, arising from the ongoing crisis in a way that would preserve and encourage economic activity. Take for instance, the Philippines that took drastic measures by suspending trading activity on the Manila Stock Exchange for three days on Tuesday, 17 March.
With travel ruled out, it has been observed that a larger percentage of the cancellations, suspensions and extensions were events pertaining to company meetings as they have had no choice but to take necessary steps and decisions to cancel previously scheduled annual meetings during these months or convert them to virtual meetings. Distributions were the second largest event group to be hit as these global regulatory moves were necessary to preserve cash and provide additional financial flexibility. These companies have had to bow down to the volatile market dynamics and suspend or slash payouts, which has been a first for many.
Apart from meetings and distributions, several subscription offers, rights distributions, stock splits, tender offers, and bonus issues have also seen an impact. In the past few weeks there has been a surge in the number of bankruptcy filings in the retail and energy sectors. Over 76 bankruptcy filings have been recorded in the last 90 days. In the US, activists and acquirors seeking to capitalize on the COVID-19 sell-off to build positions in high-value companies at depressed prices has led to over 30 Rights Plan/Poison Pills being enforced, and at least 14 of those with specific publicly disclosed threats to control.
Cancellations and Suspensions
Early in the first quarter, global markets looked to be in better shape than previously expected, until mid-March when the World Health Organization (WHO) declared the COVID-19 outbreak a pandemic. This was followed with several countries imposing travel restrictions and clamping down on businesses. Income and distributions accounted for 66.87%, 12.16% on redemptions, 9.4% on meetings followed by subscription offers, rights distributions, tenders offer and other event types.
Figure 1 shows that cancellations and suspensions really started to peak towards the third week of March due to:
cancellations or suspensions of meetings and board approvals due to travel restrictions
uncertain demand outlook and risk of a prolonged period of economic uncertainty
Central banks requesting banks and insurers to preserve capital
Figure 1: Timeline of event cancellations and suspensions based on critical event date
Source: IHS Markit

Figure 2 further shows the effects across the globe with the heatmap highlighting the fact that companies in United States, United Kingdom, Thailand, Netherlands, Japan, Sweden and Australia have been hurt the most during this three-month span from February to April 2020 adding up to close to 80% of all the impacted volumes.
Figure 2: Heat map of event cancellations and suspensions by country of incorporation
Source: IHS Markit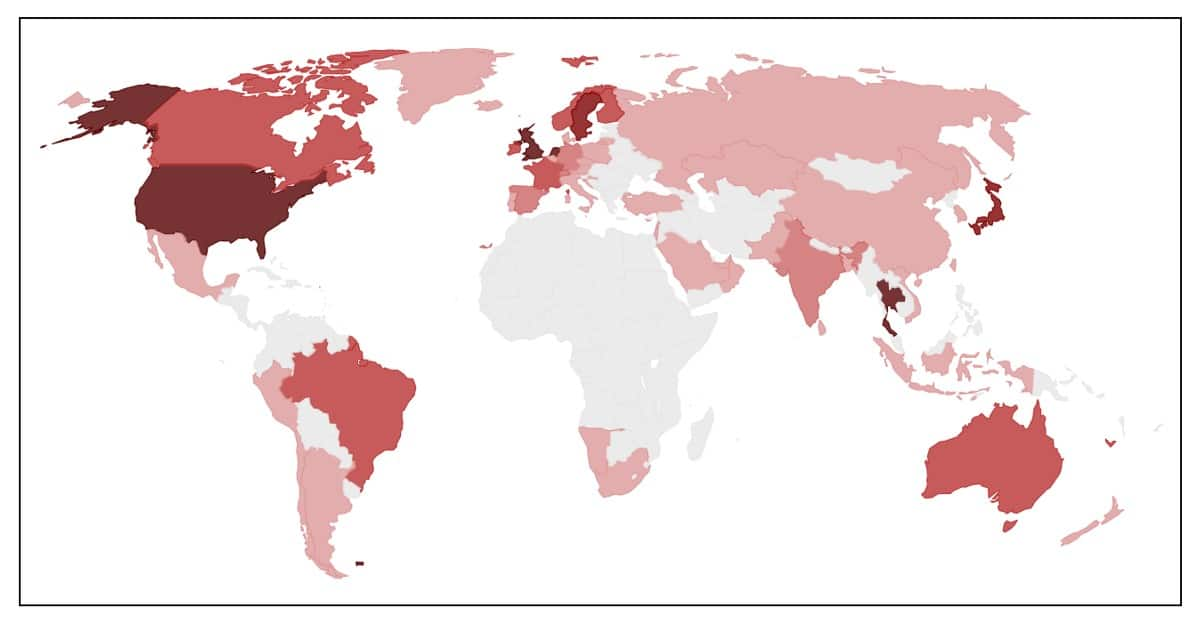 Extensions
The outlook on extensions highlighted in Figure 3 is rather different compared to cancellations and suspensions. Among extensions, meetings accounted for close to 80% of the volume. Distributions accounted for a distant 7.22% with over 1,500 extensions followed by redemptions, rights subscriptions, mergers, subscription offers, tender offer and other event types.
Figure 3: Timeline of event extensions based on critical event date
Source: IHS Markit
The heatmap in Figure 4 shows the effects across the globe. APAC was impacted the most with accounting for over 33% as the region was already going through changes having felt the effects of the protests in Hong Kong and the terrible bushfires in Australia that preceded the pandemic. Japan, China, Thailand, Australia and Korea were impacted the most in that region. Europe accounted for 30.35%, followed by United States at 12.74%, United Kingdom at 10.21%.
Figure 4: Heat map of event extensions by country of incorporation
Source: IHS Markit
The past few months have been an unprecedented challenge for people and markets across the globe. Many countries are still under lockdown, unemployment numbers are at record highs and we've already seen a massive impact across key sectors such as airlines, auto, construction, real estate, energy, retail, travel and leisure. The data above shows a strong indication that these trends arounds corporate actions are likely to continue at least for the next quarter.
Managed Corporate Actions
Managed Corporate Actions from IHS Markit provides unlimited access to corporate action data and allows customers to view full details in real time, including event-level data, dates, options, terms and conditions and restrictions. We offer access to a variety of data vendors through our platform, allowing customers the flexibility to select the vendors they want to work with, which can provide them further control over cost.
Everyday our global team of market experts work diligently to track announcements that influence corporate actions and to keep abreast of corporate ations notifications. As we head towards recovery, we will continue to provide reliable data to successfully manage and prepare for any further unexpected risks.
By Madhukar Ramu, Executive Director, Corporate Actions, IHS Markit and Stephen Kusrianto, Sr. Ops Excellence Specialist, Managed Corporate Actions, IHS Markit
IHS Markit provides industry-leading data, software and technology platforms and managed services to tackle some of the most difficult challenges in financial markets. We help our customers better understand complicated markets, reduce risk, operate more efficiently and comply with financial regulation.
---
Follow Financial Services
RELATED INDUSTRIES & TOPICS