Customer Logins
Obtain the data you need to make the most informed decisions by accessing our extensive portfolio of information, analytics, and expertise. Sign in to the product or service center of your choice.
Customer Logins
Coronavirus update: APAC airlines and cosmetics dividends

Due to their sensitivity to travel demands, we note that the aviation and retail sectors are likely to be two of the sectors first affected by the coronavirus outbreak.
Payouts from APAC airlines are expected to decrease by around 21% to USD 1.4bn in 2020.
We see limited impact on the dividends from the cosmetics companies, supported by various factors such as diversified revenue base and conservative dividend guidance.
The global spread of the coronavirus has disrupted supply chains, travel plans and prompted governments to trim their economic growth expectations. While some companies signal that it is still too early to determine the impact of the epidemic, we are noting that aviation and retail are likely to be two of the sectors first affected by the outbreak.
Over the past two months, countries have discouraged non-essential traveling to hotspots and imposed travel restrictions to and from certain regions. Dark clouds hang over retailers as the lack of tourists is likely to cause shops to struggle, exacerbated by the increased number of people staying indoors as a precautionary measure. Retailers that are reliant on Chinese tourists have felt the pinch; we note that some companies have reported a slump in sales during the Chinese New Year period.
Dividends from airlines set to fall for another year

The softening demand for travel in the wake of the coronavirus outbreak has prompted many airlines to either suspend or cut their flights to Mainland China. It is reported that the International Air Transport Association is expecting air travel to fall for the first time in recent years and the epidemic could result in a loss of USD 30bn in revenue for airlines in Asia. Indeed, airlines have announced pay cuts and are requesting that employees to go on unpaid leave, underscoring the challenges faced by the industry amid the contagion. The precarious outlook is exacerbated by airlines engaging in price wars as they attempt to maintain their market share.
Given that airlines typically adhere to performance-linked dividend policies, we expect the stark earnings prospects over the short term to translate to either flat or lower dividends for most of the flag carriers under our coverage. We expect aggregate payouts from airlines in APAC to decrease by 20.7% to USD 1.4bn this year. This is mostly attributed to the dividend suspension from Cathay Pacific Airways and the expected slash in dividends by Singapore Airlines as they are among the big payers and therefore, have an influence on the dividend trajectory.
Limited impact on cosmetics players
Cosmetics is the first in the retail sector to feel the hit from reduced inflow of Chinese tourists and resellers in South Korea and Japan. In addition to the sales made from subsidiaries located in China, the purchase made by Chinese tourists and resellers across various offline channels such as duty-free shops and flagship stores in Japan and South Korea are estimated to account for a significant portion of their revenue. It is reported that 70 to 80% of Chinese visitors to Japan purchase cosmetics and foreign visitors account for 10-20% of Japanese cosmetic makers' domestic sales. In the same vein, 95% of Chinese visitors to South Korea purchase cosmetics and cosmetics took up 61.3% of FY19 H1 combined sales of duty-free stores in South Korea.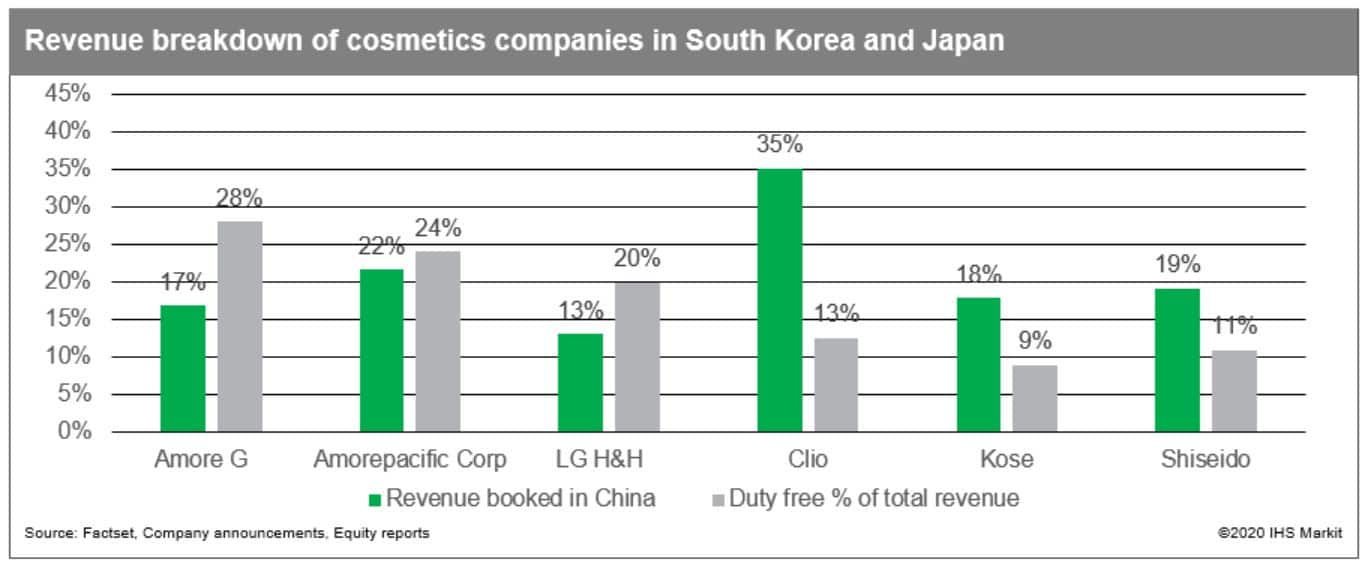 Amidst growing uncertainties on the performance outlook of cosmetics players, we are seeing limited impact on dividends at this point. Indeed, some companies have indicated that it is too early to quantify the financial impact on their businesses, as we are only at the quarter mark of FY20 and majority of them distribute dividend only in mid or end of year. Elsewhere, we also note that the cosmetic makers are employing various strategies such as leveraging their diversified product lines and reinforcing online sales channels to mitigate the impact of reduced inflow of Chinese consumers.
This is reflected by the upbeat sentiment maintained in FY20 earnings outlook. While changes in the projected earnings over the past month (late Jan-Feb), which signals the market sentiment on the potential impact of coronavirus on their earnings, are mostly negative, the overall FY20 earnings outlook of major Korean and Japanese cosmetic makers remains largely optimistic with double-digit growth ahead.
To access the report, please contact dividendsupport@ihsmarkit.com
IHS Markit provides industry-leading data, software and technology platforms and managed services to tackle some of the most difficult challenges in financial markets. We help our customers better understand complicated markets, reduce risk, operate more efficiently and comply with financial regulation.
---
Follow Financial Services
RELATED INDUSTRIES & TOPICS