Customer Logins
Obtain the data you need to make the most informed decisions by accessing our extensive portfolio of information, analytics, and expertise. Sign in to the product or service center of your choice.
Customer Logins
Coronavirus (COVID-19) implications for Russian oil and refining industries

The coronavirus (COVID-19) pandemic has coincided with a return to prominence for Russia within the global oil markets. This is not to say that Russia was a bit player prior to 2020, but the country's role in the 12 April OPEC+ production cut deal - and the oil price war that preceded it - has elevated it to the center of the global crude market. Notably, Russia has secured itself an equal production quota as Saudi Arabia.

Under the terms of the deal, Russia has committed to a crude oil production cut target of 2.5 million b/d during May-June 2020, to be followed by progressively smaller reductions through April 2022. The planned Russian cut is equal, of course, to that of Saudi Arabia but far more than the country has ever attempted before. Russia's oil industry is dominated by state-owned enterprises, but it is still less centralized than that of Saudi Arabia, so it may be more of a challenge to ensure compliance. A great variety of geologic and geophysical conditions also make compliance with a cut of this magnitude more difficult. Currently, there are more than 1,800 active oil fields in Russia, with the 20 largest comprising just over a third of production. In contrast, Saudi Arabia only has around 100 total oil fields, with five "super giants" accounting for a full 75% of production capacity.

Of course

, given the current demand environment, significant production cuts from Russia (and all the world's leading producers) would have been an inevitability no matter what: if you cannot sell your oil or store it, you simply cannot produce it. And the government certainly appears keen to ensure compliance, instructing all Russian companies to cut output by 18-20% during May.


Figure 1: Russia crude and condensateproduction
Assuming even close to full compliance, Russian producers will be in uncharted territory whenever the pandemic finally ends. Reactivating a well is not always a simple as flipping a light switch. Here, too, the geology of some Russian wells is more complex; Saudi Arabia's oil fields can more readily throttle down and then throttle back up once the crisis has passed. Still, IHS Markit believes the threat of permanent reservoir damage for Russian producers is overblown. The government certainly understands the critical role the oil industry plays in its geopolitical balance sheet.
Russia's refining industry occupies a slightly shakier branch, however. After much equivocating, the government is in the midst of a major phased tax reform (over 2019-24) that is, in effect, removing an indirect state subsidy for export-oriented refiners. This will put them more on an equal footing with competing refineries in export markets, which is not a good thing since Russia's refining industry generally has a high cost of production. Russia is also a net long market that depends on its ability to export product. Gasoline is the linchpin; if Russian refineries cannot find a market to "dispose" of their surplus gasoline, runs will have to decline now that the industry is no longer protected.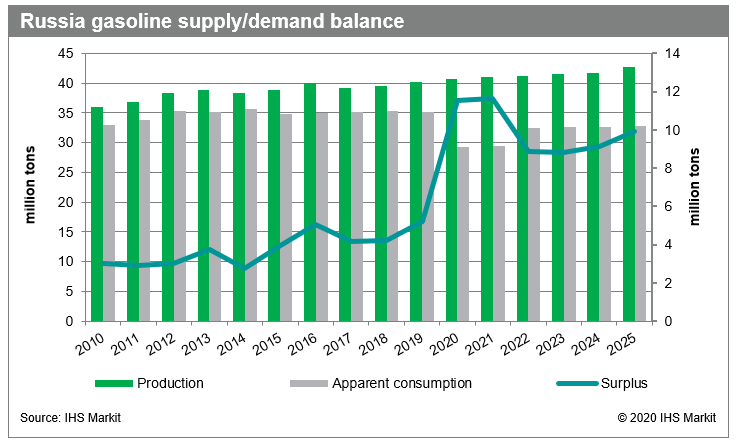 Figure 2: Russia gasoline supply/demand balance
This is obviously problematic in the short-term, with gasoline demand collapsing around the world. And, as elsewhere, Russian refineries are being obliged to cut runs. But, even when the pandemic passes, Russian refineries are not likely to find abundant gasoline export opportunities. For one thing, demand in most of the country's traditional export markets (Europe and the CIS) is declining. For another, most Russian refineries are not as competitive in those export markets without the aforementioned government subsidies.
So, gasoline exports function as both a "safety valve" and a "weak link" for Russian refineries. If a market for gasoline cannot be found (or forced), refinery runs will necessarily decline. In that regard, it was going to be tough sledding for the Russian refining industry even before COVID-19. But with the pandemic potentially shifting the long-term demand curve in Russian export markets downward, the refining industry could find itself squeezed even more.
IHS Markit experts are available for consultation on the industries and subjects they specialize in. Meetings are virtual and can be tailored to focus on your areas of inquiry. Book in a consultation with Rob Smith.
Rob Smith is a Director of the Global Fuel Retail group at IHS Markit.
Posted 30 April 2020
---
Follow IHS Markit Energy
RELATED INDUSTRIES & TOPICS