Customer Logins
Obtain the data you need to make the most informed decisions by accessing our extensive portfolio of information, analytics, and expertise. Sign in to the product or service center of your choice.
Customer Logins
Coronavirus (COVID-19) demand destruction has forced more than twenty refineries to temporarily cease production

Last week, Marathon Petroleum began idling its 157,700 b/d Martinez (California) refinery in response to the demand destruction wrought by COVID-19. This is hardly the first refinery to be shuttered due to the pandemic and it will almost certainly not be the last. However, the shutdown is notable because Martinez is well-positioned within the California and the San Francisco markets, specifically, and one of the highest margin refineries in Marathon's portfolio. Moreover, Martinez typically produces little to no jet fuel, the refined product whose demand has been most affected by the pandemic.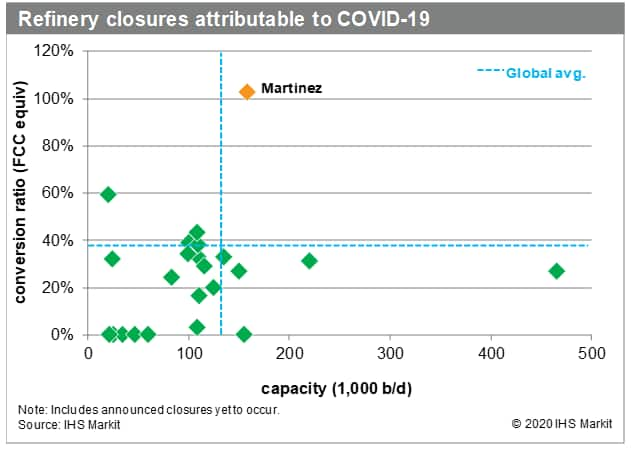 Figure 1: Refinery closures attributable to COVID-19

So, in many ways, Martinez appears a surprising victim (albeit a temporary one) of COVID-19. To be sure, the refineries that have so far been shuttered due to COVID-19 are - for the most part - small with relatively low conversion capabilities, whereas Martinez is larger with a very high conversion ratio. But there are a lot of other, less tangible, factors at play such as the nature of the refinery's marketing supply chain, the volume of available product storage capacity, and/or how it fits into the company's broader downstream portfolio. For example, some of the refineries that are currently closed had previously planned maintenance turnarounds, making it "easier" for the owner to simply extend (or begin early) the shutdown.

Ultimately, the decision to close Martinez - and most of the other refineries - boils down to this maxim of the industry: if you cannot sell it or store it, you cannot produce it. Product demand throughout the world has collapsed in the face of government mandated lockdowns and voluntary social distancing . IHS Markit estimates April's combined gasoline, diesel, jet, and residual fuel demand will be down by more than 21 million b/d versus the year before - a nearly 33% decrease. Double digit year on year percent demand declines are expected for May and June. Meanwhile, available product storage capacity prior to the pandemic was only around 300 million barrels. By now, many refineries are simply running out of room. In fact, Portuguese refiner Galp explicitly cited a lack of available storage capacity when it announced that it will close the larger of its two refineries (Sines) starting next week. This announcement was particularly notable since Galp had already closed the smaller Porto refinery earlier this month, meaning that both of Portugal's refineries will soon be offline. But if you cannot sell it or store it, then you cannot produce it.

Ostensibly, all of the refinery closures underway or announced so far are temporary. However, IHS Markit believes that it is increasingly likely that the market conditions wrought by COVID-19 will hasten a more permanent reckoning for the world's weakest refineries.

IHS Markit experts are available for consultation on the industries and subjects they specialize in. Meetings are virtual and can be tailored to focus on your areas of inquiry. Book in a consultation with Rob Smith.

Rob Smith is a Director for the Global Fuel Retail team at IHSMarkit.

Posted 29 April 2020
---
Follow IHS Markit Energy
RELATED INDUSTRIES & TOPICS